The Arena Games powered by Zwift nearly always comes down to fine margins – Beth Potter's dominance in Munich being a rare exception – and heading into Saturday's London event there look to be two fantastic races in prospect.
There are four standout contenders in both the men's and women's line-ups and Super League's data guru Graeme Acheson has again joined us to provide insights and analysis, rounded off with his all-important predictions.
The Garmin ecosystem has produced some fascinating data and no one has a better handle on it than Graeme – he's the co-founder and CEO of Sports4Cast and the man behind SLT's Stats Hub.
Men – the leading contenders
It looks like a four-horse race with Alex Yee, Aurelien Raphael, Justus Nieschlag and Max Stapley all vying for the title.
Raphael, Nieschlag and Stapley all have good points accumulated from their podium finishes in Munich, but Yee really needs a strong performance to get his bid to be the first Esports World Champion back on track.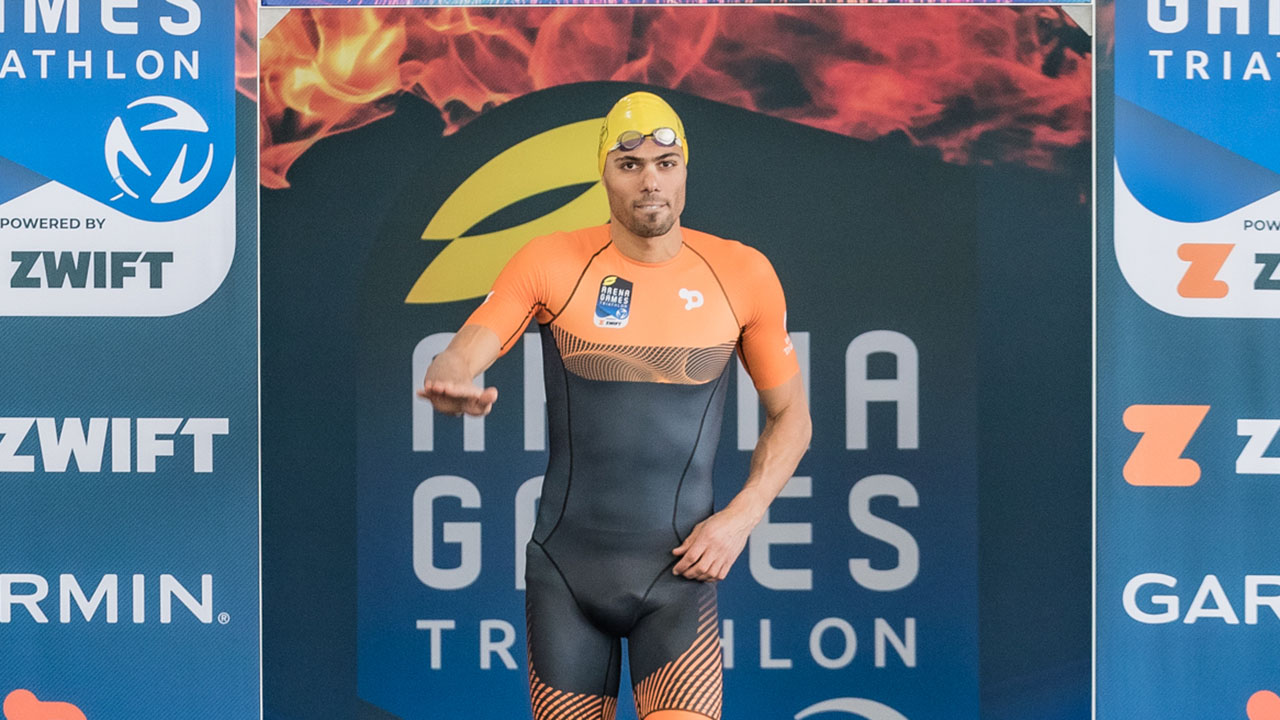 Raphael and Stapley are expected to continue their dominance in the pool, but potential newcomer Takumi Hojo is also expected to be a factor in the water.
Gordon Benson is also a potential dark horse. He was in the mix in the Munich race, but missed out with a technical malfunction on the treadmill, and a slightly slow swim in the second stage of the final. If he gets a clean run with the equipment he may challenge at the pointy end.
The World Champions will be decided via a points system, combining the results of the final in Singapore plus each athlete's best result at one additional Arena Games event. The results also contribute to World Triathlon's rankings.
The Series race winners will each receive 250 points and the Championship Finals winners 500 points, decreasing by 7.5% for each position thereafter. The Arena Games Triathlon World Champions will be the man and woman with the highest combined score from the Finals and one Series event.
Briefly looking back to Munich, the men's race was super-tight with the top five finishing within 14 seconds of each other. Raphael took the win in the end, but it was close throughout. He had the fastest athletic times of the day and vastly improved his transitions from Rotterdam '21 to take the win.
The swim pedigree in the final was off the charts, which distanced Yee in the first stage of the final, despite a strong swim from him.
Athlete profiles
Alex Yee has raced three times before – both 2021 races and Munich a couple of weeks ago. He finished on the podium twice, third in London and then second in Rotterdam, but he was off the back in Munich against some super-strong swimmers in the final and he just missed the bike pack in stage 1 effectively ending his challenge – such fine margins. He will be looking to make amends for that in London and boost his title chances.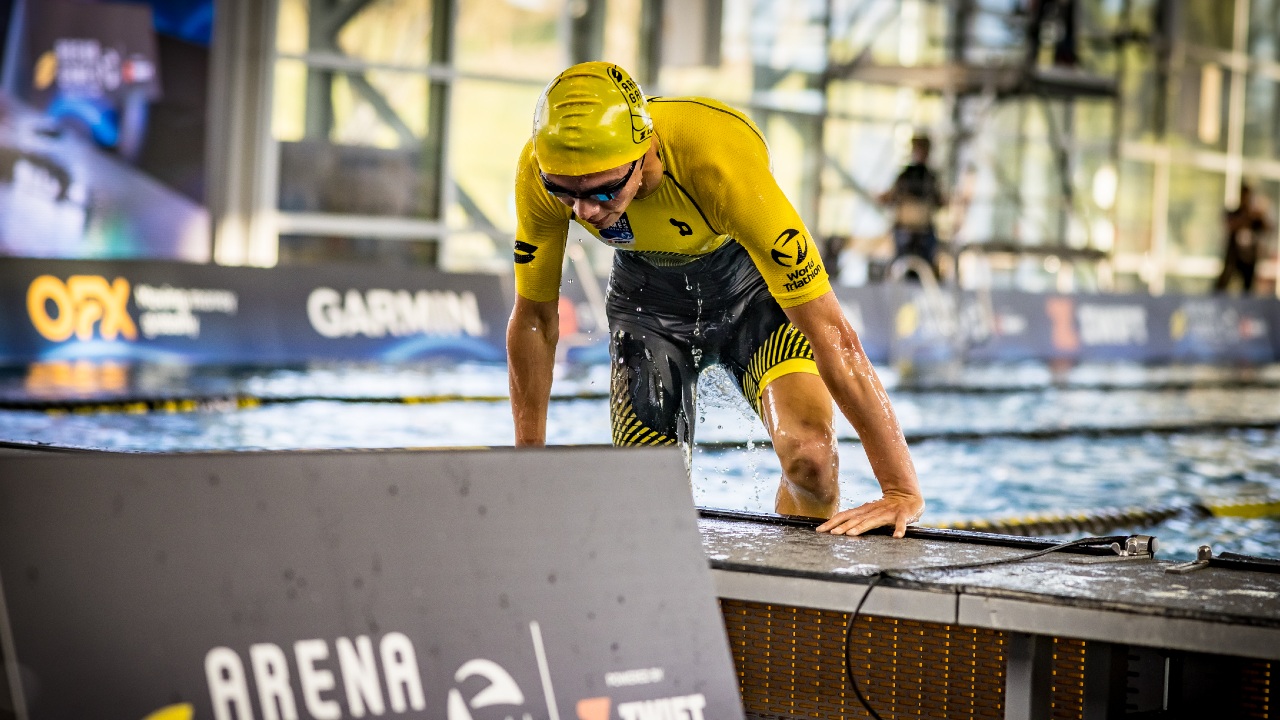 Aurelien Raphael has raced the Arena Games twice, in Rotterdam '21 and Munich '22, finishing third and winning in Munich. He performed very well and similarly in both, the major difference being that he sorted out his transitions in Munich. There is arguably no benefit to him competing in London as he can't improve on his score, so other than experimenting and refining his technique he has little to gain. Although if he wins, he could perhaps restrict the points available to the other athletes!
Justus Nieschlag has raced the SLT Arena Games three times before (Rotterdam '20, London '21 and Munich '22). He won the first version in Rotterdam, and came second in London, and third in Munich – steadily going backwards! Will he finish off the podium this time? Very fast across the board, but his primary strength is the swim. Weakest area is likely the run, although it is a tough competition in AGT as he is usually only a few seconds back running a 2:50 for 1km – so it's all relative!
Max Stapley was a newbie in Munich, but he surprised everyone with a second-place finish. A very strong swimmer, he benefited from this, making the bike packs with relative 'ease' (if swimming 2:04s can be described as such!), with his strong running carrying him to a podium place. It will be interesting to see if he can replicate that in London, with the tough racing of AGT often turning athletes around.
Gordon Benson raced the Arena Games in London '21 and Munich '22 – finishing seventh both times. In Munich he was very competitive and was perhaps only let down by a failing treadmill in the final. Perhaps he also missed out a little bit on the swim in stage 2 of the final, but was there or thereabouts for most of it. Could be one to watch in London. He also holds the record for the highest HR recorded across the Arena Games at a truly monstrous 209. I spoke to him in Munich and he said 'I've got 220 in me.' Sadly his HR monitor didn't pick up, so we didn't find out, but that is Priority A1 for Garmin in London!
Disciplines
Transitions are a big story in the Arena Games with their relative importance inflated hugely due to the shortened nature of the other disciplines. They are truly the 'fourth discipline' here. Yee generally had the best transitions in the men's field in 2021 (although he was still second overall to Beth Potter). Raphael potentially still has more to give here, although much improved he was still mid-pack.
Raphael and Stapley are the joint fastest swimmers in AG history with 2:02s. Chase McQueen set the fastest swim time in the Munich final with a 2:03, but Stapley set the fastest of the day with the aforementioned 2:02 in the heats. Somebody has to go sub-2:00 soon!
The bike groups stayed together quite well, and so the bike wasn't as much of a differentiator. Likely a combination of Zwift experience and similar abilities across the board keeping the competition together. Generally the men averaged around 5 w/kg on the bikes, although Yee topped out at around 5.7 – largely because he is so light. Benson and Raphael were the most efficient on the bike, partly because they are the heaviest, but also perhaps good tactics.
Yee holds the fastest run time, breaking his record of 2:42 set in Rotterdam last year with a 2:41 in Munich. The men in Munich all ran within 10 or so seconds of each other, with everyone going under 2:50 at some stage of the final.
Women – the leading contenders
An exciting prospect with a likely four-way battle for the women as well. Two-time AGT winner Beth Potter meets inaugural champion Jess Learmonth meets 22 SLT Championship winner and Olympic Gold and Silver medallist Georgia Taylor-Brown, with the addition of multiple SLT winner Cassandre Beaugrand in the mix as well.
Our algorithm has Learmonth as a slim favourite over Potter, but it's tight. GTB and Beaugrand are close behind them as well. Any mistake by the top two favourites would see them slip through. Those four are the clear leading contenders for the title.
Jess is expected to be dominant in the pool, but Potter and Beaugrand are the clear favourites on the run. GTB is the best cyclist in the field. It's really all to play for and should be a fantastic race.
That suggests a very different scenario to how things played out in Munich a fortnight ago, where Potter was untouchable.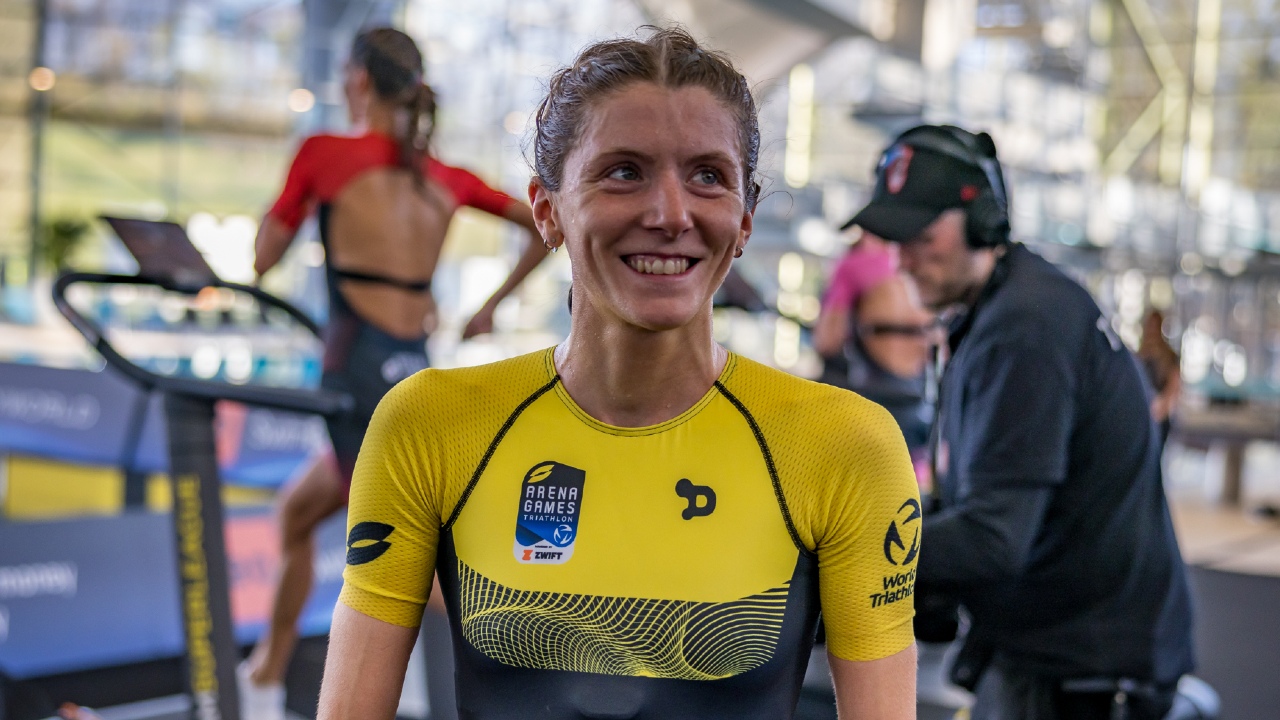 Out of the nine 'athletic' disciplines Beth was fastest in seven of them – in the others she only missed out by a second or two. She was fastest by almost a full 30 seconds in each race with a combined athletic time 82 seconds faster than runner-up Lena Meissner.
Out of the list of people whose HR managed to record, she had nearly the lowest measurements. So it looks like she did all this without even trying that hard!
Meissner was the best of the rest, finishing nearly 20 seconds up on Anabel Knoll in third place. Both Germans were newbies to AGT, they performed well in the final by finishing well ahead of the experienced Anna Godoy and Ilaria Zane in fourth and fifth. They just stayed ahead of the fast-closing American Gina Sereno on the final run.
Sereno left it just too late, finishing the final run in 3:19 compared to 3:39s for Godoy and Zane, and just missing her chance to finish higher up the roster. Sereno's transitions were actually the worst of the day, fully 40 seconds down on Potter's.
Athlete profiles
Beth Potter is a two time Arena Games Champion. Utterly dominant in Munich, it will be interesting to see how she gets on against the stronger field in London. She finished second in Rotterdam '21 behind Sophie Coldwell, so can be beaten.
Jess Learmonth was the standout performer in the very first Arena Games, winning all three stages and setting the fastest times across swim, bike and run as well as holding the fastest averages. She didn't race the following Arena Games, so it should be a real showdown between the two AG Champions.
Cassandre Beaugrand has never taken part in AGT before, but has raced well outdoors at SLT. She has the athletic calibre to really challenge for the win, and with a strong swim-run pedigree, she could really upset the established AGT contenders. However, milliseconds here and there in transition could cost her, and as a newbie this will be stacked against her. We should know more about her potential after the heats, which will be exciting to see.
Georgia Taylor-Brown raced the first two versions of the AGT, and finished fifth both times. She perhaps underperformed a little in them, but it was mid-pandemic and lockdown. Since then she has gone from strength-to-strength, winning World Championships, Super League titles and Olympic medals, so she will undoubtedly be looking to perform in London and challenge the other three for the podium.
Disciplines
Potter won London '21 with her transitions, so she will undoubtedly be looking to use that to her advantage here. Learmonth didn't need to have good transitions as she dominated the race athletically. If I had to guess I'd say that Jess will have Beth in the pool and on the bike, but Beth will beat Jess over the run and in transition. It will just depend on how much they can beat the other in each of those!
2:12 is the women's swim record set by Jess Learmonth in the 2020 Rotterdam AG, but matched by LCB in the London AG in 2021. Jess should be the fastest swimmer in this race, although GTB and Beaugrand are also notably strong swimmers so they may push Learmonth in the water. On average Learmonth was around four seconds faster in the pool than Beth Potter averaged in her Arena Games. Average swim time is usually around 2:22 (1:11 min/100),
Learmonth had the best bike across the three races in Rotterdam '20, and in her first one she averaged 5.2 w/kg. She was also the strongest overall, averaging 4.9 w/kg across all three races, and had the fastest average time of 5:42. Potter averaged around 4.7 w/kg in her Arena Games races, although she is a little lighter than Learmonth. GTB is a strong cyclist and experienced on Zwift, and classically, Beaugrande is a bit of an unknown quantity on the turbo. One to watch for sure.
Learmonth's best run time in Rotterdam '20 was 3:18 while 3:06 is Beth Potter's fastest time, which is a joint AGT record with Coldwell. However, Coldwell ran 3:11 and 3:12 in the other runs in that event (Rotterdam '21), and Beth ran 3:07 and 3:09 in Munich, recording the fastest average run splits we've seen in AGT. Beaugrand is also a very strong runner, and has the height advantage over Potter. If she can work out the mechanics and technique of the curved treadmill it is possible she could set some very fast times in this discipline.
Predictions
So having run the rule over the leading contenders, how do Graeme's algorithms suggest things will turn out on Saturday?
In the women's race it's close at the top – Jess Learmonth's implied chance of overall victory stands at 25%, with Munich heroine Beth Potter on 24%. It's also tight for the final podium spot – Georgia Taylor-Brown at 18% and Cassandre Beaugrand on 16%.
And for the men, there's virtually nothing between the top three: Alex Yee at 24%, Aurelien Raphael on 23% and Justus Nieschlag 22%! There's then a gap back to Max Stapley on 10%.
Click here to check out TRI247's preview and analysis of Saturday's races.