Beth Potter produced an utterly dominant performance to win Arena Games Munich 2022 on Saturday afternoon.
The Scottish star was incredibly impressive as she took control early and never relinquished that advantage en route to victory by a wide margin.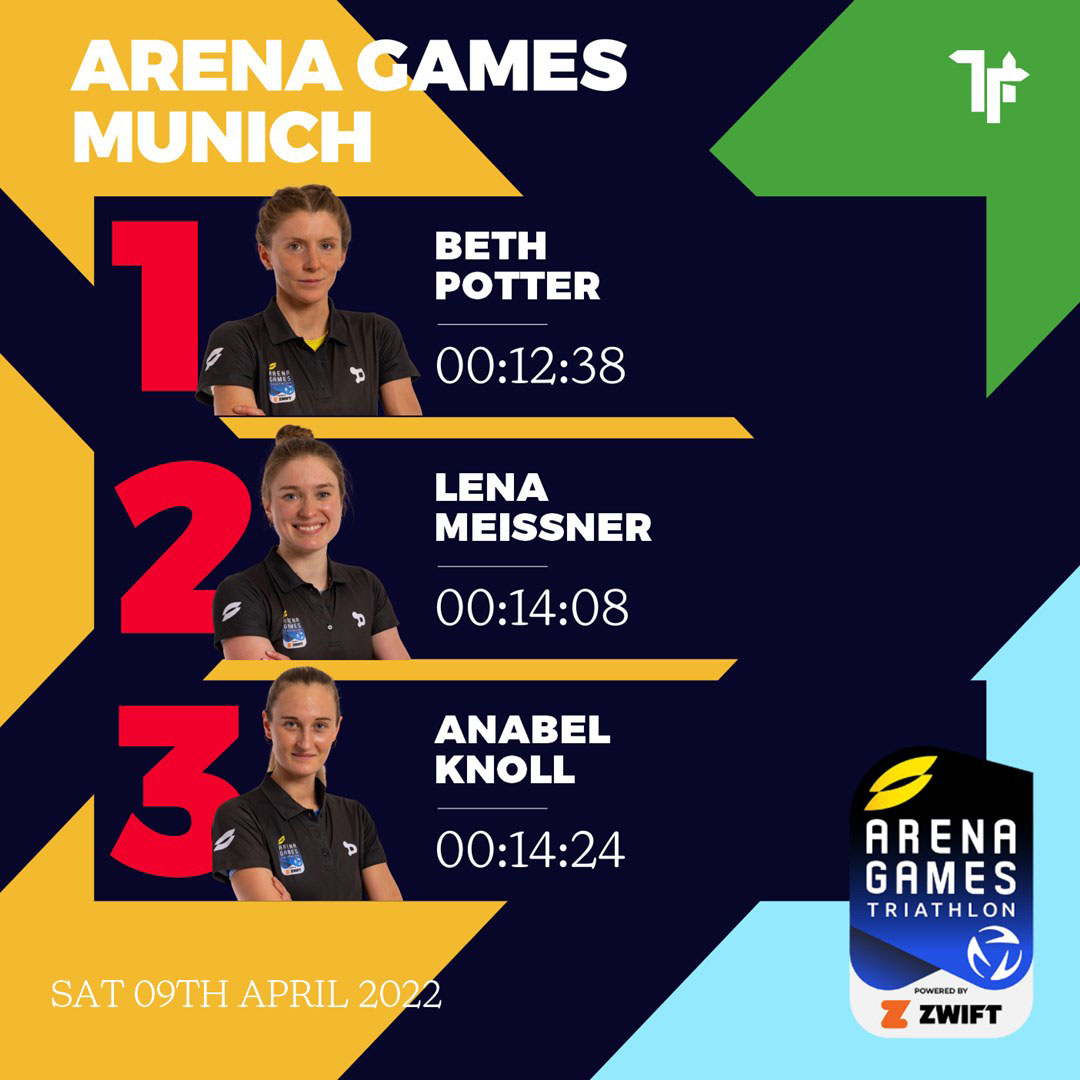 German pair Lena Meissner and Anabel Knoll claimed the other podium spots, but in reality it was Potter first and the rest nowhere. She was that good.
Stage 1: Potter takes control
Spain's Anna Godoy powered through the opening 200m swim to exit the pool first in 2:18, a second clear of Hungary's Zsanett Bragmayer with home star Meissner and favourite Potter a couple of seconds back in third and fourth. The entire field was separated by seven seconds as they headed for the first virtual bike.
Potter was quickly at the head of affairs as she worked as part of a lead group of six, with Gina Sereno and Luisa Iogna-Prat gradually being dropped. By the time the field reached T2 Potter was first off the bike and onto the treadmill and running with a lightning-fast transition. She was followed closely by Knoll, Meissner, Bragmayer and the supremely efficient Godoy.
Now Potter turned her advantage in the run into a lead as she quickly put 10 seconds between her and Meissner by the halfway stage. She looked wonderfully relaxed and the long stride was eating up ground – by the time she reached the finish her lead was almost 18 seconds over Meissner with Knoll and Godoy close behind in third and fourth.
Stage 2: Beth pours it on
The athletes were quickly back on the treadmills for Stage 2 and Potter and Sereno – the two fastest runners in the field – were quickly out front with Meissner desperately trying to hang tough behind them. At halfway Meissner had moved into second, but four seconds back on Potter with Sereno another second back in third.
Beth was looking strong and she jumped off the treadmill and onto the bike with a nine-second lead over Meissner with Knoll 13 seconds back and Sereno a second further back in fourth.
Out front Potter was splendid isolation as she led by 18 seconds at halfway in the bike, with Knoll, Meissner and Sereno forming a chase group trying in vain to keep pace. Vain being the operative word. The gap by T2 was 25 seconds with that chase pack being put to the sword.
Into the swim and Potter was showing very little sign of fatigue despite the brutal physical challenges the athletes were taking on. Behind her it was looking like that group of three battling it out for the other podium spots. With one stage to go it was a masterclass so far from the British star.
Stage 3: Cruising home
Potter dived into the pool for the final stage with a lead of a fraction under one minute – it really was hers to lose as she looked to take the first step towards an esports World Championship and some vital Olympic points.
As Beth transitioned to the bike again she was disappearing fast into the distance while Meissner was looking favourite to take second spot behind her. Another home favourite Knoll was third onto the bike. Godoy meanwhile had produced a terrific swim to retain some hope of a podium.
Midway through the 4k bike Potter had increased her lead to more than 70 seconds, while Meissner and Knoll were battling it out for second spot with Godoy just over 10 seconds behind the Germans.
The lead for Potter as she headed for T2 and the final run on the treadmill was more than 80 seconds with Meissner and Knoll still right together in that battle for the other podium spots. Godoy's bid to get into that mix meanwhile had faltered and she was falling back.
Meissner started the run as favourite to grab that second spot with her superior run, and so it proved as she started to build a gap over her compatriot Knoll. But neither was any match for the dominant Potter.
It was a sensational performance from the Scot, who cruised home in front by the remarkable margin of 90 seconds. Meissner and Knoll claimed second and third to keep the home fans happy. Godoy and Italy's Ilaria Zane rounded out the top five.
Arena Games Munich 2022 Results
Final, Women: Saturday April 9, 2022
1. Beth Potter (GBR)
2. Lena Meissner (GER) +1:30
3. Anabel Knoll (GER) +1:46
4. Anna Godoy (ESP) +2:22
5. Ilaria Zane (ITA) +2:28
6. Gina Sereno (USA) +2:30
7. Luisa Iogna-Prat (ITA) +3:10
8. Zsanett Bragmayer (HUN) +3:30