What is it like to watch the Arena Games in person?
Last April – with spectators absent due to COVID rules – I was one of very few (media) people able to be present at the SLT Arena Games London at the London Aquatics Centre. In those post-event comments, I wrote the following:
"I really do think that the 'Arena Games' concept has legs, beyond simply a COVID-world. I certainly hope so, because the thought of that event with 2,000+ on-site triathlon fans making a huge noise, in addition to the disco beats, would provide a fantastic atmosphere."
Fast-forward a year and as you'll likely know, the Arena Games concept not only 'has legs', but has formally linked up with World Triathlon. The Arena Games Triathlon Series powered by Zwift is the result, and with it the first Esports Triathlon World Champions will be determined after the Grand Final in Singapore.
That first race of three took place in Munich, Germany on Saturday. We've covered that extensively elsewhere, via Live blogs, reports (women | men) and post-race insights from elite coach Mark Buckingham on Beth Potter's domination, and a surprise podium in the men's race.
Having flown out to Germany to experience the event on-site, I'm going to give you my thoughts on what it was like from a spectator perspective.
Virtual becomes real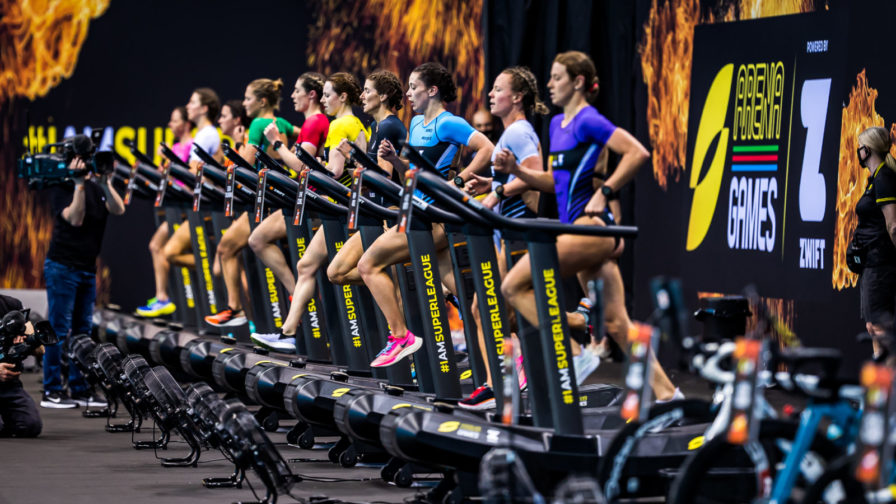 On the surface, the concept is somewhat strange. Watching on-site (real world), an event which is a combination of 'real' (swimming pool) and virtual (smart trainer and treadmill, via Zwift) can be a difficult thing to get your head around. Weirdly, it does actually work rather well.
I got some personal experience of this via an unrelated source last year. Along with my writing and reporting with TRI247, for the last 10+ years I've also done a significant amount of commentary and announcing work both on-site at triathlon events, and for livestream races.
Something new that I did last year was some live commentary on a series of Zwift races for British Triathlon. Totally into the unknown, what I found was that you very quickly forget that while you may see an avatar on screen, you are providing insight on people. As a spectator and observer in Munich, it felt remarkably similar.
The venue
The event in Munich was held at the Olympia Schwimmhalle, a central part of the iconic architecture of the 1972 Olympic Games. The Olympiapark is quite stunning, and will also host the 2022 European Championships – including triathlon – in August. The Super League team of course held one of their 2021 Championship Series events in the Olympiapark and thus the venue was a familiar one.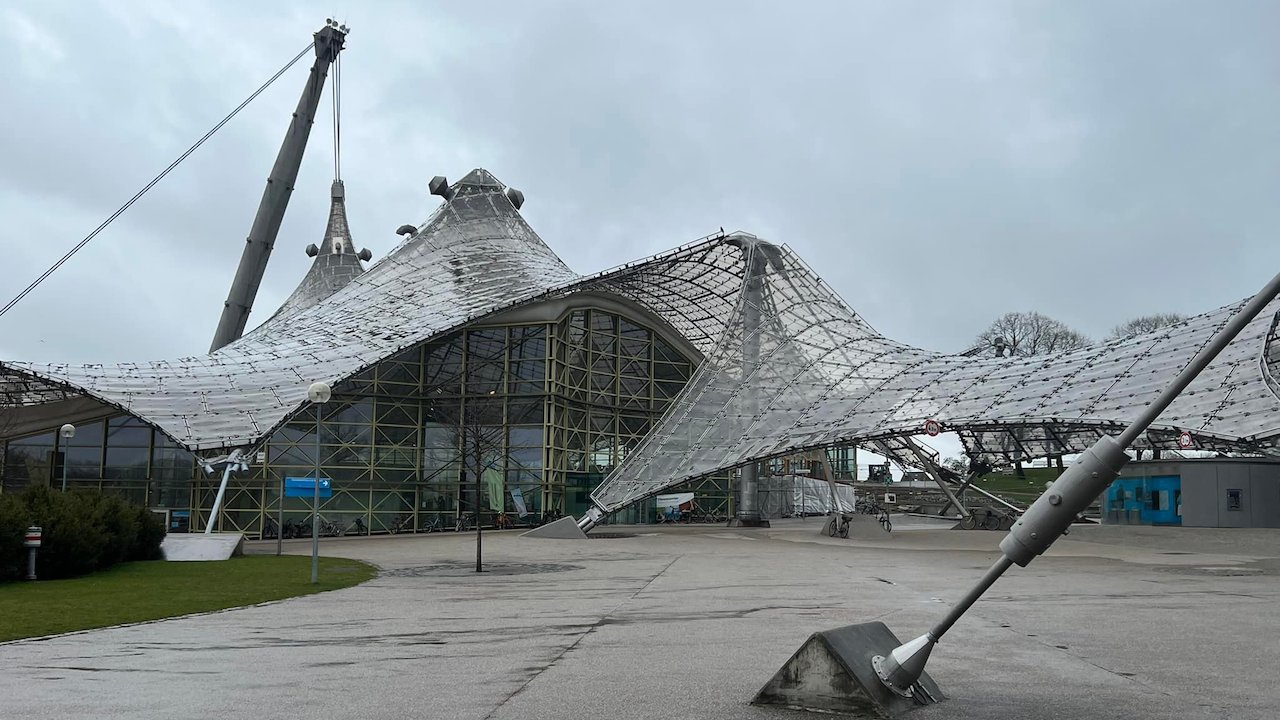 While the overseas, travelling spectator is unlikely to be a key market for ticket sales, I've looked on at the striking glass and steel roofs of that 1972 Olympics for many years. To see it all in person, certainly didn't disappoint, and you can spend several hours enjoying the immediate surroundings. If you are an age-group athlete heading out for the European Triathlon Championships later this year, you are in for a treat.
I think the SLT approach – across both Arena Games and Championship Series – of trying to utilise iconic venues and/or high profile cities, is a good one.
The Schwimmhalle also provided excellent viewing from the amphitheatre-style seating, a wide pool-side meaning easy viewing of the smart trainer / treadmills lines up by the pool.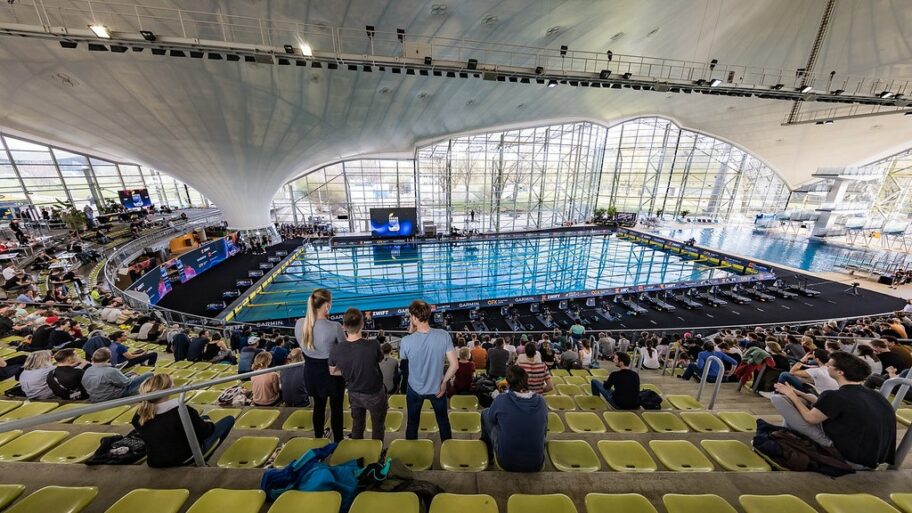 The experience
Visual presentation is a core part of the DNA of the Super League Triathlon ethos and to paraphrase a (now redundant…) well known pledge, you could say that they are never knowingly under-branded. From the smallest details such as athlete signage reflecting their individual sponsors, to the entire pool surrounds and the SLT-branded lane ropes, they continue to set the bar in terms of presentation.
While each element cold be considered individually small, in aggregate they contribute to both the in-person and broadcast quality of the event.
From an on-site viewer perspective, we had the addition of an excellent 'big screen' to help follow the Zwift action. Very clear images – helped of course by matching the athlete uniforms to their in-game avatars – overlaid with some pain-face images. A few tweaks to make the time gap graphics a touch larger would help fine tune that even further.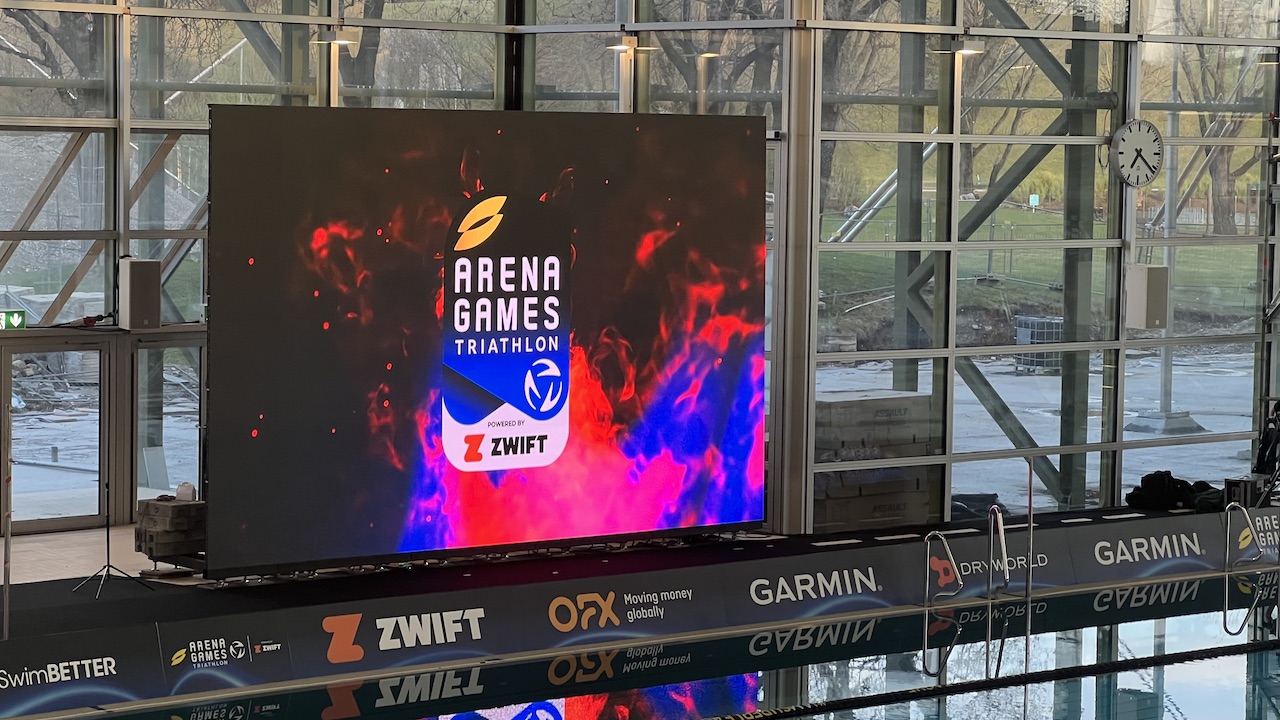 There was an excellent atmosphere in the arena for the finals, and that was with the venue far from full to capacity. Up until race week, local restrictions around the pandemic had put significant limits on the volume of tickets that were available. I'm reliably informed that there will be large crowds inside the London Aquatics Centre for round two on 23 April with most of the tickets already gone. That should add further to the atmosphere, particularly with a deeper British representation on the start list.
One area that was a challenge was the in-arena audio. With such a vast space, trying to optimise the clarity of sound for the announcers is always going to be a challenge – and certainly outside of my knowledge base. With the London venue having hosted many events at and since the 2012 Olympic Games, there's certainly scope to tighten up things there, and with a newer building, potentially the infrastructure there to help.
Is there 'excitement' watching athletes on smart trainers and treadmills? For the men's race – which was incredibly close, and also saw an unexpected podium – that was absolutely the case. The big screen, the Zwift world and seeing the athletes in person so close when making the bike to run transitions for example, really did get the crowds on their feet. That was of course aided by Justus Nieschlag being in the mix until the final metres, adding to the German excitement.
When you see what goes on behind the scenes, the logistics involved and the number of people working to make it all happen, it is very impressive. There were a couple of small issues – a brief delay to the women's final stage due to a timing error / a Zwift sensor not picking up for Gordon Benson on his treadmill – but based on previous experience, the SLT organisers will continue to refine, improve and learn.
Should you go to London?
I guess that's perhaps the key question here, in terms of assessing whether Arena Games works as a spectator. Rounding back to my thoughts from that first London event 12 months ago, having been in Munich with fans present, I would have to say a strong "yes".
If you are a triathlon fan, and have easy travel access to the London Aquatics Centre on Saturday 23 April, I'm pretty sure you won't walk away feeling short-changed in any way.