It was a typically busy day for elite coach Mark Buckingham on Saturday. First up, he supervised a three-and-a-half hour bike session for Jonny Brownlee and Lucy Buckingham – both of whom are bound for Challenge Gran Canaria on April 23.
He then joined us to catch up on the heats of the Arena Games – delighted to see Gordon Benson, another of the athletes he coaches, qualify so impressively for the men's final.
And having analysed the splits from the heats, Mark was one of the few people to tip eventual winner Aurelien Raphael for a podium spot as he provided pointers and insights throughout the day on the TRI247 live blog.
Looking back now at how things panned out in the men's final, here are Mark's views on the big talking points:
Making a splash
Aurelien Raphael was so good in the heats. He's really strong over all three disciplines, particularly in the water.
We've seen a similar style of short-format racing from his fellow Frenchman Vincent Luis.
And it's interesting when you look at the final podium from Saturday – the three guys on there all have good swims. And crucially, when they get tired, they can hold onto those good swims.
I think part of that is because of the tumble turns. They're all really good off the wall in particular. Look at Max Stapley, those razor-sharp turns don't cost him a lot of energy, but he can make a big gain. And obviously you don't get that in regular triathlon, so I think that was key.
But Raphael did everything else right too. I think he rode well in the pack. He didn't push on too much. He knew it was going to come down to a run at the end and could access a really good run when he needed to.
It was a nice mixture on the podium too. You had the wise heads of Raphael and Justus Nieschlag in first and third, both of whom have been around the block. Justus was super smart on the transitions too. But then you could quite easily say at the other end of the spectrum you had Max Stapley, one of the youngest and in his first race. He had nothing to lose, and sometimes that helps as well. So experience and ignorance work hand-in-hand and can be equally effective sometimes!
Everything conspired against Alex
And talking of the swim, whatever the opposite of the stars aligning is – that happened to Alex Yee on that first swim!
You probably had three of the top five best swimmers in triathlon, all taking that first swim out hard.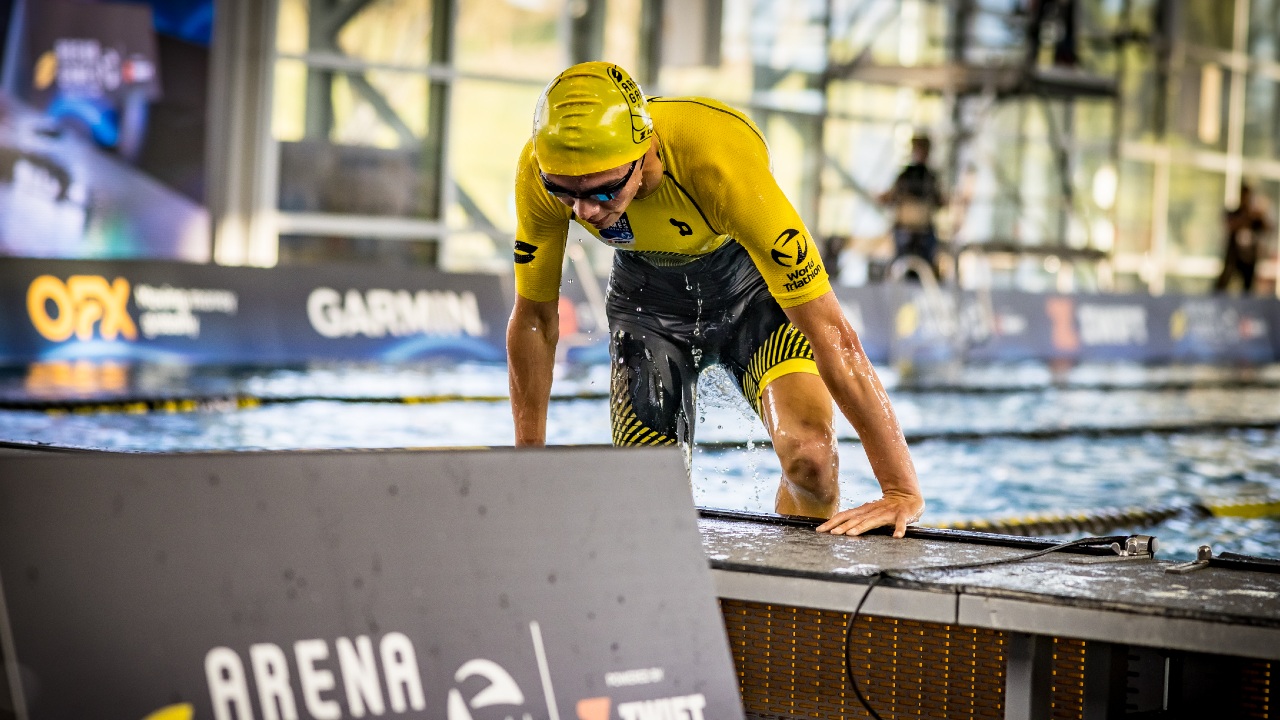 The other guys were able to jump back onto them on the bike but that left a gap to Alex who was probably just three seconds too slow in that first swim and then he wasn't able to ride up to them.
It's such fine margins but it's very rare that you get that calibre of swimmers pushing at the start and then the bike group forming very quickly, which meant Alex didn't have any athletes between himself and them to bridge up to the gap. Alex was just the wrong side of a very fast swim.
I always look for that because while Alex is a much better swimmer than I was, I was a weaker swimmer relative to the field like he was on Saturday. But as long as there's a couple of guys between the very front and the very back, you've got a chance of riding and getting a wheel. But Alex literally was in no man's land straight away on the bike and those guys just went hard and it was always going to be against him from then on.
The problem is he's going full out and the other guys are able to save energy and so he's then not able to access his best run.
He said himself afterwards that he was close to making the bike group and had he been able to, that could have changed everything.
Van Riel mystery
I'm not sure what happened with the other pre-race favourite Marten Van Riel. It was a strange one as he suddenly dropped back on the bike, going from almost first to last.
Two or three of them just seemed to ride straight away from him and when I saw he was five seconds down but drinking water you could tell he wasn't his normal self.
You'd expect to see him out of the saddle, going as hard as he can. But he was sat down, drinking. And I was thinking, he doesn't look right there. I wonder if it's because he came down from altitude quite close to the race?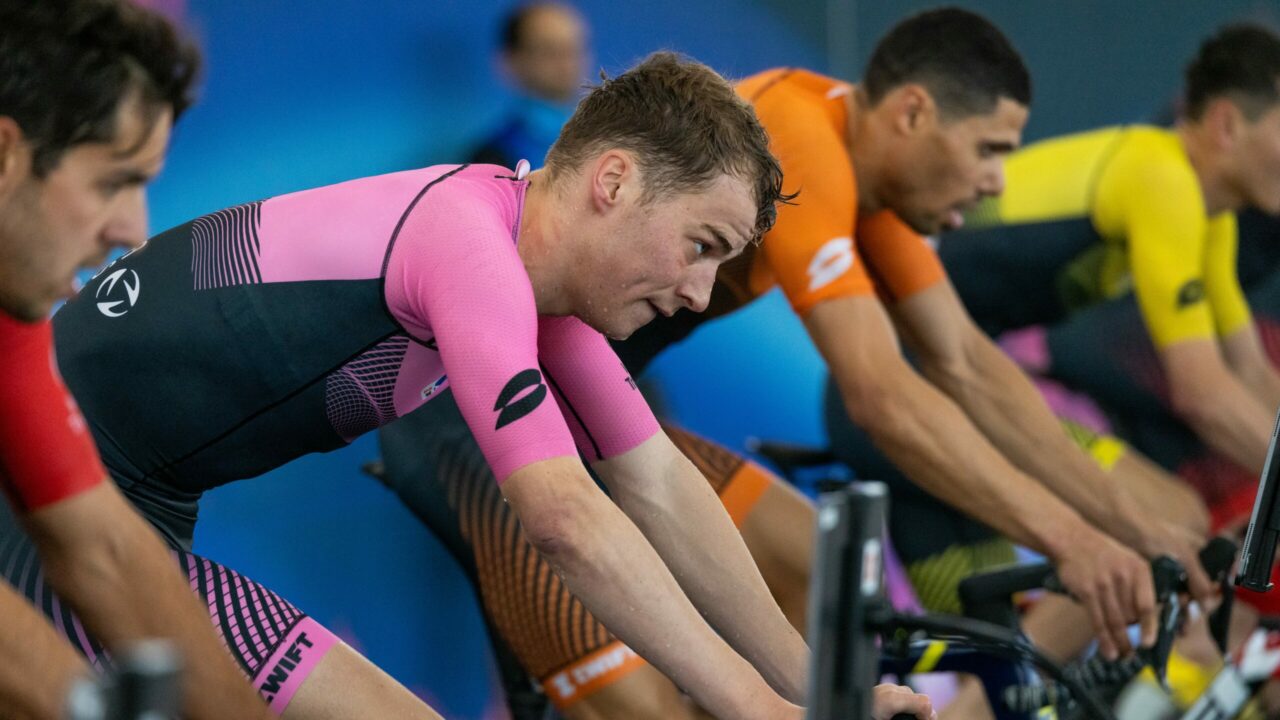 Treadmill technical
I've got to comment on Gordon Benson, who I coach. He was looking great.
He'd qualified for the final and when I spoke to him after the heats he said he'd been able to cruise through the second stage which was ideal. I thought this is a really good opportunity for a podium – that was generally what was going through my head early in the final. And then I see his arm go in the air on the treadmill and I was like oh no, there's a technical problem.
The rule is such that he gets given the same time as the last-place finisher, which I don't think is a great rule, but I appreciate their hands are tied to come up with something different. Maybe in the final you could get your average run time from the heats or something like that.
It basically just meant his race was over from that point, which was such a shame but I guess that's racing.
London calling
I think the important thing is that the dynamic of the Munich race was really swim heavy. So I don't know if some of those guys will now be thinking right, I've got two weeks to work on aspects of my swimming.
Or I've got two weeks to work on my two-minute power on the bike. Normally these guys are racing between 30 minutes and an hour on the bike and now it's five minutes. So your two-minute and five-minute power is really important.
You can actually improve that in a short space of time.
If Alex swims two or three seconds quicker, he's back in the mix. If Gordon Benson's treadmill works properly, he's in the mix.
Overall though I think it was really entertaining to watch, especially the men's race. I think when you've got so many guys so close to each other, it keeps us all on our toes.
Click here for Mark Buckingham's verdict on the women's race.