Well that, for so many reasons, really was fun. Huge congratulations to the athletes and all of the unseen behind-the-scenes teams who made Saturday's SLT Arena Games London power by Zwift a reality.
You don't need me (as well) to highlight the difficulties in organising professional racing of any type right now, so you have to say a serious "well done" to the team at Super League Triathlon for making it happen.
I also got to see it up close and personal, thanks to a media invite from the Super League team – and triathlon aside, being out of the house and seeing and chatting to some familiar faces, friends and athletes was a very welcome return.
More to follow later today in terms of interviews and thoughts, but having watched Rotterdam last year on broadcast and London in person, I really do think that the 'Arena Games' concept has legs, beyond simply a COVID-world. I certainly hope so, because the thought of that event with 2,000+ on-site triathlon fans making a huge noise, in addition to the disco beats, would provide a fantastic atmosphere.
Would that be possible – honestly, I think you could ticket this experience and sell out within hours. Is it popular? Well, speaking to one of the event directors, they were recruiting for 14 volunteers slots to help. Within a day of putting out the application form, they had close on 300 people wanting to help!
The racing itself was great – close, unpredictable and resulting in arguably two surprise winners, with the podiums settled only in the final metres of the final discipline in the third of three races. I hope you also enjoyed it if you watched live.
Not only that, there was some cracking Paratriathlon racing too – report and reactions coming on that shortly – all-in-all, a brilliantly executed and presented elite racing experience and broadcast product for the modern world.
---
POTTER AND VAN RIEL CROWNED SLT ARENA GAMES CHAMPIONS
Surprise winners Beth Potter and Marten Van Riel take the titles as elite triathlon racing returns in style
It was fast, frenetic and fascinating from the opening bells to the virtual finishing lines. But it was Great Britain's Beth Potter and Marten Van Riel who would be victorious at Super League Triathlon's SLT Arena Games Powered by Zwift in London, beating formidable women's and men's fields in the innovative new format.
The Aquatics Centre at Queen Elizabeth Olympic Park in London would this time be the host as virtual and real-world racing arenas collided to provide an enthralling two hours of elite racing.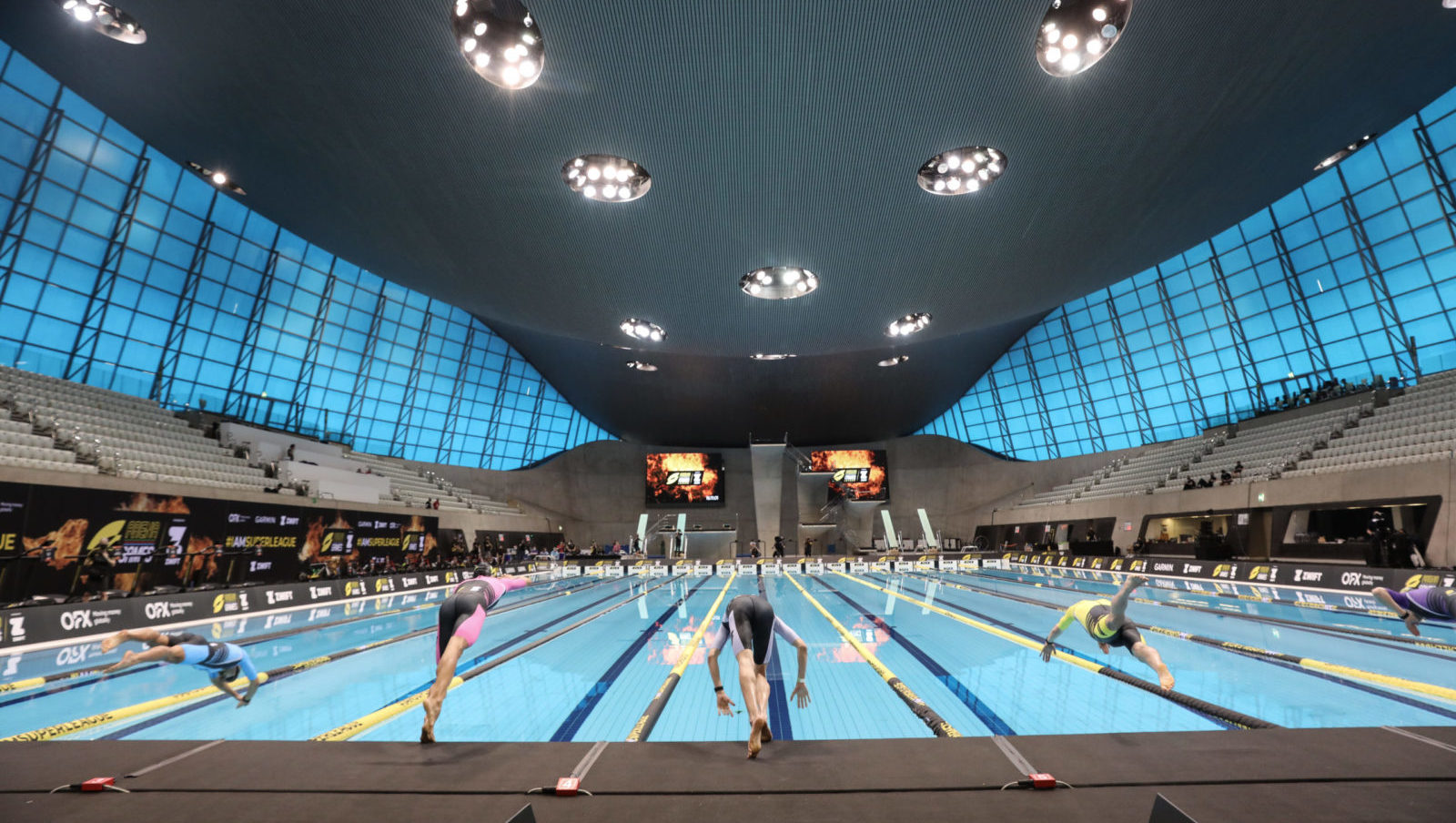 The second-ever SLT Arena Games, following 2020's hugely-successful debut in Rotterdam, saw athletes tasked with a Triple Mix format of a 200m swim leg in the Olympic pool, a 4km turbo trainer bike discipline, and a 1km run on a curved treadmill all projected onto the Zwift virtual platform. Yet a further twist would be having triathlon's conventional swim-bike-run order shuffled into swim-run-bike; run-bike-swim; and bike-swim-run formats.
The innovative and fresh racing kept the drama sky high until the final metres of each event, with the women's race coming down to a final 1km run showdown between Britain's former track Olympian Beth Potter and Ironman star Lucy Charles-Barclay.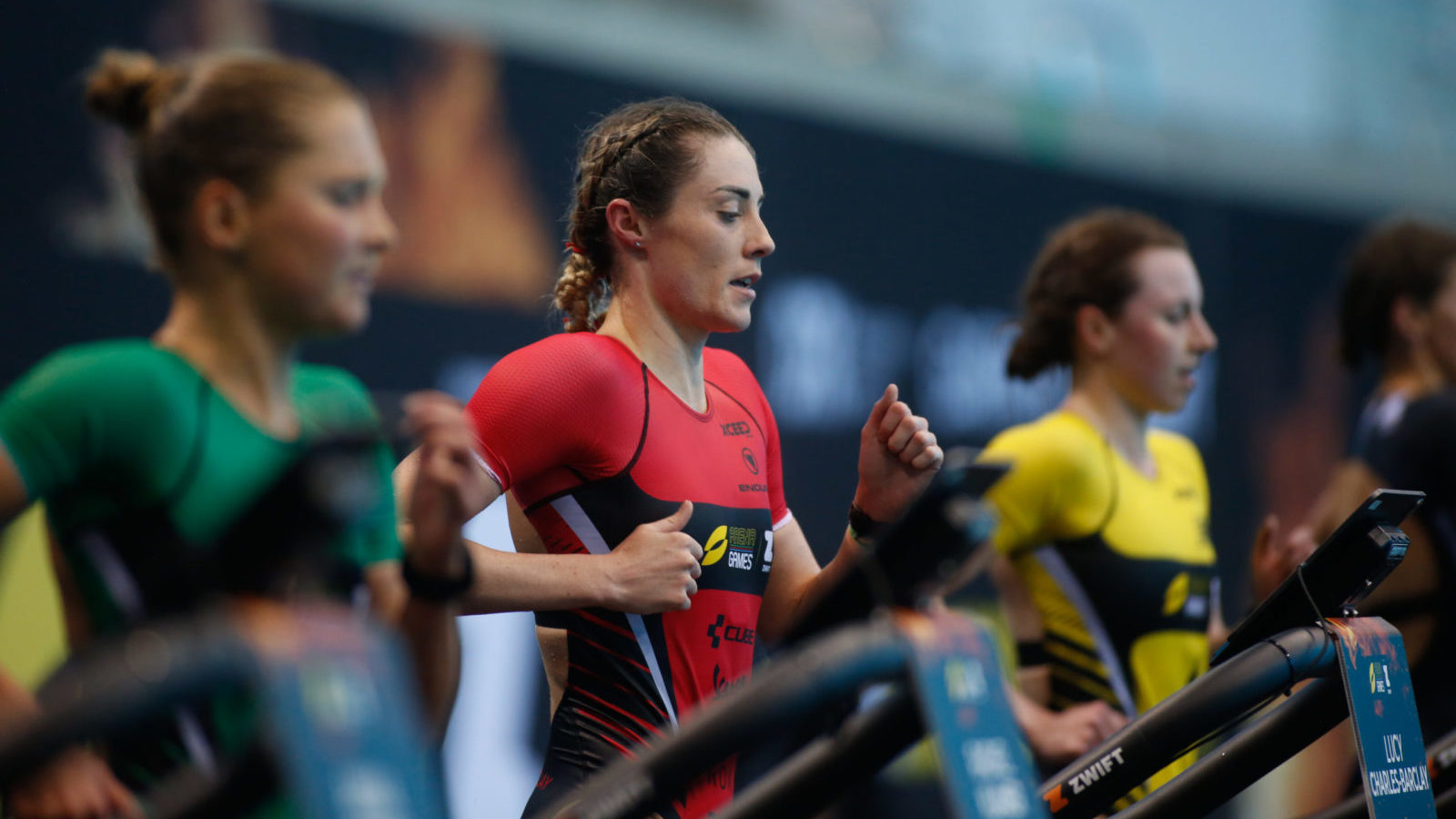 Yet it would be Potter's run prowess that would propel her to victory in a thrilling finale, seeing the Scottish athlete finish ahead of a stacked field that included 2020 ITU World Champion Georgia Taylor-Brown, rising Brit stars Sophie Coldwell and Kate Waugh, and Dutch two-time Olympian Rachel Klamer.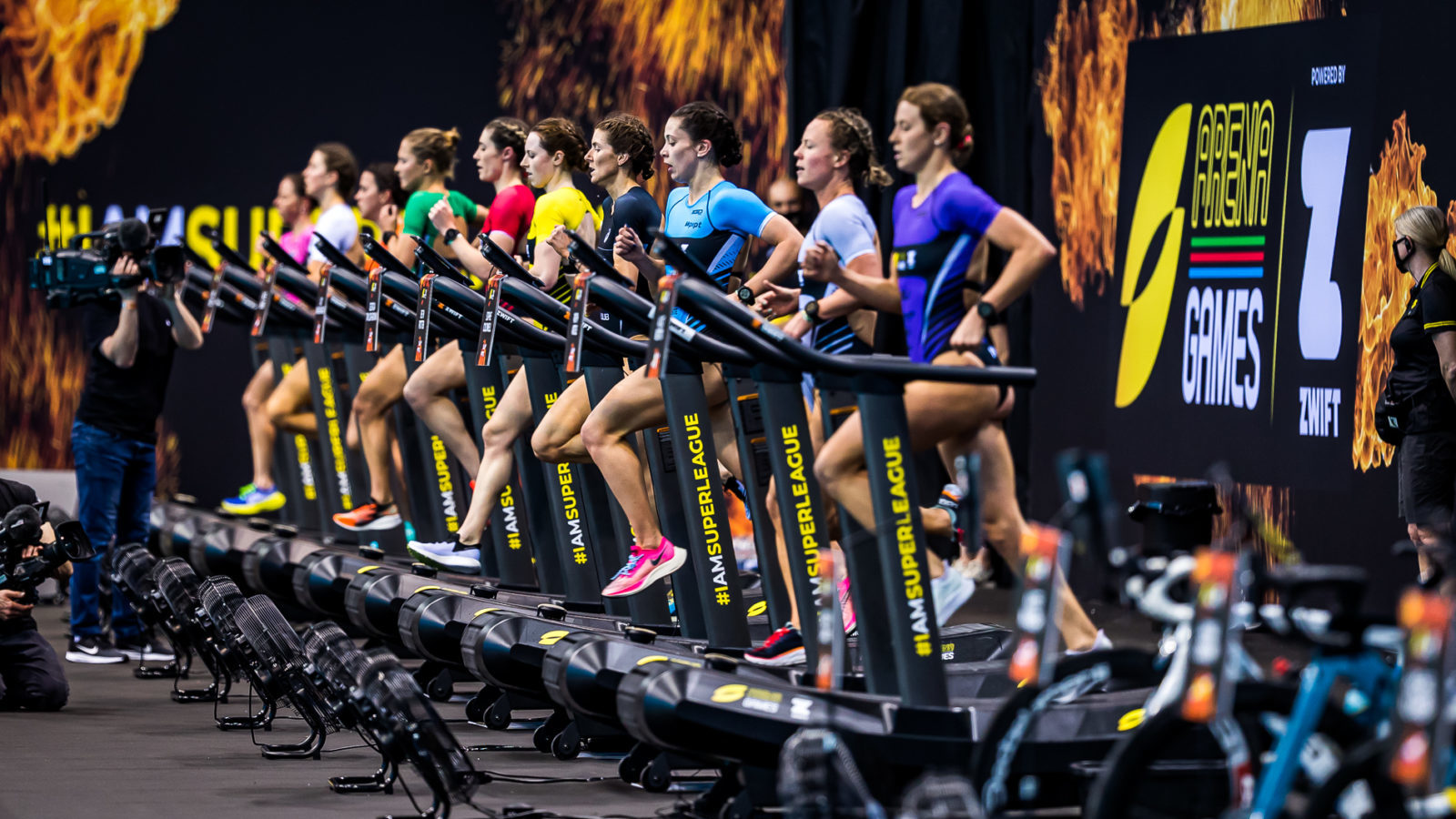 Beth Potter said: "It was savage racing, so tough! I came here after a big block of training and it was great just to have a race and something to work towards. I felt good on the transitions and I've been working really hard on my swim this winter, so it's nice to see it all come together."
IRONMAN star Lucy Charles-Barclay, making her Super League debut, proved her class by finishing second ahead of many Olympic Games contenders, with the British athlete also relishing the unique approach to racing. "It's completely different to anything I've ever done before," said the 27-year-old from the podium.
VAN RIEL POWERS TO VICTORY
The men's race also wouldn't be decided until the final throes and the ninth and final discipline of the day, with the consistent performances of Belgium's Marten Van Riel seeing him score the most points ahead of Germany's Justus Nieschlag, and Brit stars Jonny Brownlee and Alex Yee.
Once again, the men's field at the SLT Arena Games would be a fascinating mix of Olympic Games medallists (Brownlee), ITU World Champions (Brownlee and Tim Don), Ironman powerhouses (Don), rising British stars (George Goodwin and Alex Yee), and plenty of contenders from continental Europe (Germany's Justus Nieschlag and Jonas Schomburg, Belgium's Van Riel, and Portugal's Vasco Vilaca).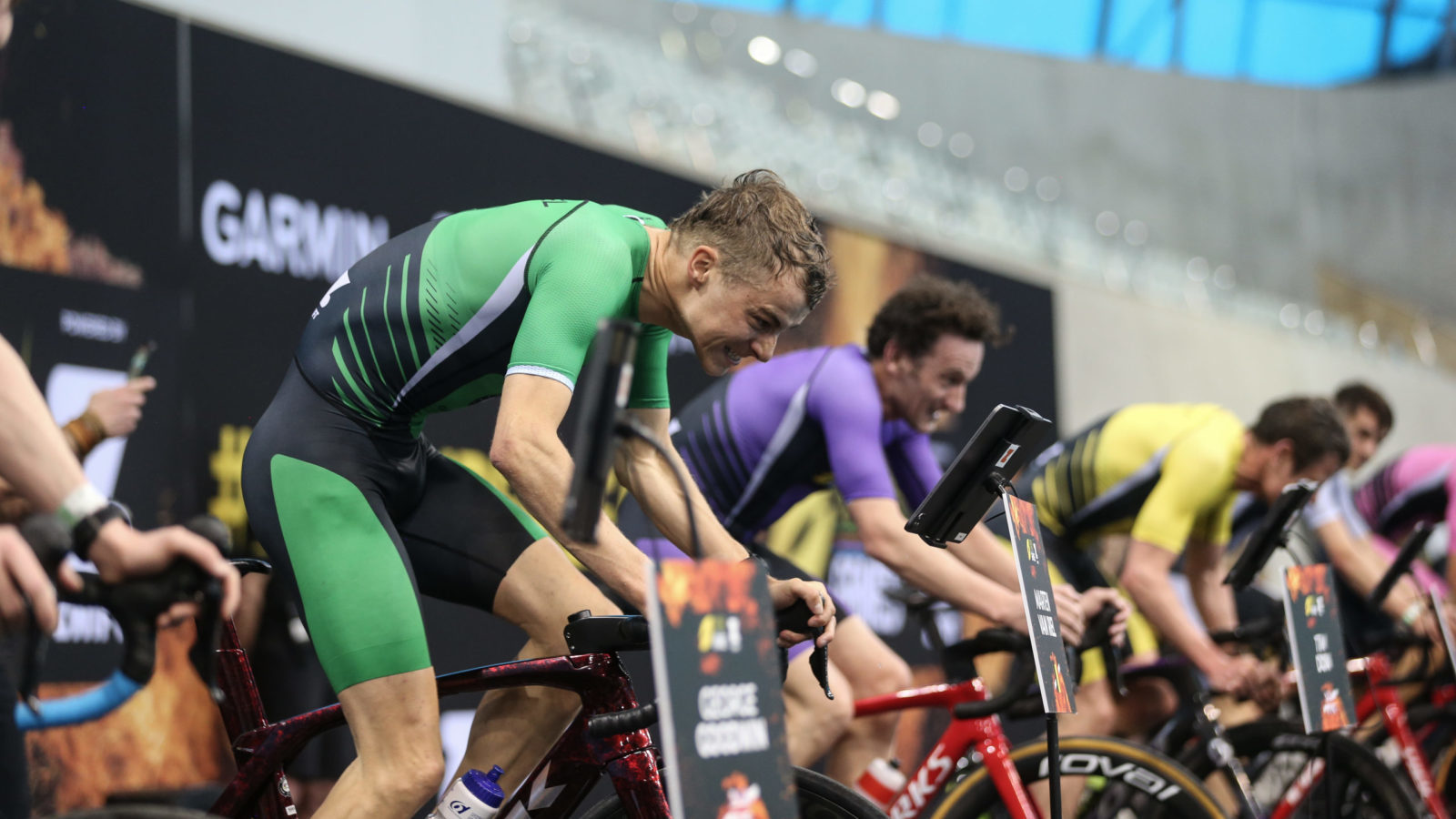 After two frenetic Triple Mix events, Stage Three would begin with Van Riel, Brownlee, Yee and Nieschlag all in contention for the overall Arena Games title. The 1km run would again be the deciding discipline and, with 500m to go, Nieschlag would be pushing the pace ahead of Yee, Van Riel and Brownlee.
With the treadmills taking a pounding and a 20km/h pace on show, Nieschlag would take the win by just 1.6secs ahead of Yee, with Van Riel in third and Brownlee fourth.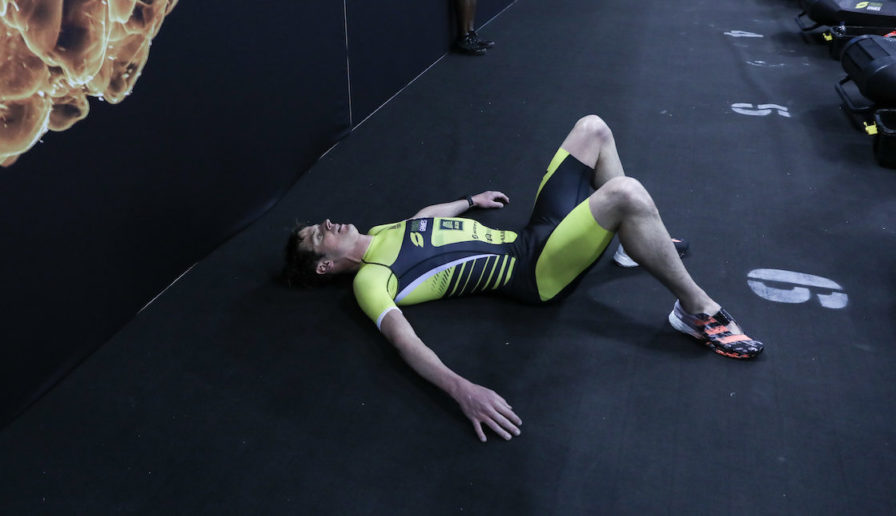 The overall result and points tallies saw Van Riel crowned the overall Arena Games champion, however, ahead of Nieschlag, Yee and Brownlee.
"Everything that makes our sport maybe the hardest sport in the world is all here," said Van Riel at the finish. "You have the heat and humidity of being inside, and there are no easy moments on the treadmill and turbo trainer. Even getting out of the pool was hard! I didn't expect to come out on top as there are a lot of big names out there today. By the end of the run, I could feel Jonny's breath on my back, and I knew I had to keep going. It was all-out racing until the line."