Cassandre Beaugrand made it three big wins in the UK this year as she powered to a dramatic victory in the opening Super League Triathlon Championship Series event in London.
Winner of the Arena Games in London and WTCS Leeds, the Frenchwoman started fast and finished fast.
She was first out of the water at the beginning of Stage 1 but didn't take the lead in Stage 3 until the final lap of the closing run – when it mattered.
That crowned a memorable team performance from the Scorpions, with team-mate Georgia Taylor-Brown in third.
Splitting the pair was American Taylor Spivey of the Rhinos, who made her move on Stage 2 and was in the mix throughout.
Triple Mix Stage 1 – Swim, Bike, Run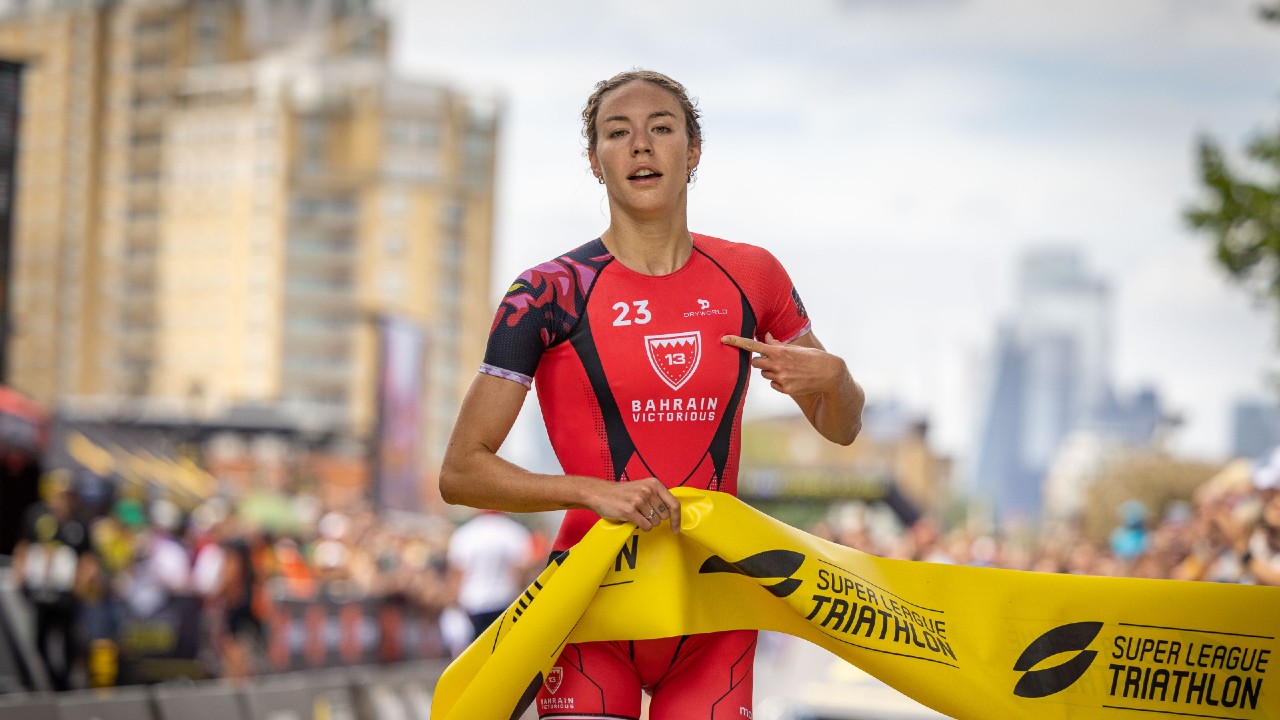 The Scorpions were all over the first stage as they mopped up the three short chutes on offer.
Beaugrand took the first of them in the swim as she just led from teammates Emma Jeffcoat and Taylor-Brown, with the Eagles' Sian Rainsley right in the mix too.
But Rainsley was an unlucky casualty early on the bike after being right on the tail of the leaders.
But the Scorpions' dominance continued as GTB produced a superb T2 to pip Jeanne Lehair and the rest in a group of 10 from the bike – and while no team could win more than one short chute, they were denying the rest.
And it was no surprise to see Taylor-Brown still in front after the run to take the opening stage ahead of Beaugrand and Spivey.
Triple Mix Stage 2 – Run, Bike, Swim
The second stage saw an eyecatching performance from Spivey who powered through late on to land the spoils.
It had begun with a slightly chaotic run start, with several athletes at the wrong end of the startline.
There were plenty of time penalties and racing mishaps too, with Non Stanford among them as she was forced out by a broken clash on her helmet.
And Scorpions manager Chris McCormack decided to hand that short chute to Cathia Schar rather than Beaugrand or Taylor-Brown.
Triple Mix Stage 3 – Bike, Swim, Run (pursuit start)
Spivey had earned the right to start first on the bike and briefly held off the rest before it turned into a four-person group, with Sophie Coldwell, Beaugrand and Taylor-Brown having it between them.
Once again a tremendous transition from Spivey saw her lead into the water and she was still in front starting the run.
But all the while Beaugrand was closing and the catch came on lap two, with Spivey staying on well for an excellent second and GTB in third to round off a stunning day for the Scorpions.
Super League Triathlon London 2022 results
Sunday 4 September 2022 – Triple Mix – Elite Women
1. Cassandre Beaugrand (Scorpions) – 15pts
2. Taylor Spivey (Rhinos) – 14pts
3. Georgia Taylor-Brown (Scorpions) – 13pts
4. Sophie Coldwell (Cheetahs) – 12pts
5. Beth Potter (Sharks) – 11pts
6. Kate Waugh (Sharks) – 10pts
7. Miriam Casillas Garcia (Cheetahs) – 9pts
8. Verena Steinhauser (Cheetahs) – 8pts
9. Cathia Schar (Scorpions) – 7pts
10. Nicole Van Der Kay (Sharks) – 6pts
11. Sophia Green (Eagles) – 5pts
12. Natalie Van Coevorden (Rhinos) – 4pts
13. Sian Rainsley (Eagles) – 3pts
14. Rachel Klamer (Cheetahs) – 2pts
15. Jeanne Lehair (Sharks) – 1pt
Super League Triathlon Standings – Team
After SLT London, September 4, 2022
1. Scorpions 100pts
2. Sharks 76pts
3. Rhinos 62pts
4. Eagles 57pts
5. Cheetahs 50pts