While Team England understandably made most of the headlines thanks to their dominant display in the Mixed Relay at the Commonwealth Games, arguably the biggest over achievers were Wales.
Iestyn Harrett, Olivia Mathias, Dom Coy and Non Stanford, in her last major Games before retiring, roared to a stunning silver medal.
All performed superbly – Harrett clocked 18:10 in a stacked first leg to put them in fifth, Mathias stuck with Scotland's Beth Potter on the run to move them up to third, 20-year-old Coy belied his inexperience to hand over to Stanford in joint second place – and she then rounded it off in style by outsprinting Australia's Sophie Linn.
Exceeding expectations
And afterwards Stanford, a former World Champion and fourth at the 2016 Olympics, summed up their achievement: "It's beyond all of our wildest dreams. We thought we had a shot at the podium if we all had perfect legs. But to walk away with a silver, I think we've exceeded everyone's expectations.
"These guys were just incredible and they handed over to me in the perfect position and I just had to finish it off, so massive kudos to them.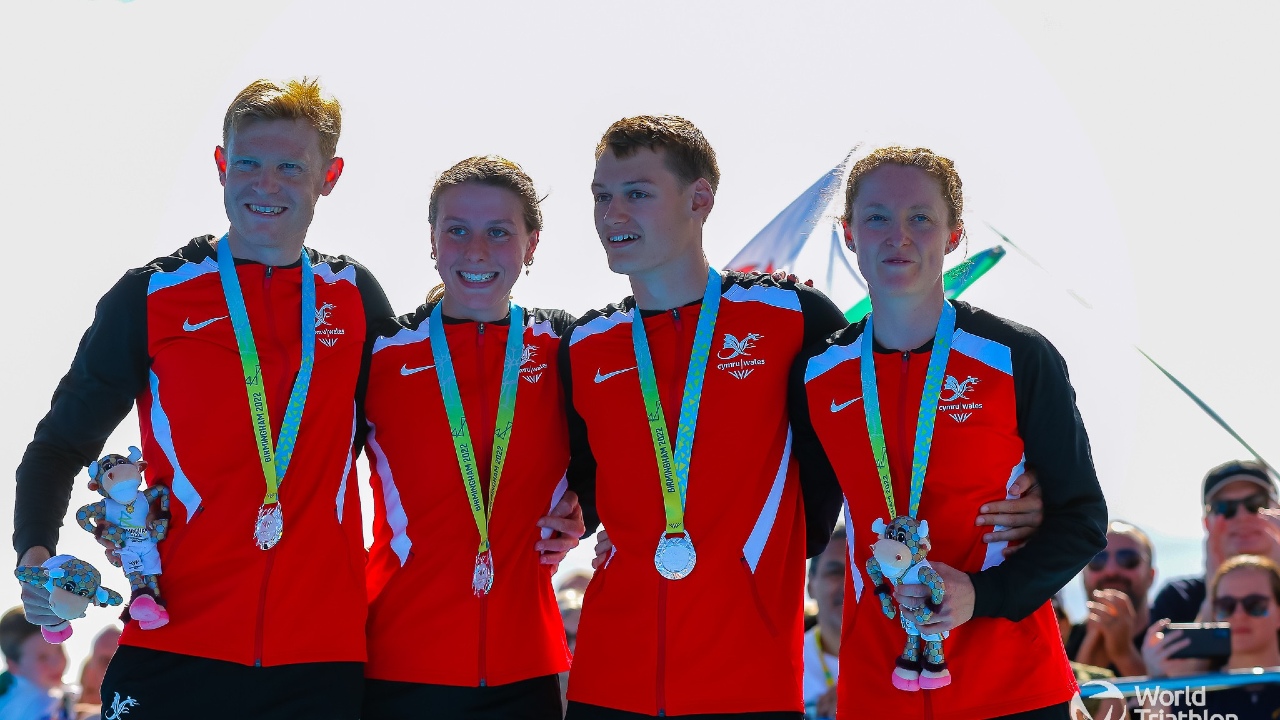 "This is my final year of racing so to do this with the team is so special. It's absolutely the icing on the cake of my career and I think I can hang my shoes up now and be really happy with this silver. It's the perfect ending."
Thriving under pressure
Youngsters Mathias (23) and Coy both seemed completely unfazed by the high-profile situation, though Mathias admitted: "It's the hardest thing I've ever done but the crowds were crazy. I was just thinking try and give Dom the best possible chance I can, just do it for the team."
Coy was gapped slightly on the swim but battled back brilliantly on the bike and run to tee up the chance of silver for Stanford.
He added: "You can hear the cheering but I was just so focussed on the race and going for it, that I didn't have time to process that part of it quite as much as I did in the individual on Friday. But it really helped me to push all the way to the finish."
And the last word went to Harrett who explained why their coach ended up in Powell's Pool not long after their medal success.
"It was his birthday – and this is the best present we could have given him!"