Sunday's Super League Triathlon London was an all British affair at the top of the women's rankings, with the full Tokyo 2020 Olympic team completing the podium, headed by the terrific Jessica Learmonth.
We spoke to Jess shortly afterwards about her SLT experience, and her gold medal winning summer.
Learmonth on Super League
Prior to Sunday's race at West India Quay in Canary Wharf, the only previous Super League Triathlon experience for Jess was the 2020 Arena Games in Rotterdam. She won that one in style – all three rounds in fact – so was she finding this intense style of racing easy, given she won a regular SLT race at the first attempt?
"I don't think so, no! Funnily enough, I kept trying to think back to the Arena Games and thinking, is it going to be like that? Am I going to feel the same? How did I feel when I did that? It seems like so long ago, I wasn't sure how it would go and you know before a race, you normally have an idea of how it will go.
"Here, you don't know how you will feel, how it will go and you can't really prepare for it. But it went alright – it's good fun!"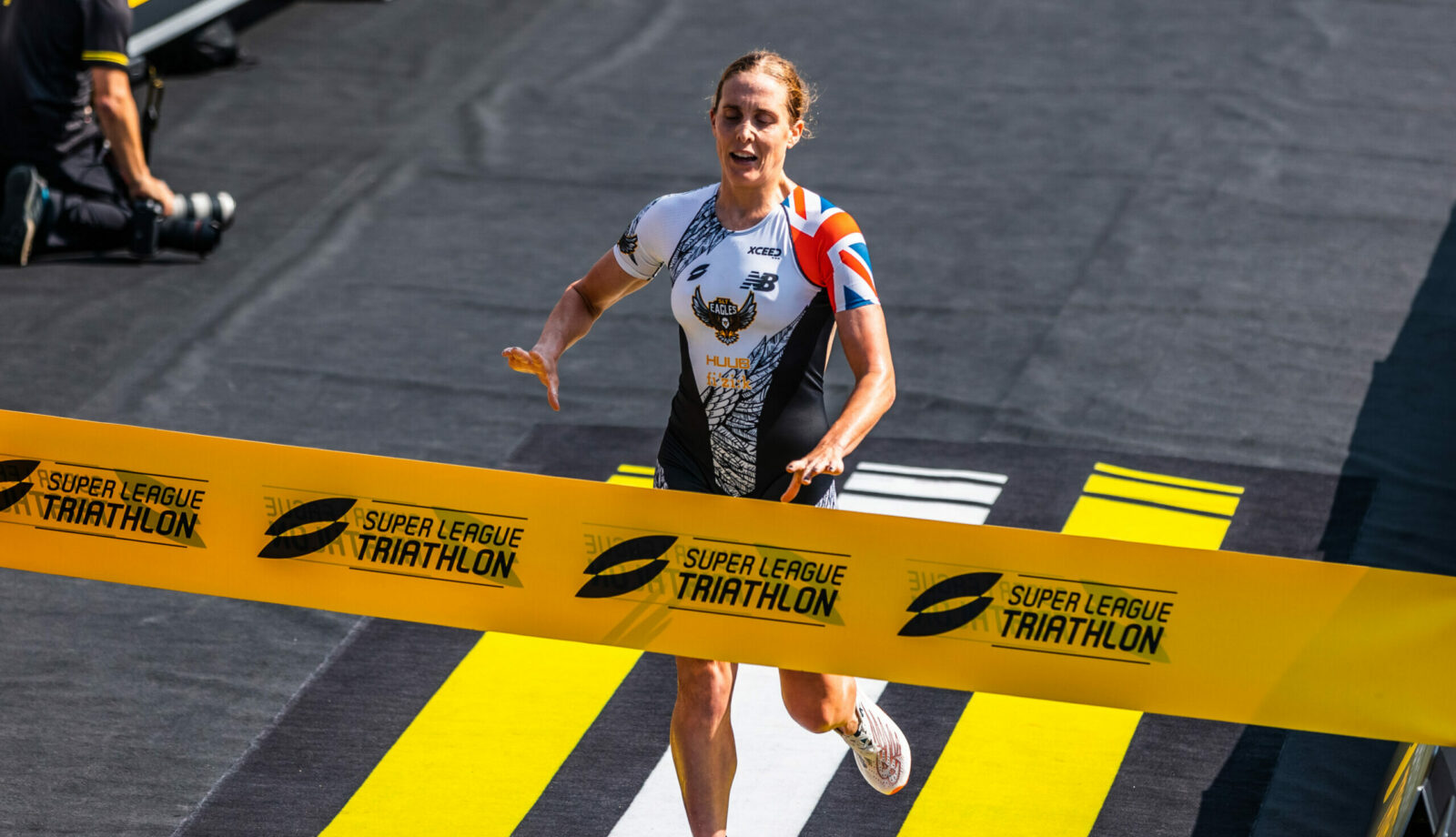 Turnaround times…
While the racing is short and intense, the turnaround between races for Sunday's Triple Mix also added an extra layer of complexity. Given the restrictions of broadcast, the turnaround from the first athlete finishing race one, to the start of race two (both run legs), was just two minutes – during which time athletes also needed to reset their bikes in transition. It was brutal.
"Honestly I would say, hands down, that was the worst part of the race," admitted Jess.
"I couldn't believe it when we all set off together on that run. The first run was so bad, I absolutely died and then to think that we had a rest and then to go on again on the run. Everyone just went off like I train, I was thinking… just get me out of here! I absolutely hated it!
"I think from that everything seemed to feel a lot better because it wasn't as bad as running back-to-back. I was really seriously regretting my decision to do Super League at that point though, because it was absolutely horrendous!"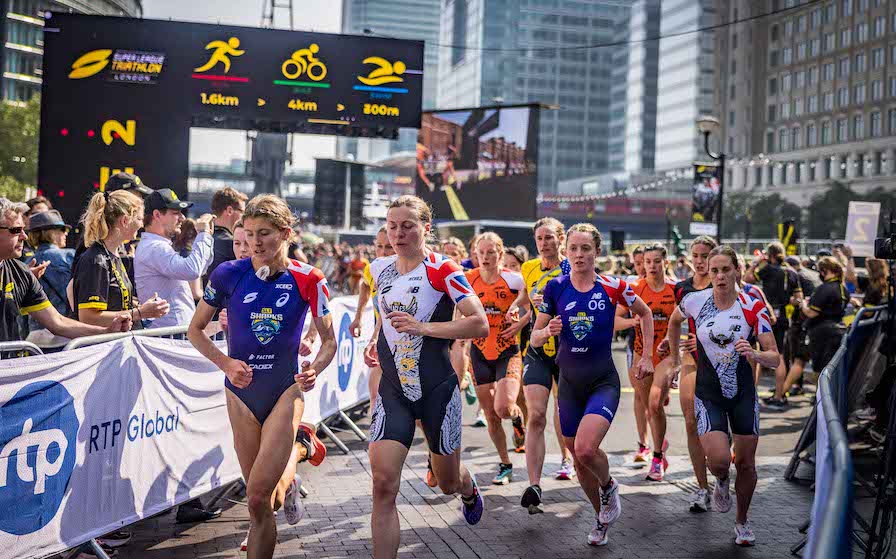 Jessica Learmonth, Olympic Champion
It was an obvious question – but needed to be asked – how does being it feel being introduced as an Olympic champion?
"Yes, a lot of people have said it to me… and I still can't quite believe it. I'm just really proud to be honest, I just think that it's kind of finished off my little journey in triathlon. I'm not saying that I've finished with triathlon, but to have gone from working my way up, the dedication, the family support, like Jon [Ed. Jess' partner] – we don't really going out drinking and have a normal life – it's nice that it's paid off.
"I'll always have that and nobody can take it away from me. It's really still not sunk in yet."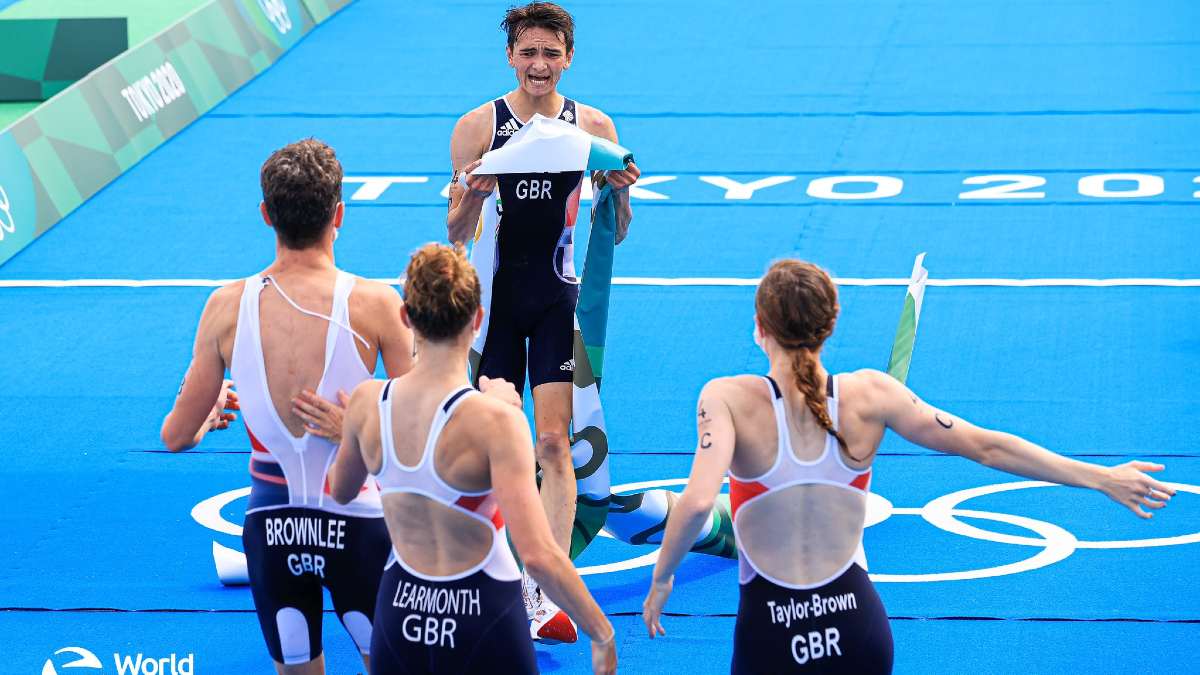 Mixed Relay glory
The Triathlon Mixed Relay at Tokyo 2020 was one of the best races in the history of our sport, when you consider the profile of the event and the quality of the racing. We always believed Great Britain, with the team and order selected, would win if they all produced their best on the day. What was the experience like?
"Going into it we weren't out-and-out favourites because we'd not won a relay for a while, but like you say, we had a very strong team. I did feel the pressure, mainly because Jonny, G and Yee had such good individual races, that I felt the pressure.
"We'd raced together in Hamburg before (2019), and I sort of went into the tunnel (on the swim) and never really came out (!), it was awful, and so that was on my mind, plus the pressure is there because there are other people involved.
"Once I finished my slot, I honestly thought 'that's it, we've done it'. I had that much confidence in the other three, there was no doubt in my mind. That seems really cocky, but everything aligned and we should all be really proud of our performance. Within the team there was no pressure, never any 'just don't mess up' or anything like that. We all just said go out, have fun and we knew what we needed to do – that was it."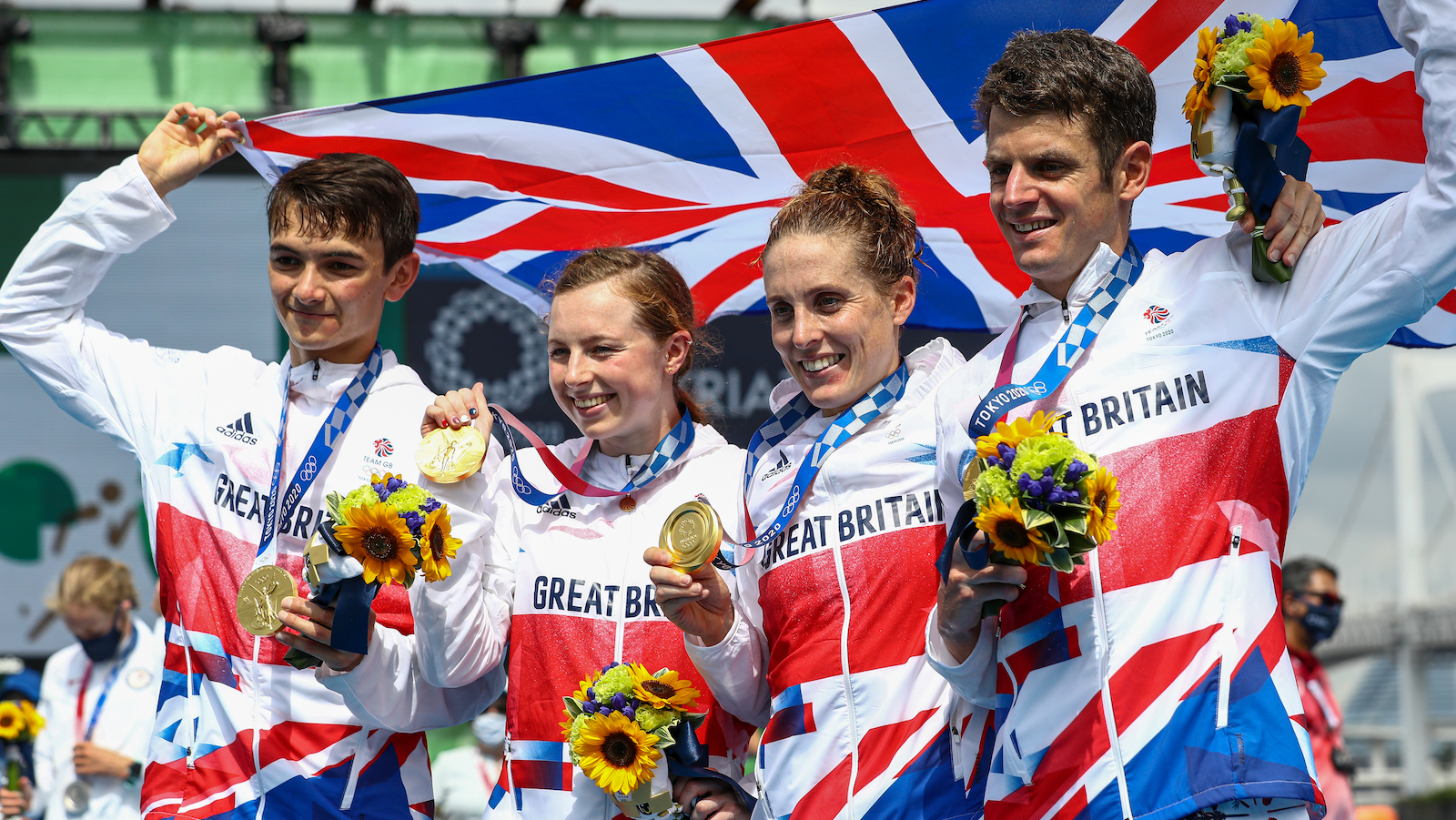 Learmonth legacy?
Given the impact that the Mixed Relay had and the audience it drew, did Jess have any perception during the event just how much significant what we were all watching could well be for the future of the sport.
"I know what you mean. I actually didn't think that at the time, but when I came home and all the people that are not into triathlon that had watched it, and how much limelight was created because of it. It sounds bad… but it is so much more exciting than the individual.
"In the relay, there's so much going on, so many changes, and as you say the standard is so high. I'm so glad that triathlon is getting the attention that it deserves and I think that it will stay now.
"I am a big fan of the standard distance though – I don't want it to go to sprint – I think with the standard and the relay together, you've got a great combination. Triathlon is an endurance sport, and I think having the two (individual and relay) just adds a different dynamic. It's good for the sport."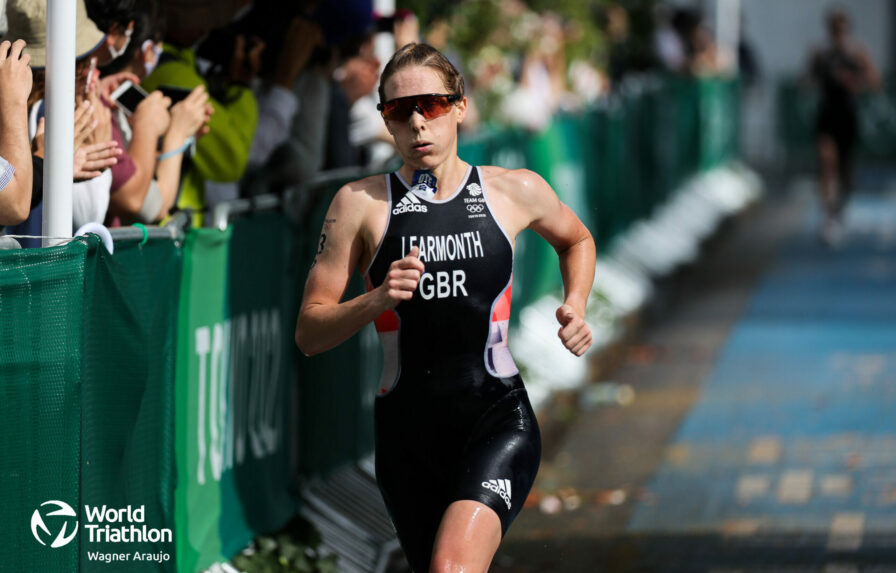 The future for Jess?
With SLT London the first of four back-to-back weekends (Munich, Jersey and Malibu follow), in the post-Tokyo whirlwind, has there been a chance to think beyond that?
"To be fair, in the beginning I thought there's no way I'm even doing this for three more weeks! After that, honestly, it's day-by-day. I've not a clue what's happening next year.
"I've found it really, really difficult post-Tokyo to kind of get back into training. I mean, I have been training but it's that real top end that's been missing. To get the most out of yourself you have to be pretty motivated to really hurt yourself in training and I think I've really, really struggled with that. I've never had that before, so it's been really strange the last five weeks since Tokyo.
"That's why coming into this race I wasn't sure how I'd get on, but luckily just ticking over and doing bits has been fine. I'm glad, because now hopefully I can now get fitter as the weeks go on."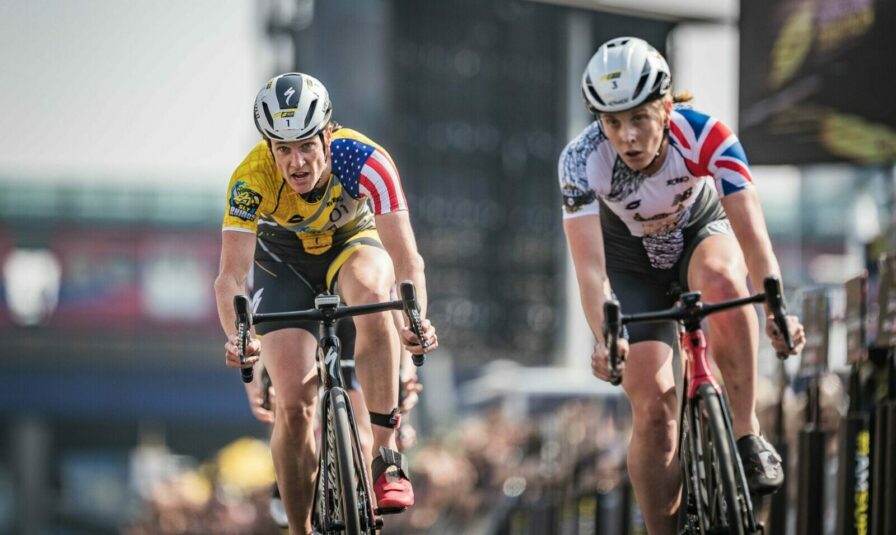 Has life changed for Learmonth?
The impacts of an Olympic medal can have strange results – invites to places you'd never thought of, opportunities and strange gifts randomly appearing from media savvy brands. Has much changed in the Learmonth household post-Tokyo?
"Not really sadly… but if anybody wants to get in touch! I think the only thing that's changed is maybe people noticing you a bit when you are running, or going locally and people saying well done to you, things like that.
"But, it's not changed that much – it's changed in a nice way, it's really, really touching to be honest."
In truth, when you speak to Jess Learmonth, you get the feeling that she's not looking for too much to change anyway – and why should she…