England win the football, Sweden win the triathlon…!
Norden prevents Morrison from taking a Scandinavian double in Jönköping
Pro Women
After a gun-to-tape victory last week in Finland, Great Britain's Kimberley Morrison returned to IRONMAN 70.3 Jönköping in Sweden today, a race at which she has finished third at for the past two years. She did manage to improve on that – but in a close battle at the front of the race, the 2012 Olympic Silver medallist and World Champion, Lisa Norden, perhaps made amends for having to watch the England team beat Sweden in the World Cup Quarter Final yesterday! So, not quite a Scandinavian win double for the Brit, but a very worthwhile trip.
Norden headed the way in the swim (25:34) with Mikaela Perrson (SWE), Kerry Morris (AUS), Caris Dempster (DEN) and Michaela Herlbauer (AUT) right with her. Morrison wasn't too far back, hitting dry land with a 26:09 in a clear Sixth place. While the swim is not her 'ace' card, after being first out of the water last week and after an impressive swim recently at The Championship in Samorin, it is clear to me that a lot of work has been going on behind the scenes to leave her ready to play her joker, the bike, much earlier in her racing. The other British Pro entry, Alice Hector, was next through the swim in 27:17, though it would appear that her day would soon end – more info soon hopefully, on that.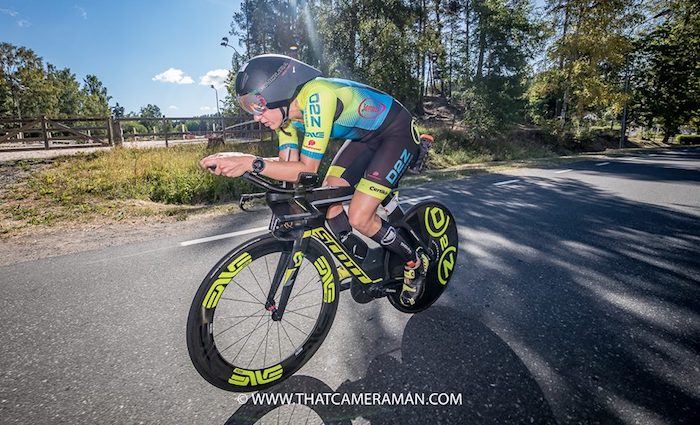 As we recently highlighted, Lisa Norden is in great bike form having recently won the Swedish National Time Trial Championships. It was thus no surprise to find that late into the ride, Norden and Morrison were in close contention with a distant five minutes back to third place. By T2, Morrison (2:16:41 bike split) had managed to gain a minute over Norden (2:18:30), with Åsa Lunström (2:20:12) a further five minutes later to the dismount line. 13.1 miles to decide the winner.
Women's leaders are off the bike: @TriathlonKim leads the way in 2:46:27, @lisanorden +1:06, @AsaLundstromTri +6:07, Morris +7:46, Persson +8:42 #IM703Jonkiping pic.twitter.com/v6UYLKSKVR

— IRONMANLive (@IRONMANLive) July 8, 2018
Norden did gain time on the Brit – but the pair were running at a very similar pace, and that 60 second T2 deficit took a full 15km for the home athlete to close down. Norden ended with a 1:29:17 run (versus the 1:32:06 of Morrison), to take the tape with a 1:39 winning margin.
10 km of the run done for our female leaders – @TriathlonKim leads @lisanorden by 43 seconds, @AsaLundstromTri +6:30 #IM703Jonkoping pic.twitter.com/imfPO1pWRr

— IRONMANLive (@IRONMANLive) July 8, 2018
Kerry Morris (AUS) was able to regain third place and prevent Åsa Lunström from making it two Swedish athletes on the podium.
Absolutely delighted.. gave my absolute everything to take 2nd behind @lisanorden ❤️ #IM703Jönköping
.
.
📷 @thatcameraman pic.twitter.com/enxwSgMm0z

— Kimberley MORRISON (@TriathlonKim) July 8, 2018
Pro Men
After a breakthrough third place recently against a top quality field at The Championship in Samorin, Florian Angert (GER) continued his fine form in Sweden. Heading the swim in 22:55, Angert lead out a group of nine athletes within 15 seconds through the opening 1.9km swim. By the end of the bike, Angert only had recent Challenge Geraardsbergen winner, Pieter Heemeryck (BEL) for company, followed just over a minute later by Nils Frommhold (GER) and Max Neumann (AUS).
The race is on fire #IM703Jonkoping – Florian Angert leads @pieterheemeryck with 3.5 km to go with a few meters only, @maxxy95 in 3rd +1:41 pic.twitter.com/ovTESqg8ui

— IRONMANLive (@IRONMANLive) July 8, 2018
Heemeryck initially looked the strongest, gaining 30 seconds on the German through the first half of the run, but well into the final 5km and they were back racing side-by-side. That battle continued to the finish line, with Angert managing to take victory by just 19 seconds with a 1:15:41 run split.
Florian Angert takes win in 3:50:51 #IM703Jonkoping – @pieterheemeryck close behind in 2nd in 3:51:10 pic.twitter.com/kRpbVYwgj8

— IRONMANLive (@IRONMANLive) July 8, 2018
IRONMAN 70.3 Jönköping, Sweden – Sunday 8th July 2018
1.9km / 90km / 21.1km
PRO WOMEN
1st – Lisa Norden (SWE) – 4:18:17
2nd – Kimberley Morrison (GBR) – 4:19:56
3rd – Kerry Morris (AUS) – 4:24:02
4th – Åsa Lunström (SWE) – 4:26:22
5th – Michaela Herlbauer (AUT) – 4:29:09
DNF – Alice Hector (GBR)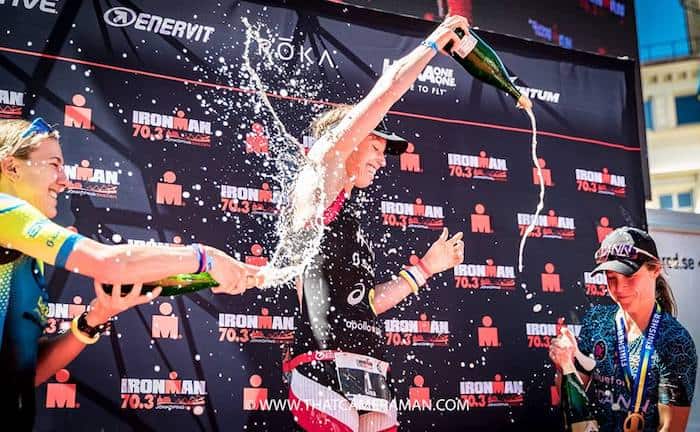 PRO MEN
1st – Florian Angert (GER) – 3:50:51
2nd – Pieter Heemeryck (BEL) – 3:51:10
3rd – Max Neumann (AUS) – 3:52:31
4th – Kieran Roche (AUS) – 3:56:06
5th – Marcus Herbst (GER) – 3:56:56
British Age-Group Success
Thomas Garbett (GBR) – 1st M20-24 – 4:20:36
Luke Pollard (GBR) – 1st M25-29 – 4:06:31 (second fastest AG athlete)
Naomi Keira Wright (GBR) – 3rd F30-34 – 4:50:42 (third fastest AG athlete)
Gave everything for my debut 70.3 in Jönköping today. 15th overall including a strong pro field.

Maybe next time I'll be able to join the pro party 🤷🏼‍♂️ pic.twitter.com/n5GrziO1AF

— Luke Pollard (@LukePollard91) July 8, 2018