The upcoming season promises to be a significant one for XTERRA in the UK – and also for Kerri-Ann Upham.
For it will be Upham's first year as a pro – and no wonder she's made the move as since first qualifying to race for the Great Britain age-group team she's collected an incredible array of titles.
They include the World Cross Triathlon Championships, World Cross Duathlon Championships, European Cross Triathlon Championships (three times) and the European Cross Duathlon Championships – including the 'double double', which saw her end 2022 as the World and European cross duathlon and cross triathlon champion.
So ahead of her initial campaign in the pro ranks we caught up with her to find out more.
Why XTERRA?
The logical first question is how did she get into triathlon, and more specifically XTERRA?
"I first discovered triathlon in 2009 when I was 18 years old – inspired and encouraged by my Uncle who at the time was training for IRONMAN Switzerland.
"He introduced me to the local triathlon club in East Devon – N1 Tri Club – and I started competing in sprint triathlons. In those local events I was consistently winning my age group and in 2013 I was invited to join a local high-performing race team: Pure Endurance Triathletes.
"From there I progressed into 70.3 racing and my goal was to qualify for the IRONMAN 70.3 World Championships but despite improving year-on-year, I didn't get higher than three fourth place finishes at 70.3 events.
"Feeling frustrated with my results, I was encouraged by the team at Pure Endurance to seek a triathlon coach and they introduced me to Exeter-based Rob Moore of trimoore coaching."
'The Stinger' proves a winner
And that proved to be the catalyst to where she finds herself today.
Upham explains: "The key to my success and inspiration for XTERRA racing is down to Rob – his achievements, coaching expertise and extensive experience in off-road racing inspired and motivated me to pursue XTERRA.
"I began working with him in 2017 – he's one of the most experienced coaches in the country, he holds a BTF Level 3 coaching qualification and also works as a Coach Educator for British Triathlon – as well as being an exceptional athlete in his own right.
"Following our first season together, Rob suggested that I have a go at off-road racing and encouraged me to enter a local cross-duathlon: 'The Stinger'.
"That race was harder than anything I had ever taken on before, the course was steep, muddy and technical – the physical, mental and technical skills needed were on another level but much to my surprise, I finished the race in first place.
"Seeing my potential, and as an accomplished cross-triathlete himself (including third place at the XTERRA World Championships in Maui), Rob encouraged me to enter XTERRA Belgium in 2018 where I subsequently won my age group and finished in the top 10 overall.
"He also introduced me to GB age-group racing and in that first season I took second place at the World Championships and first at the European Championships.
"Over the last four years, under the coaching of Rob, I have made significant improvements year-on-year, culminating in last season where I achieved an incredible set of results, most notably the overall age-group titles at the World and European Championships for both the Cross Triathlon and Cross Duathlon."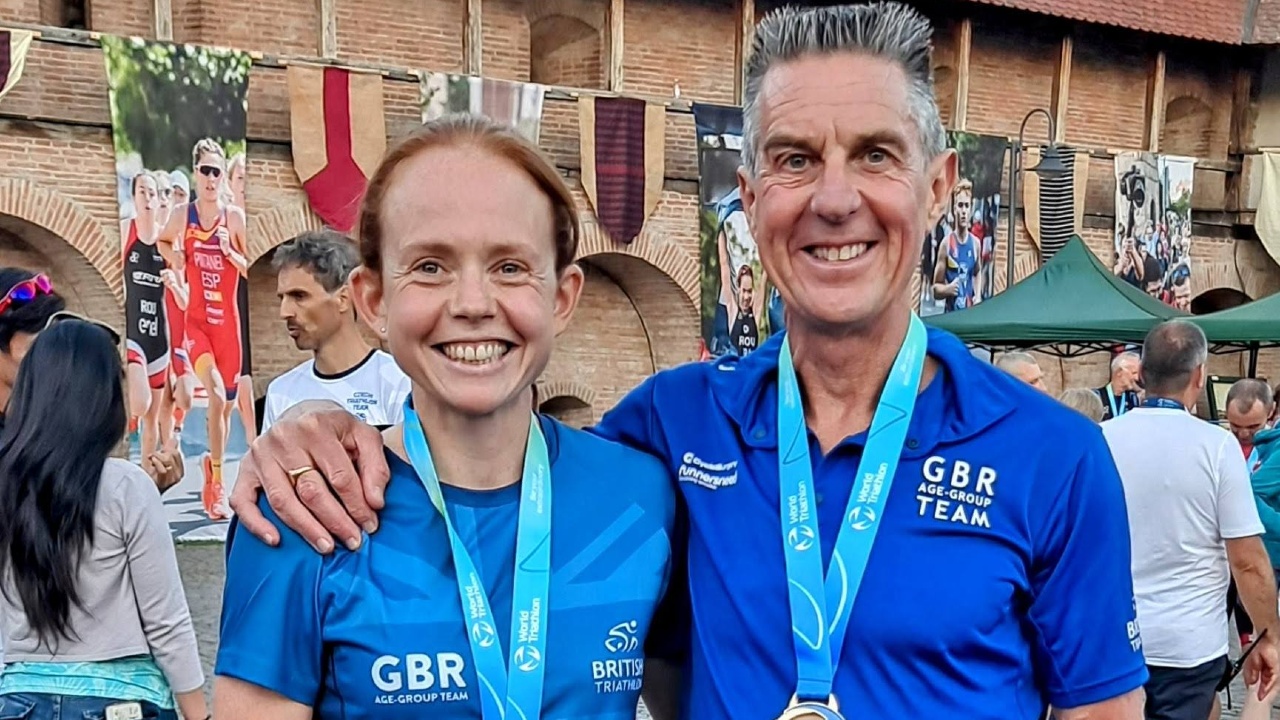 'Friendly and supportive'
So having taken XTERRA by storm at age-group level what does Kerri-Ann feel makes this branch of triathlon so special?
She answers: "XTERRA racing has a real community feel to it, the atmosphere is friendly, relaxed and really supportive.
"A good example is I was due to race XTERRA Malta in 2021. A couple of days before the event I broke my elbow on a course recce; the organisers of the race were very sympathetic and supportive, they understood the disappointment I was feeling of not being able to race and offered me discounted entry on their future events – I don't think you would see this level of compassion from IRONMAN!"
And as we mentioned at the start, this is an exciting time to be involved in XTERRA, both in the UK and beyond.
Upham explains: "There will be a brand new race in the UK at Weston Park on 13th May this year, with three races available to enter (full distance XTERRA, sprint triathlon and duathlon) there is something for everyone, it's a beginner-friendly course and would be a great opportunity for those looking to get involved in XTERRA racing for the first time.
What's the actual process for getting into XTERRA races?
Kerri-Ann: XTERRA utlises a points system to rank athletes and as such determine qualification for an elite licence. Points are awarded based on your position in a race and weighted according to the strength and depth of the field on that day.
What's the points structure – and how do you rank?
Kerri-Ann: 195 points are required to apply to be an elite and if as an amateur you obtain 204+ points XTERRA will ask you to move up. In 2022 I achieved 204.48 points – comfortably meeting the criteria.
What's your XTERRA race schedule looking like this season?
Kerri-Ann: 2023 will begin with XTERRA Greece in April, then XTERRA UK in May, followed by the XTERRA European Championships held in Belgium in June. I am hoping to qualify for the XTERRA World Championships held in Italy in September and then finish the season with XTERRA Sardinia in October.
"In addition, XTERRA have been gradually introducing a number of exciting opportunities for elite athletes: XTERRA short track, which is a televised short triathlon, intense, thrilling and spectator friendly. There's a World Cup series of races and rotation of the World Championships so that it is more accessible for all athletes – it was previously held in Maui.
"What is also noteworthy is the evolution of the women's field in XTERRA; back in 1996 just 28 women finished the XTERRA World Championships, whereas in 2022 there were 223 female athletes.
"However, this is still a long way off the men's representation and as such I'm trying to share my journey to inspire other women, demonstrate how they can get involved and prove that it's not as intimidating as it looks – in fact the XTERRA family could not be more welcoming and encouraging."
Inspired by Ruth Astle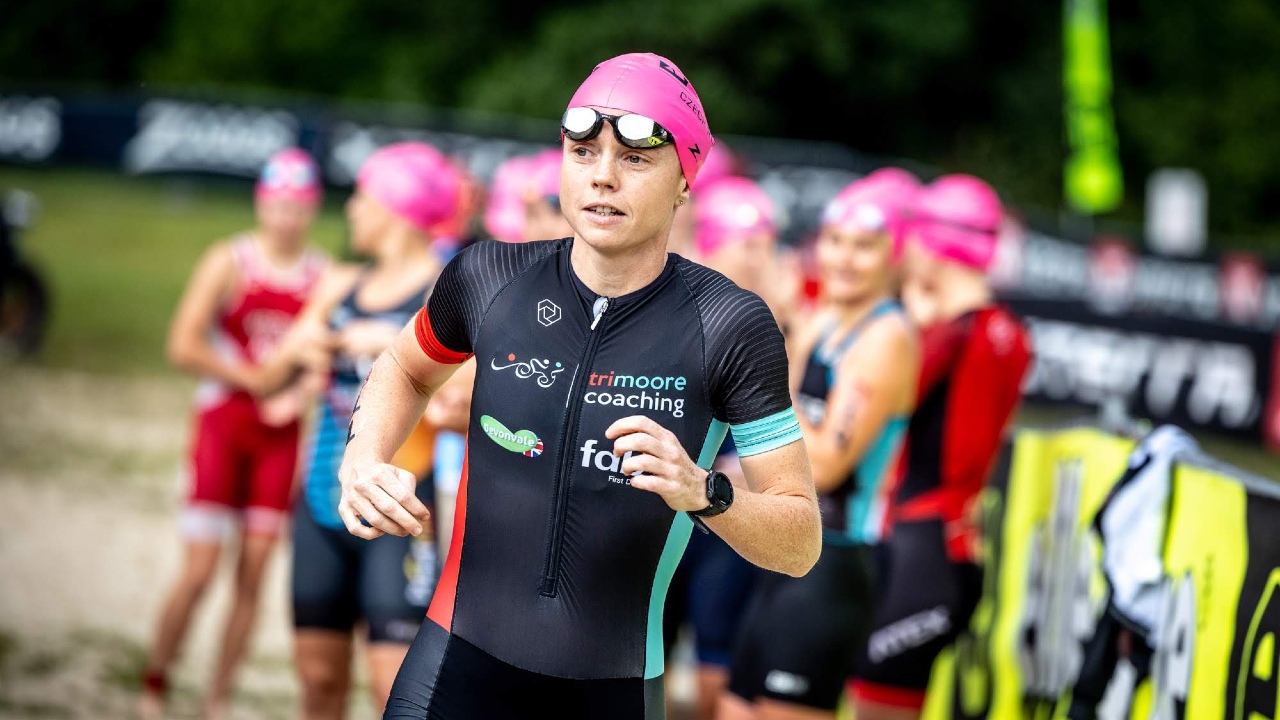 Kerri-Ann's move to the pro ranks will see her cut down her full-time job to three days a week – partly inspired by a fellow Brit who has gone from the very top of the age-group ranks to fifth in her first IRONMAN World Championship as a professional.
It's not too late to achieve the dream.
Talking though the decision, Upham says: "As with all areas of triathlon the step up from amateur to elite is a big one and I only wanted to make that jump if I believed I could be competitive at that level.
"Before stepping up to elite I wanted to ensure I could consistently dominate the amateur field – 2022 was a year where I did just that.
"I've also taken inspiration from Ruth Astle and wanted to follow the pathway she took.
"Like Ruth, I am entering the elite world on the other side of 30 (I'm 31), so seeing her pull off the transition from amateur to elite so successfully has given me the confidence and belief that it's not too late to achieve the dream."
Astle is still a Senior Manager for Lloyds Banking Group and Upham will continue to work in tandem with her own triathlon career, but since the start of January has transitioned to three days a week rather than five.
She explained: "I work for a Healthcare IT company called First Databank (FDB) – it's a fantastic place to work and they have been incredibly supportive of my triathlon career – I am very lucky to be able to take on a part-time role alongside my pursuit into elite triathlon and they have also agreed to be one of my sponsors for the 2023 season."
And her next comment will resonate with many who are juggling to fit triathlon training around full-time work and other commitments: "It was quite tough when I was still working five days a week – there were a few early starts and late finishes to fit the training volume in!"
She used her annual leave allowance to head out to Lanzarote in December for a two-week training camp: "It was fantastic – the weather was great and we packed in a lot of miles road cycling, mountain biking, trail running and swimming – keeping the intensity low and building a strong, stable foundation for the hard work to come.
"But with an extra two days a week to train since the start of January, the plan between now and April is to focus on a block of consistent training, this will include another training camp in April in Mallorca and I'm hoping to incorporate some mountain bike racing as well."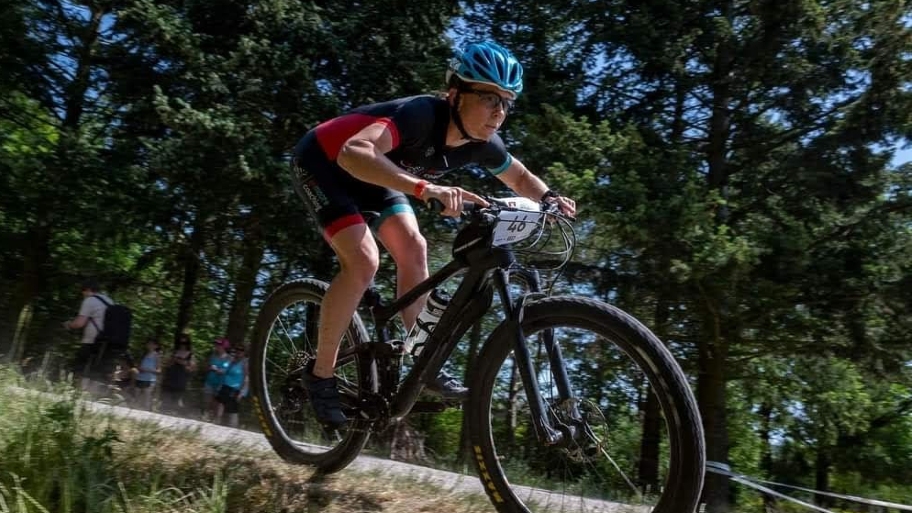 Training obviously is key but it's not the only important facet of being a pro, as Kerri-Ann is quick to acknowledge.
"I've been reaching out to local businesses for sponsorship and have managed to achieve four sponsors so far, FDB as mentioned earlier plus The Bike Shed, CarterDawes IFA and Signscape and Signconex.
"The biggest challenge I have found is building a presence on social media. This concept is completely new to me, I prefer to fly under the radar and let my performances do the talking but it's the number of followers you have on Instagram that seems to be the key metric for potential sponsors!
"Over the last couple of months I have started using social media more regularly and I have to admit I am enjoying sharing my progress, the ups and the downs and hopefully inspiring a few people along the way."
And you can follow her journey on Instagram over the course of what promises to be a memorable year at @kerriann_upham