As Kristian Blummenfelt struggled to make it to the start line for the IRONMAN World Championship in St George, he was already thinking of Hawaii in October.
Now, in the aftermath of that brilliant victory in Utah, It's a thought which might well send a chill down the spine of his rivals.
Difficult preparation
The 28-year-old from Bergen said: "I was thinking two weeks ago that If I'm able to win here in St George, then nobody has a chance in Hawaii.
"We'll see in five months' time if that"s correct because I didn't really feel prepared and I will be prepared coming to Hawaii."
Blummenfelt and his coach Olav Aleksander Bu appeared on the hugely popular Rich Roll podcast as they continue to promote the sport far and wide. They gave an in-depth insight into the issues Blu battled in the countdown to the first Saturday in May.
"It was quite a tricky preparation. I did my first one in Cozumel six months ago and I thought I would feel more prepared coming into this one," explained Kristian.
"I think we maybe spent a little bit too much time up at altitude and I didn't feel too fresh coming in to St George. We came here three weeks early to kind of just nail the course and do the preparation there.
"Then I managed to get a cold in the first week, so it was a feeling like I hadn't done everything I could – I wasn't sure how my fitness would be or my body would be responding.
"But luckily I was able to do one solid bike ride, went through the whole course the week before. Felt alright, same on the run, so that gave me the confidence that on race day I could be good."
Norwegians get sick
Bu meanwhile explained that while Gustav Iden was already sick before the Norwegians arrived in Utah, Blummenfelt was afflicted as they arrived in St George.
He said: "Up in altitude there were actually several people starting to get sick, and some people we even heard got COVID, so we were actually a little bit afraid that our guys had COVID but we did the testing and everything to ensure that was not the case.
"Then we got it confirmed it was a cold. Gustav was the first one, he got it from somebody up there, then we reduced the training quite significantly, focused on getting him back as quickly as possible, and then being able to nail him one good preparatory session that we had optimised leading into Cozumel.
"Then when we came to St George of course, we were really surprised by the dry conditions. Of course this is especially challenging of course because it dries out the mucous membranes, so you are less protected from viruses and bacteria.
"Kristian, when we landed, got sick and actually got quite a severe cold, actually not only in the upper respiratory system, but the lungs as well, coughing slime. It was pretty severe."
Bu, in constant contact with the Norwegian team doctor, had no choice but to wait to see if his athletes would recover in enough time to prepare properly for the race. It was a race against time just to make the race.
While Blummenfelt gradually started to recover, Iden found things tougher and would eventually be forced to withdraw on the eve of the race.
Bu said: "As Kristian was starting to recover, unfortunately Gustav was maybe a little more exposed as he also had asthma. Coming to dry climates like St George, we needed to moisturise the air – got humidifiers and so on."
A race full of unknowns
Blummenfelt of course did make it to race day, but there were many unknowns for Bu as he imagined what might happen on Saturday May 7.
"During the race, because of the conditions and Kristian not being fully recovered, I actually didn't know what to expect," he admitted.
"There are so many things that can happen and also because there were a lot of other people who was sick.
"I was pretty sure the dynamics of the race would be different than if you had a lot of the many favourites or expected favourites on the start line. Then people don't want to take too big of risk – now suddenly when a lot of them are out, the podium is more open and people are more willing to take risks, so it's like make it or break it."
Blummenfelt of course found himself in a difficult position on that brutal bike leg. He was riding effectively alone, ahead of the pack which included Cameron Wurf and Lionel Sanders. But he was losing time to the lead group of five riders ahead.
Bu said: "When I saw that the five guys in front were riding hard, I knew what numbers Kristian had been doing before the race. I know how strong he is, so I knew if people were going much faster than Kristian, then I knew also they were probably overpacing.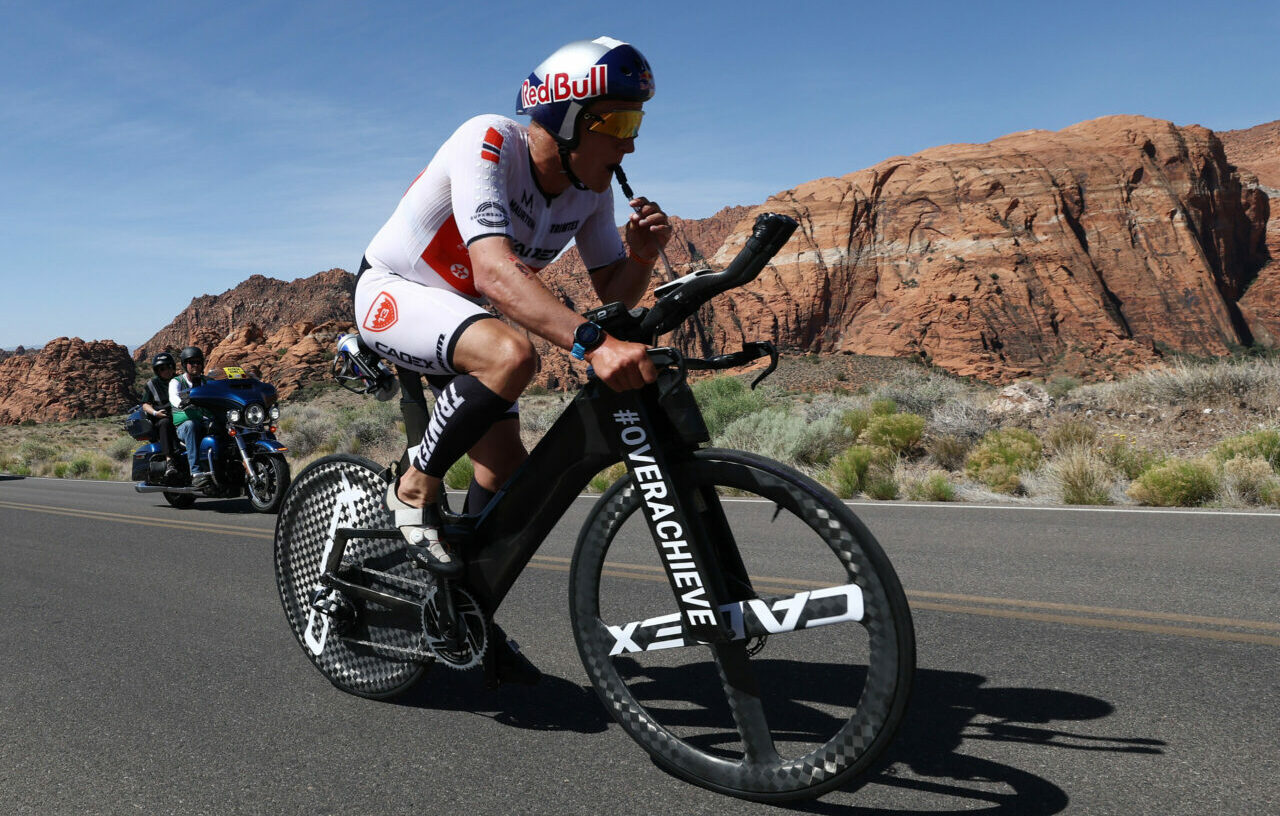 "But again he's sick so you don't know if they are going faster because they are going at their ordinary pace or Kristian going a bit slower because he doesn't feel 100 percent.
"But then when I saw Cameron Wurf coming up and Sanders coming up and I still see that the front group of five guys are still making room down to Kristian, Cameron and Sanders. So I used them a little bit to see how fast the front group was riding."
Bu, as detailed already, would soon have his answer to all those questions. As Blummenfelt headed out onto the run – still more than four minutes off the lead – he "looked sharp". It was game on, and the rest is now triathlon history.