After all the pain of her race-defining penalty on the bike at last year's IRONMAN World Championship in Kona, Laura Philipp overcame her demons in style last weekend on the Big Island of Hawaii.
Finishing third behind fellow countrywoman Anne Haug and race winner Lucy Charles-Barclay, the PTO World #5 made the podium at the third time of asking – having twice finished fourth in Kona in 2019 and 2022.
Breaking down her race on Breakfast with Bob with Bob Babbitt (watch the full episode below), the German star revealed how her training camp prior to the race in Maui set her up for success. She also talked about the adjustments she had to make to her race plan and why crossing under the Banyan Tree on the way to the finish was so special.
Goosebumps all around
Having prepared for the race on the neighbouring island of Maui, Philipp said acclimatising to the heat was key to her success on race day, where the temperatures and the humidity presented a formidable challenge to the entire field.
"Looking over towards Maui gives me goosebumps, because I think it paid off that we went there early and did the proper heat acclimatisation. That helped me to execute a good race, because race day was a very hot day!"
The 36-year-old said her plan to race patiently very quickly went out the window, after finding herself further back than she would have liked following the swim. She then had to make a split-second decision to chase the bike pack ahead.
"You have to be very patient, it's not a strength of mine, but I have been working on it. Yesterday was a little different as it didn't go how I planned to race.
"I was quite far back on the swim, even though I had my fastest Kona swim time, but I wasn't in the group I was hoping for and knew I had to invest a lot at the beginning of the bike to get in there.
"I had a really strong bike, I was able to catch the group ahead of me and then I made a move, the group broke up and that always gives you confidence when you're riding hard. By then, I knew that my plan of racing patiently hadn't really gone to plan, because you always try to save some energy for the run, and I know I am a fast runner but that's not something I have been able to show in the past here."
Bike for show, run for dough
Despite having reservations about how she would race off such a hard bike, Philipp put together a remarkable 2:55 marathon to run herself on to the podium, something she was particularly happy with given last year's fourth-place finish following that penalty.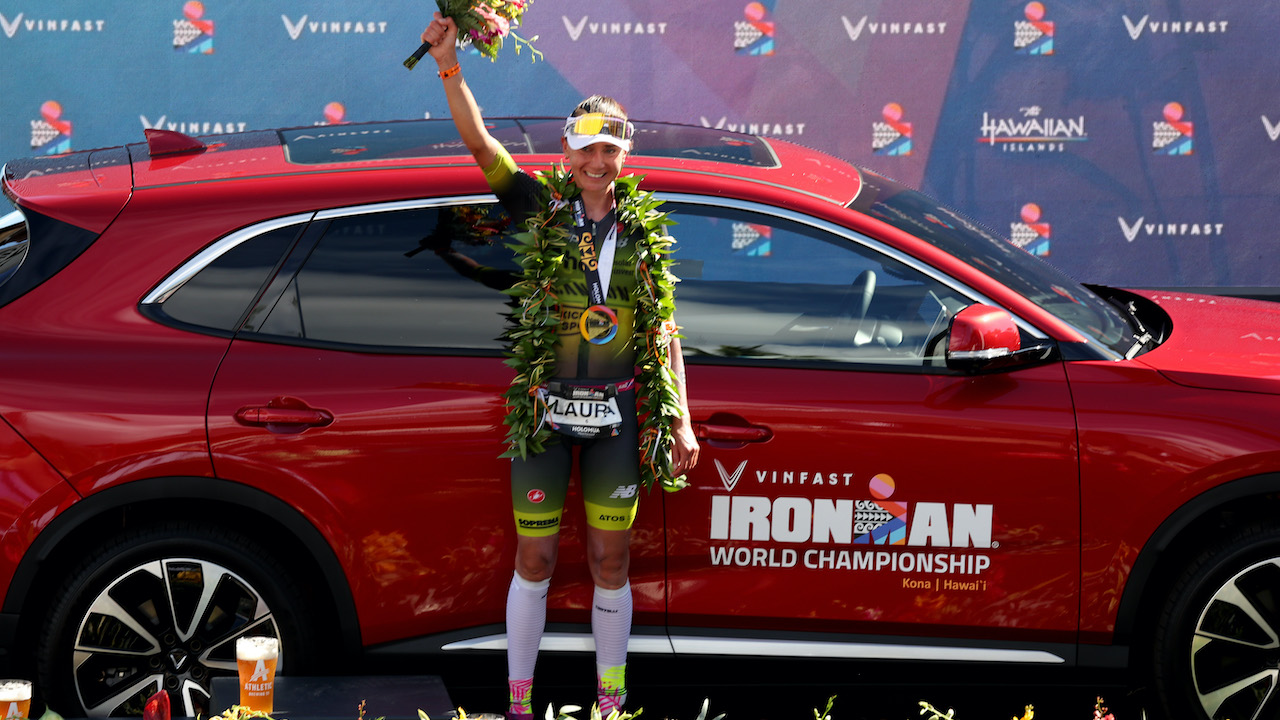 "Investing a lot on the bike makes running fast harder, but I think I had a good run and I went six minutes faster than I had done in the past. It was only on the last kilometre that I could celebrate.
"The number one goal in this race was to have a positive racing experience and to cross the finish line soaking it all in with a big smile. It felt like a win for myself to have such a good race on this Island, running under the Banyan Tree, it gave me goosebumps and it was such a relief to cross the finish line, but the race itself was also very cool."
Having now finished third at two of the biggest Ironman races in the sport this season, Challenge Roth and Kona, Philipp can celebrate one of the most successful years of her career.