So many questions – and soon we'll have the answers as to how long-course legend Lionel Sanders fares in the shortest format of the sport.
He was runner-up at the IRONMAN World Championships in St George last May and has no fewer than 30 middle or full-distance titles to his name.
But he steps right out of his comfort zone on home territory at Arena Games Montreal on Saturday and we first hear from him on how he feels each discipline will go – and then get the expert view of stats guru Graeme Acheson, the co-founder and CEO of Sports4Cast and the mastermind behind the SLT's Stats Hub.
Graeme has crunched the numbers from every previous Arena Games and his conclusions might come as a surprise, albeit with a key point at the end which could make or break Sanders' chances…
How far back?
The swim will surely be the biggest test – and 'No Limits' is first to recognise that.
He says: "I will not be able to hang with the guys on the swim. The vast majority of them are racing ITU and you don't think about doing ITU unless you have a swim background, grew up swimming or are very talented naturally, which I am not.
"That being said I have been working on my swim and my top end so this has been a great motivator for me to minimise that deficit but this will highlight my biggest weakness, which is start speed.
"I am very poor on the start. I learned this first hand head-to-head in the Collins Cup against Sam Laidlow and Sam Long. Look at Laidlow. That is start speed. He put 20 meters into us in the first 50 meters."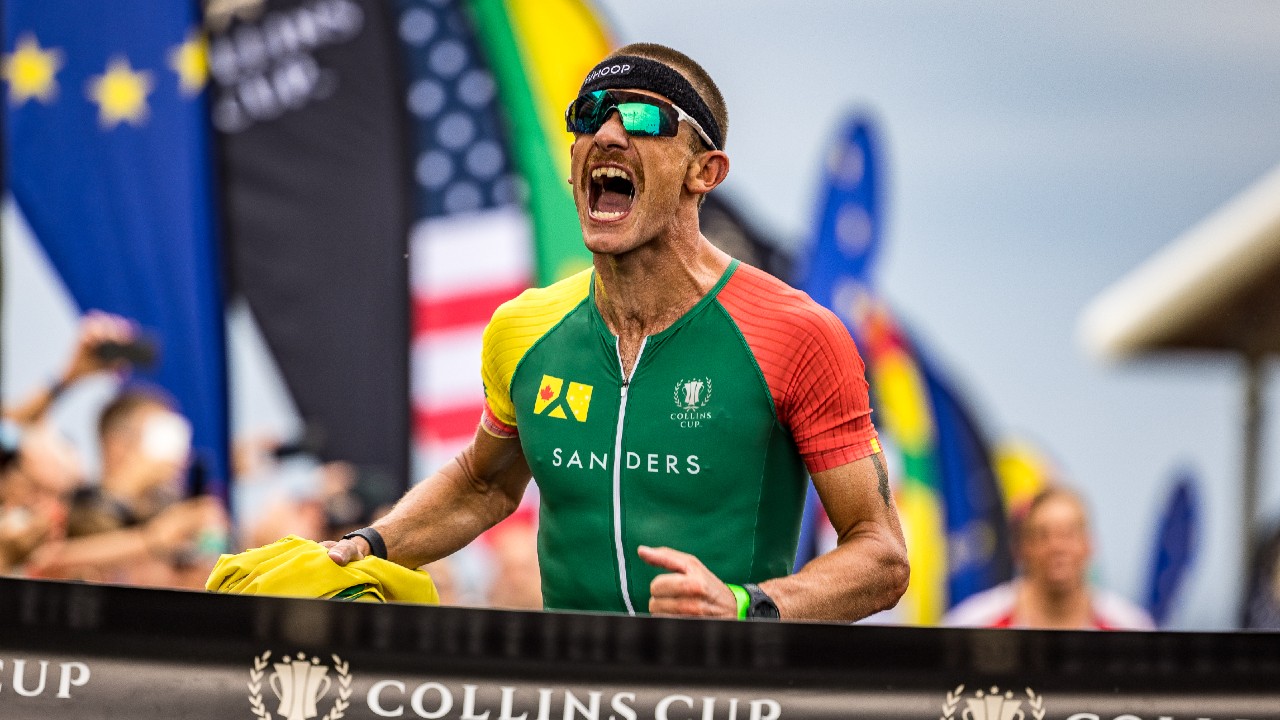 But what sort of deficit is Sanders likely to have to make up on Saturday?
Having looked at the data, SLT's Acheson says: "I don't think his swim's that bad to be honest – and it is only 200 metres. The record is held by Aurelien Raphael and Max Stapley who have done 2:02. The men's average time is around 2:11-2:13 and I was watching one of Lionel's videos the other day where he was repping 500s and the 200 pace was around 2:22 so you'd think he could go a little bit faster than that.
"So yes, he'll probably be behind the average – but not way off."
Level playing field on the bike
So onto the 4km of each bike leg, ridden on Zwift, when the draft function for cycling will be set to 'off' – so it's all about watts/kg rather than making the lead group.
Sanders believes that should suit, saying: "The only strength I will have here is that I am used to non-drafting. That will play to my strengths. I believe I am the strongest biker in the field watts per kilos wise without worrying about bike handling."
And that's very much echoed by Acheson: "He thinks that's a strength and I completely agree. He's looking to hold between 380-420 watts, which in watts/kg is around 6 [Ed: Sanders' weight is just over 70kg]. Most of the men average around 5 watts/kg, with Jeremy Briand our previous highest at just over 6. So Lionel could be setting some power records here."
Advantage on the curved treadmill?
So moving onto the run and Super League CEO and co-founder Michael D'hulst has highlighted a technical aspect that could play into Sanders' favour: "We've been doing studies with the universities around the physiology of how to run on the curved treadmills, which aren't powered by an engine. I think Lionel being a bit of a bigger athlete than some of the short-course lightweights, he will have an advantage as the power transition is much higher from heavier athletes."
But Sanders isn't getting carried away, explaining: "I am training with some good guys right now, but they are much stronger than I am on the top end so 1km, 2.40 is probably max for me right now and I don't know where that will put me."
Hearing that and adding context, Acheson said: "That would put him right towards the top end, the fastest we've had is Alex Yee at 2:34 so 2:40 would be pretty quick. He's obviously a very good runner but I'd be surprised if he ran quite that fast – the top-end speed seems a bit quick for an Ironman athlete, but who knows."
So Acheson most definitely isn't writing off the Canadian, reckoning: "I think he'll be fine to be honest. I don't think he's going to win the entire thing but I think he'll put in a strong performance overall."
Don't underestimate transitions
However there was a very important note of caution added to that: "Athletically I don't think he's going to be too far down on the swim and then he can make time on the bike and the run, but tactics-wise he's got to get his transitions right.
"You can lose a huge amount of time in that area – my advice to him would be don't flog yourself on the swim trying to save a couple of seconds, but make sure you get your transitions right.
"We've seen the top guys like Raphael for example be the fastest in swim, bike and run – sometimes by miles, 30 seconds on one occasion – and then lose it all in transition. Lionel needs to know where everything is, make his transitions clean and crisp and that will save him far more time than anything else.
"Transitions are often called the 'fourth discipline' but in this format I'd say it's almost the first and probably the most important. So often the Arena Games are won by the best tactically or the best transitioner."
And if you want to see how Sanders got on in his own 'Arena Games Test Day' then check out the embedded video below!
Whatever happens on the day itself will be fascinating to witness – full details of how to watch are here – and Sanders for one still sounds like he's relishing it: "It seems like this is the future of our sport and I am excited to take part. Indoor stuff has really taken off since the pandemic and everyone sees the value in it now and it's a great way to stay fit and spectator-wise it's also good in that department."