This was a preview of what proved an entertaining event in Montreal – we've got full reports and reaction from wins for Gina Sereno and Chase McQueen.
The three-race Esports Triathlon World Championship gets underway this Saturday in Canada at Arena Games Triathlon Montreal powered by Zwift.
Lionel Sanders is among the long-course names set to step well outside of their normal environment.
Start times and how to watch it all live
All racing takes place on Saturday 25 February 2023.
You can watch all of the action live via the embed below as well as Super League Triathlon's website and YouTube channel, on TriathlonLIVE.tv and via Eurosport, Discovery+, L'Equipe, Viaplay, OutsideTV and others, dependent upon the specific broadcast rights in your region. The Super League Triathlon website has a breakdown of which broadcasters will operate in your region.
The live broadcast show for the Finals runs from 17:30 to 19:45 local time. That's 22:30 to 00:45 in the UK, 23:30 to 01:45 CET
Women's Heat #1: 10:00 (15:00 UK)
Women's Heat #2: 10:50 (15:50 UK)
Men's Heat #1: 11:40 (16:40 UK)
Men's Heat #2: 12:30 (17:30 UK)
Broadcast show starts: 17:30 (22:30 UK)
Women's Final: 17:36 (22:36 UK)
Men's Final: 18:41 (23:41 UK)
Broadcast show ends: 19:45 (00:45 UK)
Elite Men – Schoeman to star?
The Elite Men's races do feature full start lists (two heats of 10 athletes), and are a mix of some Arena Games / Super League veterans, up-and-coming talent (plenty of Canadians) and a couple of long-distance wild cards. In truth, it's far from the strongest Arena Games start-list we've seen – but that doesn't make predicting a winner easy.
On overall C.V. at least, South Africa's Henri Schoeman is the class athlete of the field. Commonwealth Games champion in 2018, Olympic bronze medallist in 2016 with wins in both WTCS and Super League racing, his short-course record is in a different league to the other 19 starters. He's also a brilliant swimmer, something that has proven to be a great asset in this format.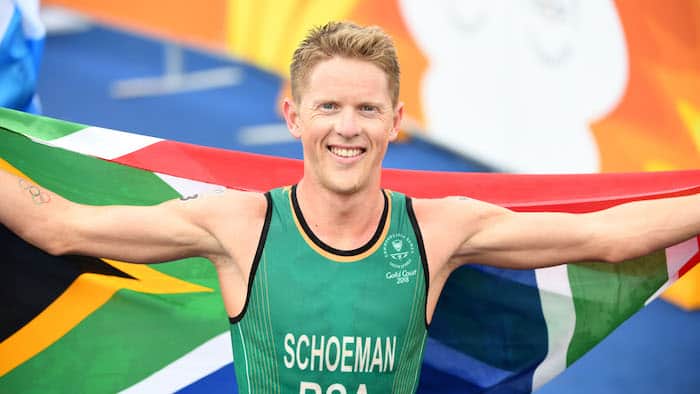 On that basis, he should be an odds-on favourite, but injuries and crashes have meant something of a stop/start career over the last couple of years. 11th at the Abu Dhabi Grand FInal suggests he's on the way back to showing that his current World Triathlon ranking of #113 is no reflection on his abilities.
France's Aurelian Raphael showed that he was right at home in this format last year, winning the first race in Munich and then ending as the bronze medallist in the Esports World Championship after the Grand Final in Singapore. Another fantastic swimmer, this will be treated like an A-race for him, and he has all the experience to call on.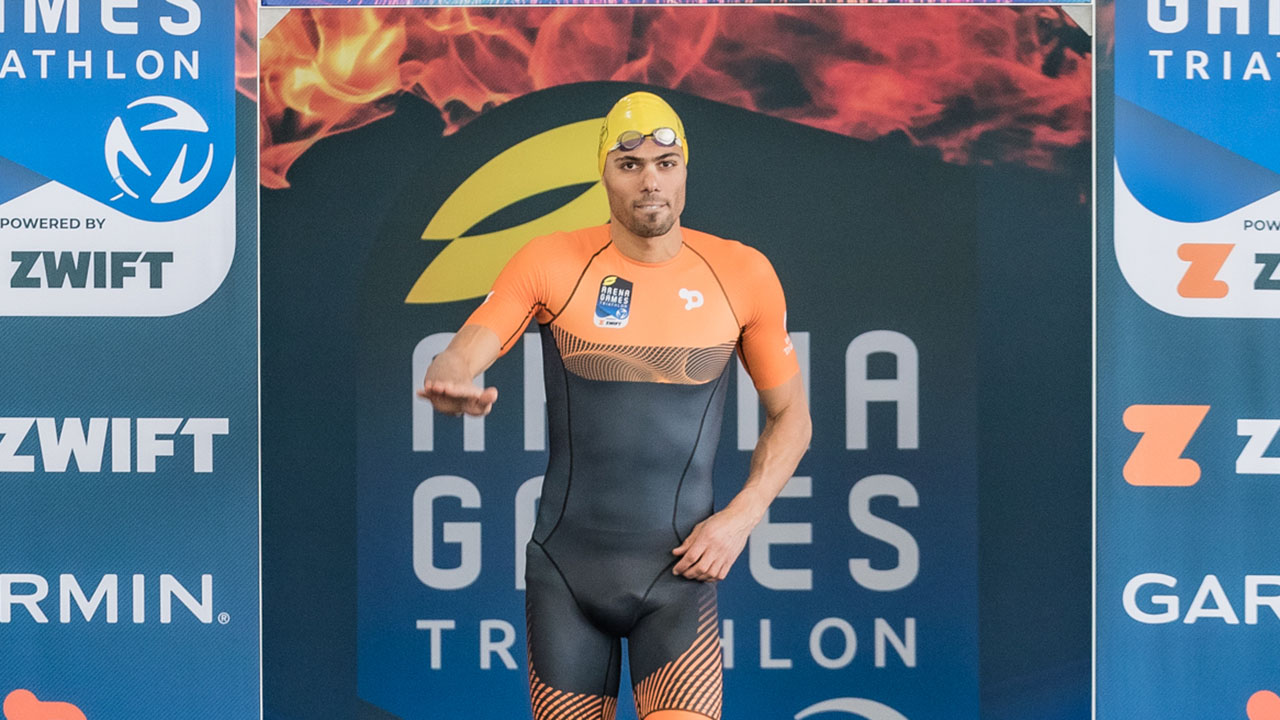 American Chase McQueen and Great Britain's Dan Dixon are also part of the 'great swimmers' club, and Dixon excelled on his debut last year in Singapore, taking fourth in that final – just one place in front of McQueen.
The headline names in terms of exposure will sure be two Canadians coming in from the long-course world, Lionel Sanders and Jackson Laundry. Both in separate heats, that the Zwift draft function is 'off' will be welcomed, but will that duo have the raw speed over these short distances? Super League stats guru Graeme Acheson does the deep dive on Sanders' numbers as he weighs up his chances.
Qualifying for the final will be their first challenge – and one surely that the commercial teams of Super League will be hoping for, even if they can't state that publicly. With four plus the two fastest losers from the two heats to go through, that's not an unreasonable ask when you look at the largely developing / young athletes racing, outside of those named above.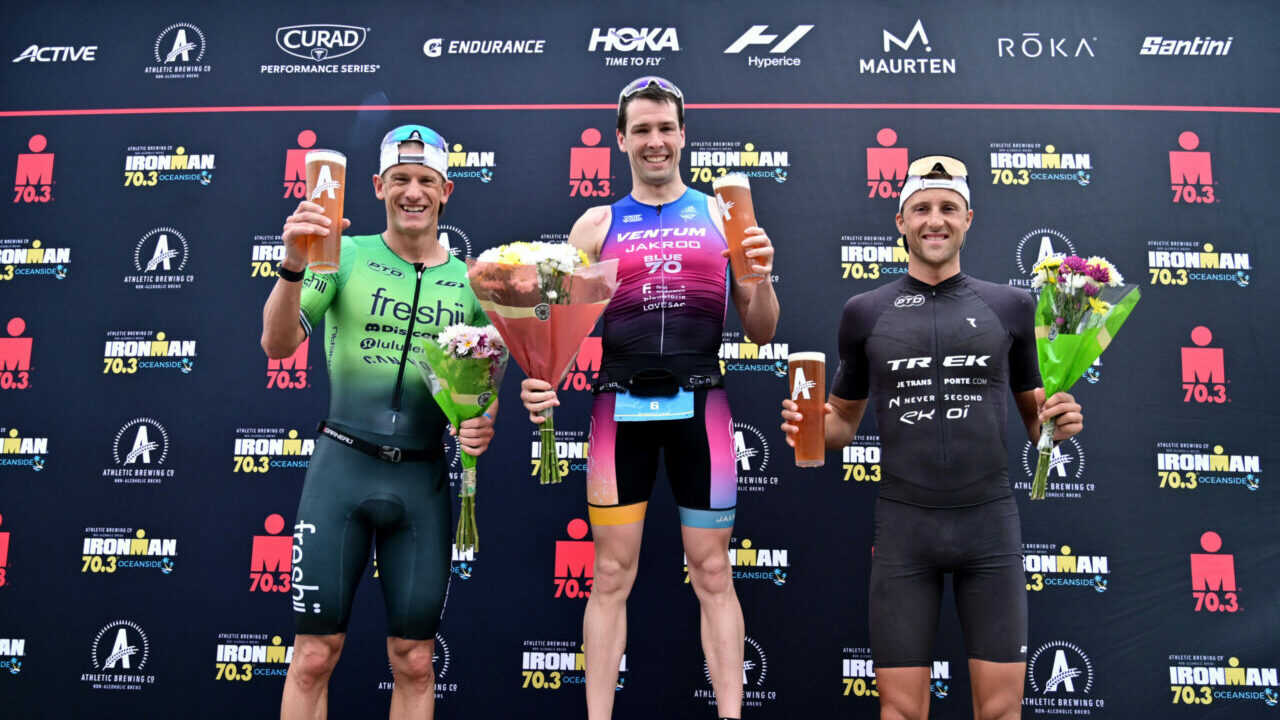 Can either of them win the whole thing? Not a chance. But in an era when we are seeing several athletes playing around with racing different formats and distances outside of their comfort zones, it's great to witness, and kudos to both for stepping significantly out of their natural homes to try it.
Elite Women – Will Sereno 'Jet' to victory?
Just 13 women (across two heats) in the Elite Women's race in Montreal – that's something that I'm pretty sure we won't see in Sursee, Switzerland in two weeks time.
If we go on the World Triathlon rankings at least, then the USA's Gina Sereno (#54) and home athlete, Dominika Jamnicky (#72) at the top-ranked athletes in each heat. Sereno has Arena Games experience (sixth in Munich last year), and ended 2022 with a strong second place at the World Triathlon Cup event in Vina del Mar.
Clearly multi-talented, Gina also works for NASA in the Jet Propulsion Laboratory.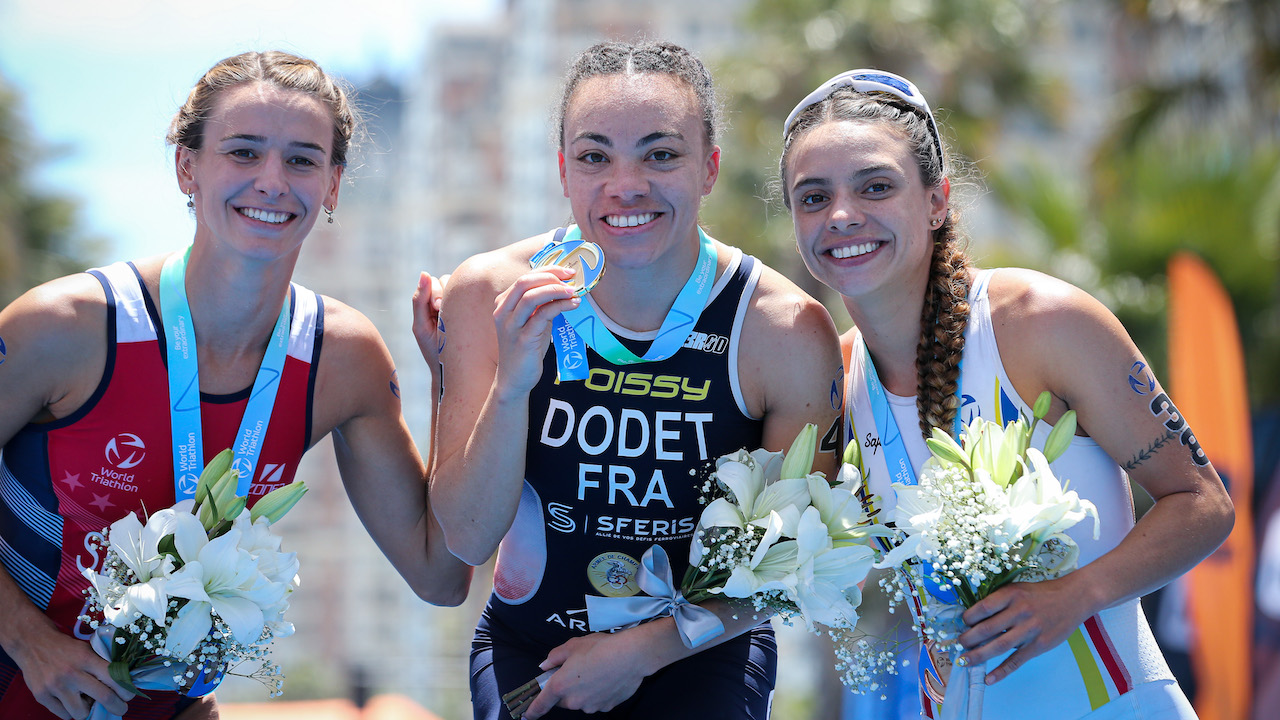 Another podium contender should be Sophie Linn (AUS), who was part of the Australian bonze medal winning Mixed Relay team at the Commonwealth Games in Birmingham. She was also a strong fifth in the individual race at Sutton Park too, separating Sophie Coldwell and Non Stanford on the blue carpet. That's an impressive form line.
There was due to be some top long-course interest in the Elite Women's race too, but unfortunately Jeanni Metzler is a late withdrawal – while at the other end of the experience spectrum, 2021 NCAA women's triathlon champion Kira Gupta-Baltazar has been ruled out through injury.
Race Distances
While the order may change (see format details below), across all events the distances raced in each discipline will be as follows:
SWIM: 200m in a 50m Olympic-sized pool (four lengths) at the Parc Olympique Sports Centre
BIKE: 4km, ridden on Zwift, athletes all using Tacx NEO 2T smart trainers (athletes weigh-in ahead of the race on Garmin Index S2 Smart Scales). The Zwift draft function for cycling will be set to 'off' – so it's all about watts/kg, rather than making the lead group in Montreal.
RUN: 1km, run on a self-powered curved treadmill, linked to Zwift.
Format in Montreal
The racing on Saturday will take place in a 'Heats' and 'Final' basis:
Heats: In the heats, athletes will race twice. Both stages will be in swim-bike-run format.
The times from the first stage will provide a pursuit start style start order for the second. Thus, in the second race, the winner of the first stage will start, and the second place finisher will start behind them, the number of seconds slower than they were in the first race. Overall Heats results will thus be based on when you finish the run portion of that second stage. No requirement for points accumulation etc.
Qualification for the finals will be achieved by the top four finishers in each heat, plus the next two fastest athletes from across the two heats, leaving ten athletes to race into each of the finals.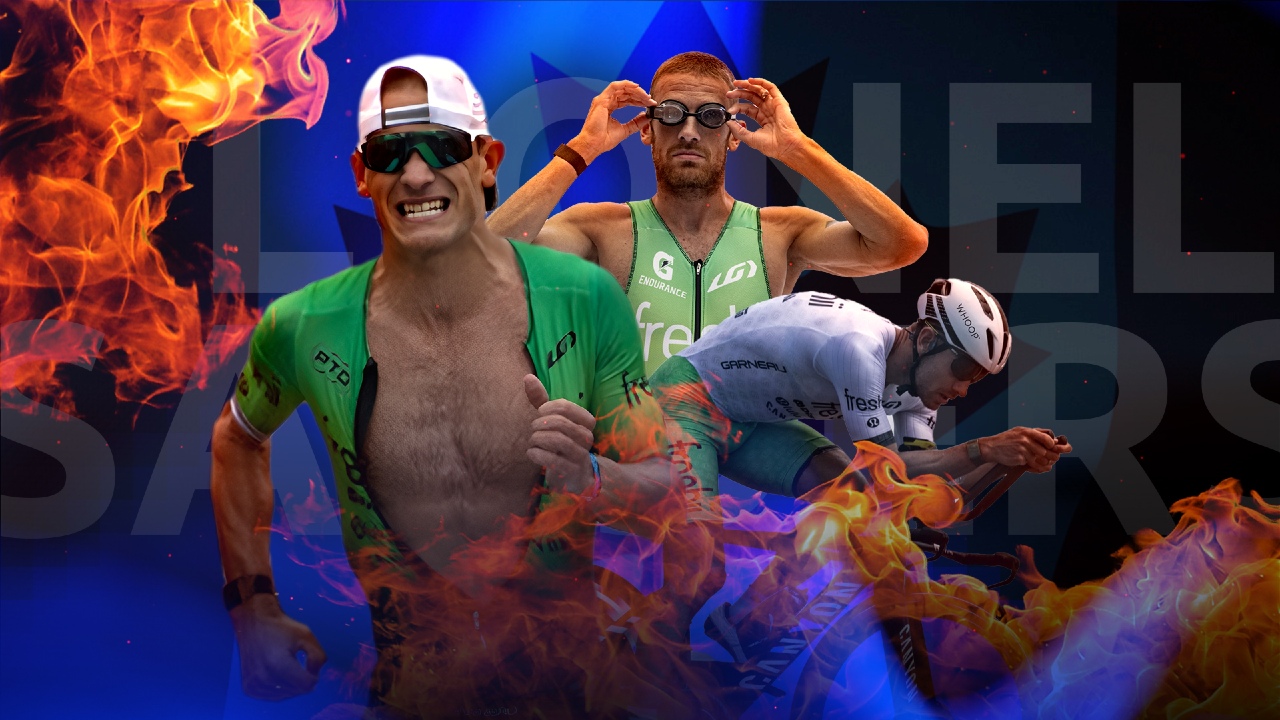 Finals: how will they work?
Athletes that qualify for the finals will race three more times, over these formats:
Stage 1: Swim-Bike-Run
Stage 2: Run-Bike-Swim
Stage 3: Swim-Bike-Run
There will be a very short gap between each of the stages to allow the athletes to prepare their kit etc, but the action barely stops.
In a similar manner to the heats, the final leg will be in a pursuit start style, based on accumulated times from the first and second stages. Once again therefore, the first to finish that final run in stage 3 will be the event winner, no points accumulation or calculations to be made.
Prize Money
There's a sizeable prize purse of $42,200 on offer this weekend in Canada – and that is exclusively for this event, with further bonuses available for the top finishers overall in the Arena Games Esports World Championship.
Race winners will collect $5,000 each, with the total pot paying ten-deep – thus, every finalist will take home some winnings.
| | |
| --- | --- |
| Position | Purse |
| 1 | $5,000 |
| 2 | $4,200 |
| 3 | $3,400 |
| 4 | $2,600 |
| 5 | $1,800 |
| 6 | $1,400 |
| 7 | $1,100 |
| 8 | $800 |
| 9 | $500 |
| 10 | $300 |
In addition to the race day prizes, for athletes also racing at the Finals in London (which of itself will have an increased prize purse of $57,100), there will be a further bonus pot $36,000 to the top three athletes in the series.
The top three finishers across the series will receive an additional $8k/$6k/$4k respectively. Including the Montreal, Sursee and London races, a total of $177,500 will be earned across the three events.