American Chase McQueen notched one of the biggest wins of his career so far as he saw off South Africa's Henri Schoeman in a thrilling men's final – filled with great back stories – at Arena Games Triathlon Series Montreal powered by Zwift.
McQueen had earlier watched girlfriend Gina Sereno win the women's race, for Schoeman it was an incredibly emotional and important result after a tough few years, while it was a massive breakthrough event for young Brit Jack Stanton-Stock who rounded out the podium in third.
And long-course star Lionel Sanders animated it as much as anyone with a superbly gutsy display to take sixth.
Stage 1: Following the perfect example
(Format – 200m swim / 4km bike / 1km run)
Having just seen his partner Sereno notch an impressive triumph in the women's final, 24-year-old McQueen made a fine start of matching that display.
He came out of the water alongside Aurelien Raphael after a 2:03 split and built up a seven seconds advantage on the bike from the Frenchman.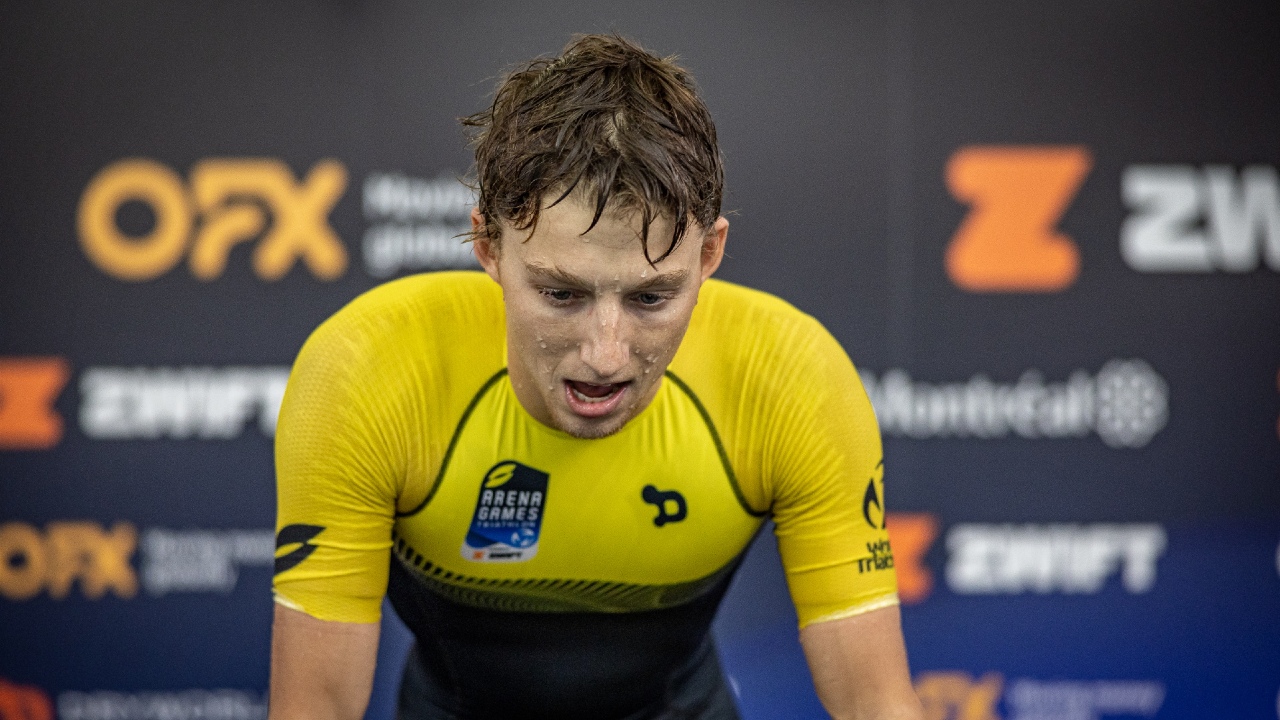 Dan Dixon was in third but the big move on the run came from his training partner and fellow 20-year-old Brit, Stanton-Stock.
Making his Arena Games debut, Stanton-Stock surged past everyone to win the stage by a second from McQueen.
Stage 2: Crowd salutes Sanders
(Format – 1km run / 4km bike / 200m swim)
And with the second stage in reverse order, Stanton-Stock continued the good work back on the treadmill, meaning he suddenly had an eight-seconds advantage.
He maintained that for much of the bike but it was at that point that Sanders brought the fans to their feet.
'No Limits' had been 28 seconds back after the first swim and had only been able to chip away at that on the opening bike and run.
But his game face was on with a vengeance now and he cut through the field in stunning style, to the extent where he was off the bike first after equalling his own all-time record of 5:06 from the earlier heats.
The swim mixed things up again and by the end of Stage 2, when the times were aggregated, it was McQueen who was back in front, seven seconds to the good from Schoeman.
Stage 3: McQueen crowned in style
(Format – 200m swim / 4km bike / 1km run – Pursuit start based on aggregate Stage 1 plus Stage 2)
McQueen and Schoeman both looked good on the final swim, in contrast to many of their rivals who were now showing real signs of tiredness.
And that was reflected starting the bike – McQueen was four seconds ahead of Schoeman, with half a minute and more back to the rest. Sanders was out of the water with – even by his standards – an unlikely 1:01 to make up despite his quickest swim of the day (2:25).
But he won even more fans as he claimed a fine sixth place as McQueen kept Schoeman at bay and Stanton-Stock held onto third.
Arena Games Triathlon Montreal 2023 Results
Final, Men: Saturday February 25, 2023
1. Chase McQueen (USA) – 34:12
2. Henri Schoeman (RSA) – 34:19
3. Jack Stanton-Stock (GBR) – 34:33
4. Aurelien Raphael (FRA) – 34:39
5. Dan Dixon (GBR) – 34:44
6. Lionel Sanders (CAN) – 34:50
7. Vitali Vorontsov (UKR) – 35:15
8. Jeremy Briand (CAN) – 35:25
9. Chris Perham (GBR) – 35:51
10. Mathis Beaulieu (CAN) – 38:17