American Gina Sereno, the NASA engineer who only started competing in triathlon in 2018, claimed a significant victory at Arena Games Triathlon Series Montreal powered by Zwift.
Last year was a breakthrough season for the 27-year-old who was formerly a track and cross country star and she told us beforehand that this event provided "a great litmus test at the start of the season."
And how she grasped the opportunity, putting together a near-perfect race to win by over 30 seconds from Australia's Sophie Linn, with home hope Dominika Jamnicky rounding out the podium in third.
Stage 1: Going to form early on
(Format – 200m swim / 4km bike / 1km run)
The heats suggested Sereno and Linn were head and shoulders above their rivals – and they soon asserted in the final.
Linn held the early advantage and early on the bike she had a 12 seconds cushion over Sereno but the gap was halved by the end the 4km around Crit City on Zwift.
And Sereno's run prowess was underlined as she powered to the front after just 400 metres on the curved treadmills – and by the time the 1km was up and Stage 1 over, she led by nearly nine seconds.
Stage 2: Sereno in a different orbit
(Format – 1km run / 4km bike / 200m swim)
Another run began the stage so no surprise at all to see Sereno hammer home her advantage.
However another swift transition into the bike from Linn kept her in the mix while Canadian Dominika Jamnicky was keeping the front two on their toes.
By the end of the bike the gaps had really started to open up and Sereno was looking super smooth, with a solid swim rounding off the stage perfectly.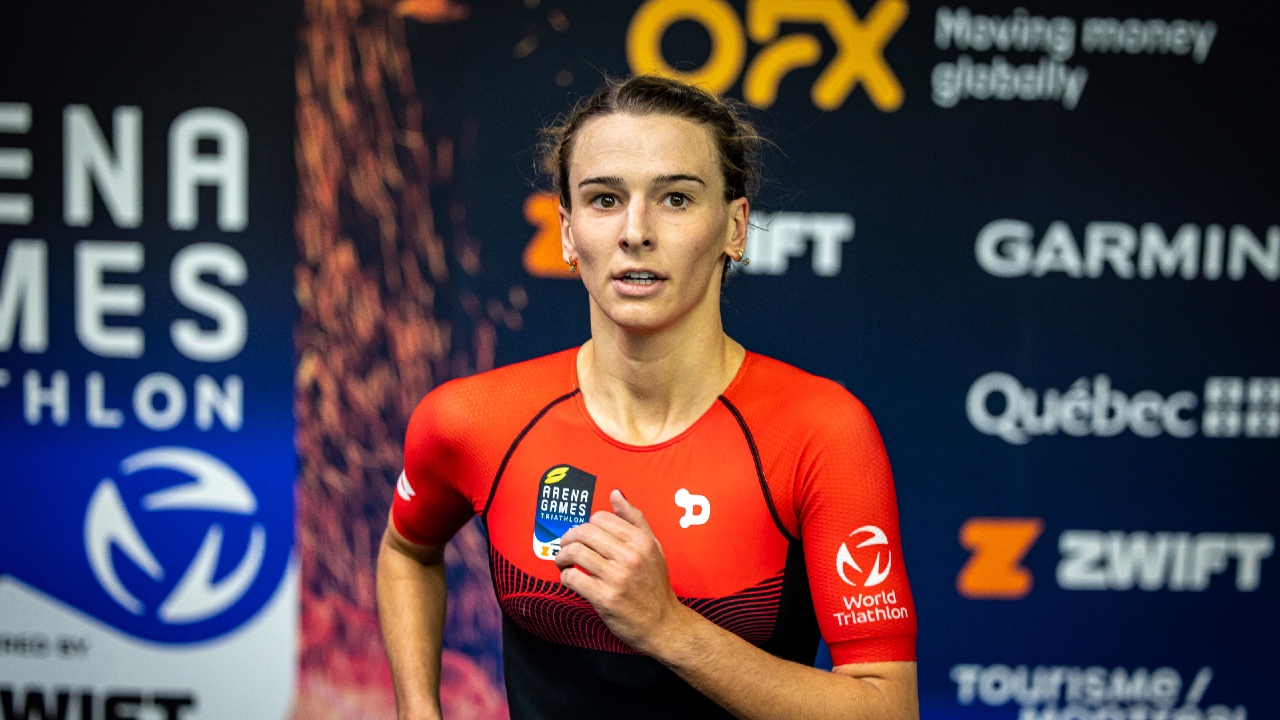 Stage 3: Cruise control
(Format – 200m swim / 4km bike / 1km run – Pursuit start based on aggregate Stage 1 plus Stage 2)
When the times from the first two stages were tallied they only served to underline Sereno's dominance as she began the final stage 21 seconds ahead of Linn, her closest challenger. In third was Jamnicky a further 13 seconds back and the front three were clear of the rest.
Linn had said before the finale that she needed to claw back time on the swim to have any chance and she managed that to an extent but Sereno emerged from the water with most of her advantage still intact and her strongest two disciplines to come.
The gap briefly dipped below 15 seconds early on the bike but that was as close as it got as Sereno got out of the saddle and put the hammer down.
Starting the run she was 18 seconds clear and able to let the win soak in as she ticked off the final 1km on the treadmill for a fully-deserved victory.
Arena Games Triathlon Montreal 2023 Results
Final, Women: Saturday February 25, 2023
1. Gina Sereno (USA) – 37:59
2. Sophie Linn (AUS) – 38:31
3. Dominika Jamnicky (CAN) – 38:59
4. Sara Roel (MEX) – 39:36
5. Marta Kropko (HUN) – 39:58
6. Zuzuna Michaelickova (SVK) – 40:13
7. Julia Kekkonen (FIN) – 40:17
8. Nataliia Kolesova (CAN) – 40:24
9. Dominika Peszleg (HUN) – 40:51
10. Noemie Beaulieu (CAN) – 41:04