[UPDATE: Unfortunately, since this interview was conducted and article published, Kira has posted the following on Instagram: "Not the caption I'd hoped to be writing for race week :(. MRI today confirmed a stress reaction and potential stress fracture in my hip. Won't be on a start line for a little bit but will definitely be hitting the pool pretty hard." We wish her all the best with the recovery.]
The 2023 Arena Games Triathlon series kicks off this weekend at a new venue in Montreal, Canada with some of the biggest names from short course and long course racing starting their season with Super League.
Amongst them is Canadian triathlete Kira Gupta-Baltazar, the 2021 NCAA women's triathlon champion, who as one of the youngest in the field, will be hoping to make a big impression on the women's race.
We were fortunate enough to catch up with Gupta-Baltazar before her Arena Games debut to hear all about her time so far at the University of San Francisco, her excitement to be racing in Montreal and her racing plans for this season.
Following the path of the NCAA
Like many promising young triathletes, Gupta-Baltazar found herself needing somewhere where she could balance her academic and sporting prowess side-by-side after finishing high school. The Canadian opted for the University of San Francisco, where she is now in her junior year, and hasn't looked back since.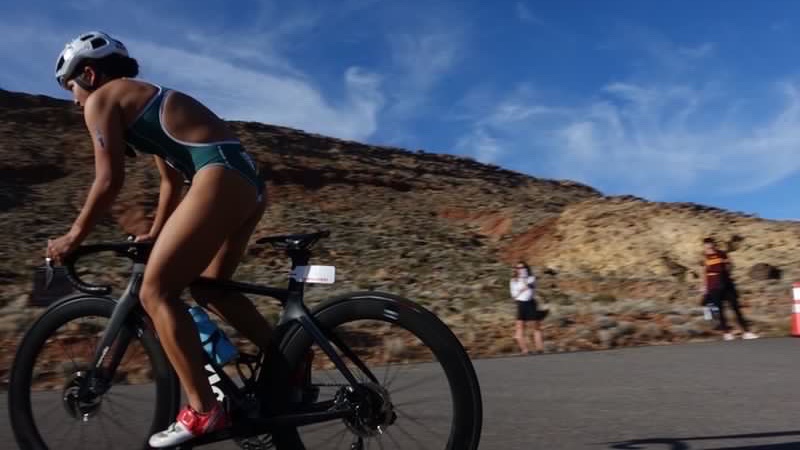 She told us: "I think NCAA triathlon has been one of the best things to happen for developing triathletes. It has allowed me to continue to pursue an academic career whilst also training to compete at an elite level. My coaches here at USF have access to my class schedule and are able to help me balance a pretty gruelling schedule.
"It is not always easy but it is nice to do it alongside my teammates. Having the opportunity to train with a group of strong girls, attend classes with them and explore San Francisco is a once-in-a-lifetime experience that I will always be grateful for.
"We train together everyday and are able to push each other when the semester gets tough."
"I race for them – instead of myself"
The team environment present at the University of San Francisco, coupled with the coaching staff's understanding of the need to balance their athletes' training alongside their education, has proven to be a very successful model for Gupta-Baltazar and her teammates.
In 2021, San Francisco finished second in the team rankings at the NCAA DI triathlon championships, with Gupta-Baltazar finishing first and teammate Gillian Cridge joining her on the podium in third. Looking back at that race, Gupta-Baltazar believes that competing for her team helped her push that little harder.
"When I get to race alongside women that I train with everyday, I race for them – instead of for myself. That feeling is really special because you are racing for something bigger than yourself.
"NCAA racing has had a really positive impact on my development as a triathlete. There has been an influx of international triathletes to the NCAA in recent years and the competition level has been comparable to an ITU Continental Cup.
"Race experience is crucial to any athlete's development and it has been a great addition to my race schedule. I have also struggled with finding training opportunities at home in Toronto, so having a team of girls to train with everyday has been great as well."
Arena Games and the next step
Whilst she will be racing this weekend as one of the youngest in the field, Gupta-Baltazar shared that she is excited to have the opportunity to compete and believes that her swimming background may play to her advantage.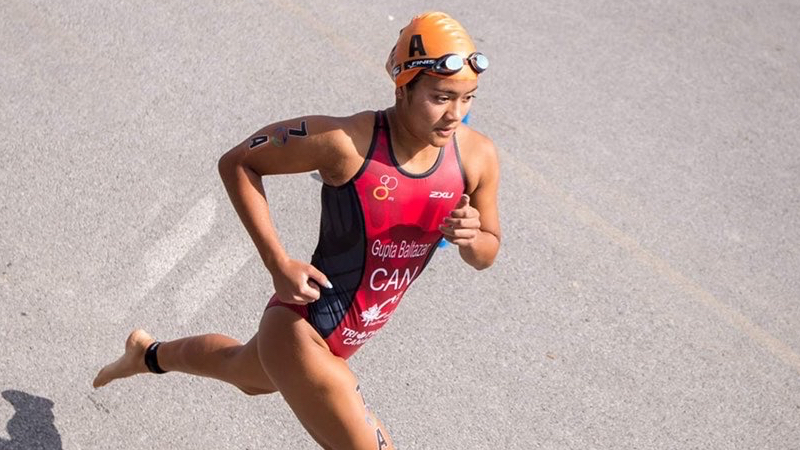 "I was really excited to get an invitation to race the Montreal Arena Games. I always thought the format may suit me because of my swimming background so I am looking forward to seeing if it does! It will definetly be fast – and extremely painful – but as the sport evolves I think it is awesome that I get to be a part of it!"
After what will hopefully be a successful weekend of racing in Montreal, the Canadian will turn her attention to her world ranking, where in her second year as an U23 athlete, she will be hoping to move up in order to gain selection for the U23 World Championships.
"Entering my second year of U23, I am going to be prioritising my world ranking and selection for U23 worlds that will be held in Pontevedra, Spain in September. I will be mostly racing Continental Cups – Sarasota, St. Peters and Montreal for sure. I'll also be trying to race some mixed team relays this year as I really like the short format and racing with my fellow Canadians."
We've a full preview of this weekend's Arena Games action, including start lists, how to watch and racing format.