Lionel Sanders reacted to his 11th-place finish at the PTO Tour US Open in typical honest fashion, with the Canadian now putting the focus on what he needs to do next in order to close the gap to the best in the sport.
Way down out of the water, losing time on the bike to the front and losing the foot race in the battle for the Top 10, Sanders was particularly self-critical after his performance in Milwaukee, with efficiency the name of the game from now on.
Citing advice from former mentors, and drawing comparisons between the top athletes and F1 teams, the former IRONMAN World Championship runner-up laid out his plans for getting better, starting with transferring power to speed via efficiency. As ever he gave a detailed take in his traditional post-race debrief on YouTube (you can watch the full episode by clicking below).
Technical accountability needed
Coming out of the water close to four minutes down, Sanders was on the back foot all day, with the Ontario native admitting that he knew seventh place was the best he could have finished on the day given his situation.
"I swam really poorly. I usually swim quite poorly, but I did so especially poorly in this one and I'm not happy about that. I do feel that I can do a lot better than I did. I need some more accountability for sure from the technical standpoint.
"I don't have a problem swimming hard, in fact I probably gravitate towards doing nothing but relatively hard swimming and so I've started to rekindle the relationship with Gerry Rodrigues at Tower 26.
"You go to a championship race, with some of the best guys in the world and you come out 4-5 minutes down, I've been there, done that and I know what to expect, you're not going to finish super high, especially in this new era."
Sanders echoed his disappointment in his bike and run split too, acknowledging that whilst the engine was there, it wasn't yet fine tuned enough to produce the performances that he wants to be capable of.
"I pushed some really good power and maybe even lost time to some guys, which is pretty disappointing, as it seems my speed to power right now is a career worse and it's very frustrating, but what do you expect, I've done no testing. You're going up against guys who work more like F1 teams and so have done a lot of testing, have been to the wind tunnel and know what they're doing.
"The run was pretty disappointing too. I was running with 5 or 6 guys and I got last place out of the group of guys I was running with. Nothing really positive to take from it, other than the fact I went and got a data point from the top guys in the world.
"The best I could've possibly done with the swim and the bike was seventh, which was where David McNamee finished, who I ran with until the fifth lap and I ended up finishing 11th, around 5:45 back from Frodeno."
"I see efficiency leaks everywhere"
On the topic of efficiency, Sanders said that he saw the holes in his training and racing everywhere, across all three disciplines, with these gaps needing to be plugged if he expected to have any chance of compering with the best in the sport.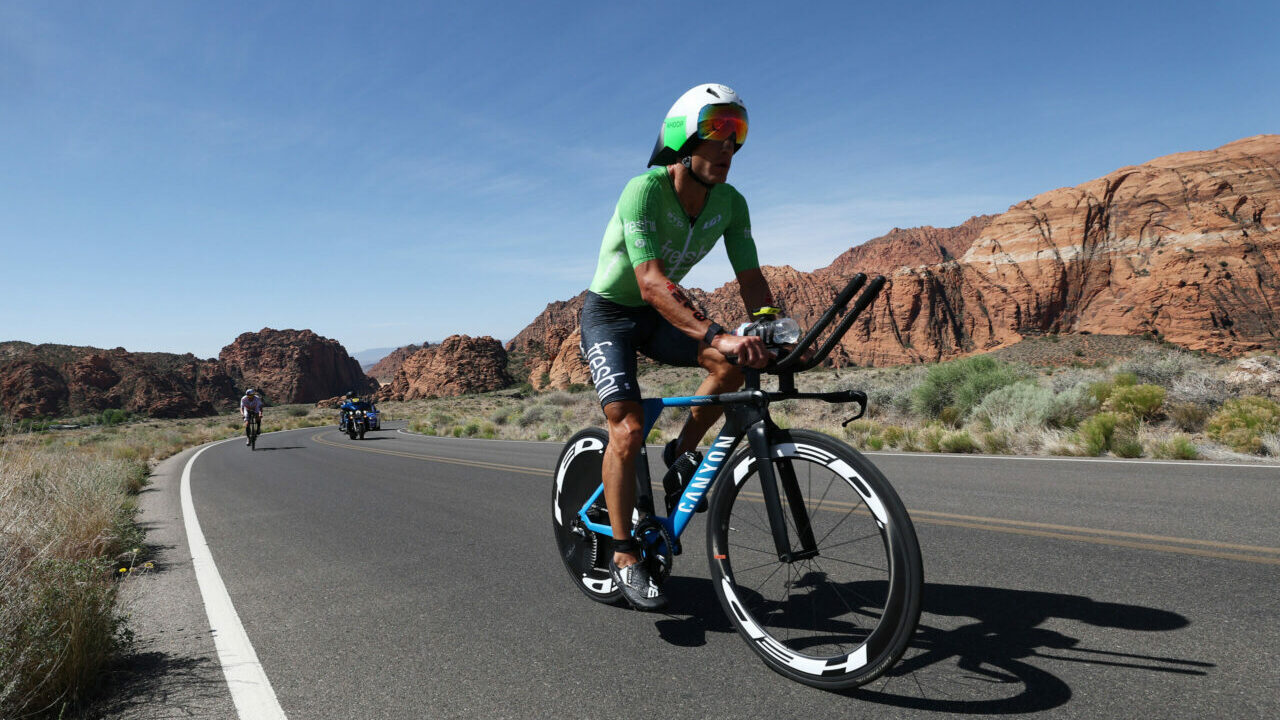 "I know I'm not on the level of the top guys. For me, it would be one thing if I did this race and thought wow that was everything I had and that's where I finished, but it's not, and I was just seeing efficiency leaks after efficiency leaks.
"I personally see efficiency leaks everywhere. If I went to these races and gave everything I had I'd be okay, but I'm like why am I even going if I'm not fixing these efficiency issues. You're probably not going to be able to compete with the top guys until you start thinking about the efficiency side and almost treating it as an F1 team with the testing."
Despite his new focal point in training, the Canadian did confirm that he would still be toeing the line at the IRONMAN 70.3 World Championship, which takes place in Finland in a fortnight's time.