Three in a row for Tom Vickery in Mallorca
A quick update from the third edition of the Long Course Weekend Mallorca. Fourth overall in the standings ahead of Monday's marathon, Great Britain's Tom Vickery has won a third consecutive LCW title, courtesy of overall victory in the marathon and a finishing time of 2:34:05.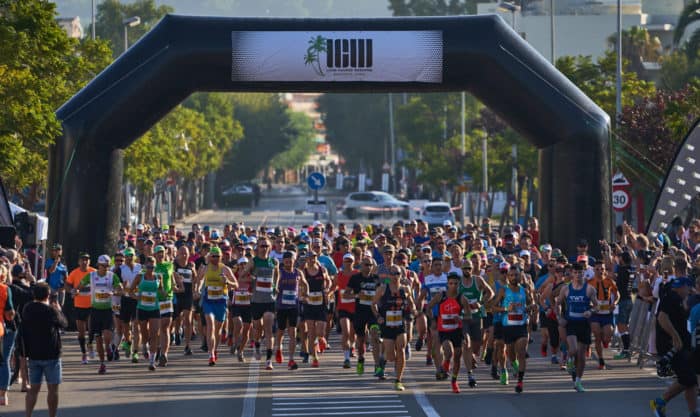 The racing is still in progress and results to be ratified, but provisionally I make him the overall winner by just 49 SECONDS, following Saturday's 3.8km swim and Sunday's 172km bike ride.
[UPDATE – Here are the now confirmed overall results]
LCW Mallorca – Men
1st – Tom Vickey (GBR) – 8:09:14
2nd – Fabien Knobelspies (GER) – 8:10:03
3rd – Fredrik Ekström (SWE) – 8:12:36
4th – Jack Skelton (GBR) – 8:35:08
5th – Jonas Tynnerstål (SWE) – 8:55:25
Wow! @Vickery_Tom did it again! He is the three times champion of the Long Course Weekend! He won today the marathon and closed the gap with Fredrik Ekstrom and Fabian Knobelspies to become the official winner of the final classification! pic.twitter.com/v5lPtOlAqQ

— LCW Mallorca (@LCWMallorca) October 28, 2019
LCW Mallorca – Women
Austria's Lisa Maria-Dornauer completed the Alcudia Marathon – her first – in 3:22:01, which enabled her to move to the top of the three-day standing
1st – Lisa Maria-Dornauer (AUT) – 9:18:25
2nd – Chloe Serra Jodin (ESP) – 9:29:05
3rd – Michelle Parson (GBR) – 9:43:04
4th – Laura Hicks (GBR) – 9:45:39
5th – Nicola Kaye (GBR) – 9:49:55