We got a masterclass from Flora Duffy to win the women's race on day one of the Commonwealth Games, and Lucy Buckingham picks out her highlights…
Flora Duffy was just amazing, she really was. It was just hands down a really great performance.
But the start was just crazy and no fault of the athletes at all. We saw Georgia Taylor-Brown and Flora stood on the pontoon for a second, which wasn't their fault either, because they were like, 'hang on, that's weird'.
It was all very confusing and I think it played a part in how the swim then ended up.
Potter takes it up
We saw Beth move to the front and she did a great job. I know she's been swimming really well in training, so to see her do that, I was like, she definitely has it in her locker to be able to lead swims out like that.
But you could see it took Flora a good 400 metres to be able to get back onto Beth's feet. And the same with Georgia getting onto Flora's feet. It took them a lot longer than I guess it would have done if the gun had gone off and they all went on that gun.
Having said that, throughout my career, I've never had a false start so maybe officials are actually a bit tentative about calling it, because it's a big shout – there's the TV, the schedules, getting everyone back out of the water, all the protocol.
They are a lot of things to consider, even if they're just starting the race again five to 10 minutes later. We've seen it on the track at the Olympics and the problems it can cause.
But all the while Beth was doing an amazing job, leading it out and definitely the swim of her career so far.
Potential game changer
Going into transition, Beth was so good – it was textbook. I think the Arena Games at the start of the year probably has helped her in making those transitions as swift they are. She even had a gap on the bike to start with. She's made such progress and I think it was a job well done.
But back to the bike and I thought Sophie [Coldwell] would have joined Flora and Georgia when they went away.
But I was watching Sophie closely on the swim and she was packed in like a sardine with three or four of the girls and they just weren't moving. I was surprised because it was such a small starting field compared to 60 or 70 girls, but it can happen. So instantly I thought, this isn't the Sophie Coldwell we saw in WTCS Leeds a couple of months ago.
It was a shame because I genuinely think Sophie is a game changer in triathlon. She's like Jess Learmonth. She just has that swim/bike ability which really suits sprint, with her power and just her capability. And she's a stellar runner, like we saw today.
A league of their own
But it was a class act with GTB and Flora, they were just away and I thought, well, that's it. That's the race set up for the gold medal, but it didn't quite pan out that way.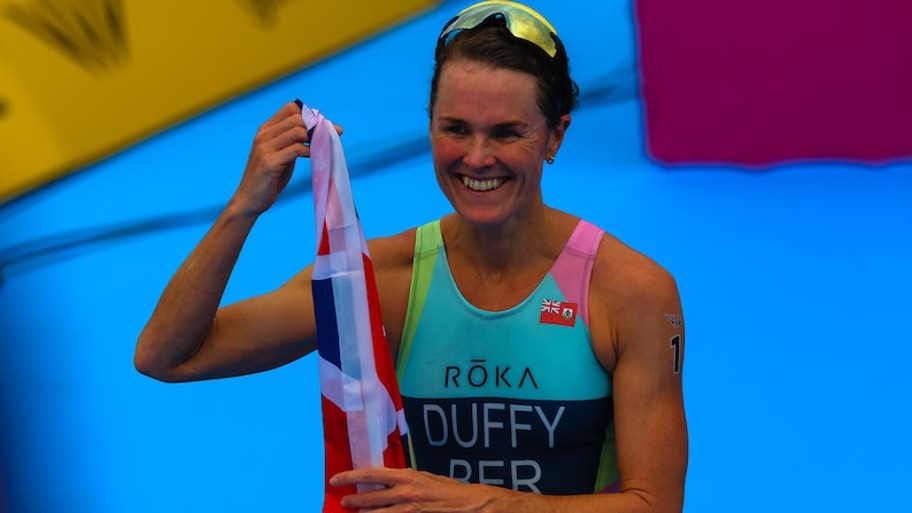 I don't think T2 was as crucial as some are saying – Georgia's relaxed coming into transitions, she's not like some athletes who are desperate to be at the front. She goes through smoothly and then starts running and focuses her intent on that.
But then you go into the first couple of k, I was like, 'oh, she's not feeling it'. I could just tell. And we all have these days and you can't be on top form all the time.
You'd never believe that she was struggling because her facial expressions are poker-like, her form always looks perfect – she's just a real classy runner who always looks effortless.
But the one thing you could see was that Flora was moving away from her.
Plenty to be proud of
It was an amazing display by Flora but I also think a really great performance for Georgia, especially if she didn't feel at the top of her game.
And I think as you get older – and I'm speaking from experience – if you don't feel so great but fight to the end and give it your all, then I think it will really mean a lot. So I'm sure at the time she might have been slightly disappointed, but also I think it was an incredible performance.
Nothing seems to faze Flora, she's had a lot to deal with this year. The way she won was so dominant, it was brilliant.
She even said to Georgia on the bike, 'I'm going to make a move'. That's you telling your biggest rival that you're going to make a move but I thought it was brilliant. I was thinking, wow, that's good that they know that they can work together because it works in both of their favours, but then at the same time, they know that it's going to be a hard five k on the run!