Lucy Charles-Barclay finally claimed the title she craved last Saturday when she destroyed an elite field to win the 2021 IRONMAN 70.3 World Championship in St George.
The 28-year-old British star produced the fastest swim, bike and run as she came home more than eight minutes ahead of her nearest rival. It was an absolute demolition job.
Red Bull athlete Lucy sat down with us to provide a detailed debrief on her day as it happened in Utah. From inception to execution, it was she admitted "pretty much a perfect day".
The strategy – all about Lucy
"When we sat down before the race to try and come up with a strategy for the race, we decided that we would just focus on me the whole day and try not let my mental state be influenced about what anyone else was doing. If I was caught on that bike then it would be like 'that's fine, we're doing my thing all day long'."
The swim – better than expected
"Obviously the swim I just did my normal thing – I wasn't sure how much of a gap I'd get over those girls. Particularly with Taylor Knibb in there, she's got the ITU background, so you're not sure how quick she might swim. But to come out with the lead that I did was pretty unexpected.
"I think one of the big things that people don't realise is the difference that a wetsuit makes. When I've raced previously, the girls who wear wetsuits, it makes it that tiny bit easier for them to keep on my feet. My advantage in a wetsuit is minimal maybe compared to slightly weaker swimmers.
"So actually as soon as I ever do a race and they say swimskin, I'm the first one celebrating – knowing actually this is definitely gonna help me out because I can swim almost just as well in a swimskin as a wetsuit. So I knew that if I could get that gap early, that gap was never gonna get back onto my feet so it was about pushing the pace early which is fine for me. I always just try and push that pace early, and then just settle into my rhythm.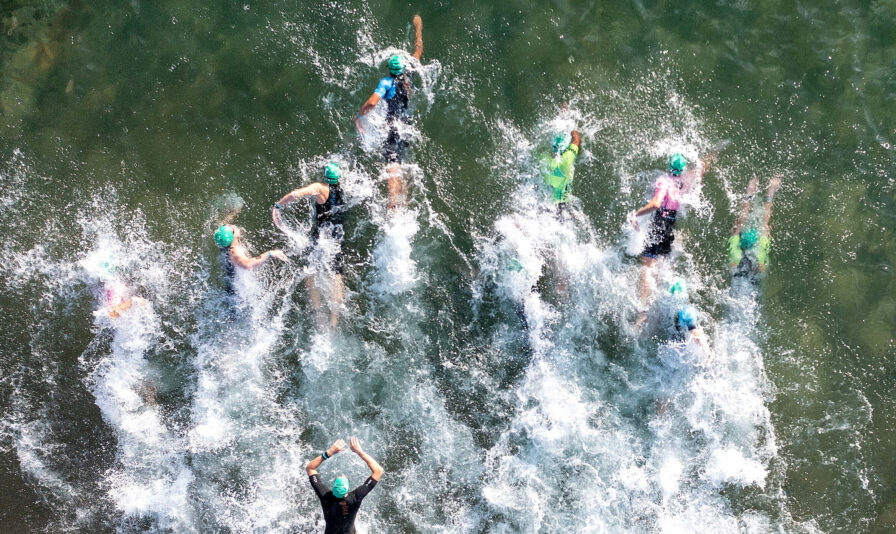 "So I did feel good on the swim, I felt like I was in control, I wasn't frantic with my stroke, I was just relaxed. My main thing is always to just make sure I'm swimming the right way so I'm not wasting any time and I felt like it was a good course, it was well marked out.
"They had actually numbered the buoys, so on the way back they were counting down, so I was like 'okay every buoy, let's put in an extra little dig and see if we can extend that lead'. To come out of the water with a 90-second lead was more than I would have hoped for, I thought I might get a minute, but actually to have 90 seconds was a really nice amount of time."
The bike – building the gap
"My main focus out of the swim was just to be smooth through the transition which I was happy that I did that, and then just obviously get away on the bike and try and establish as much of a gap as I could in that early part of the bike.
"The cool thing about the course was that there was an out-and-back very early on to the bike course, so straight away then I could work out what the gap was to the other girls and it was over a minute very early on. It was 'okay, I've had a good swim, let's try to keep pushing that pace up'.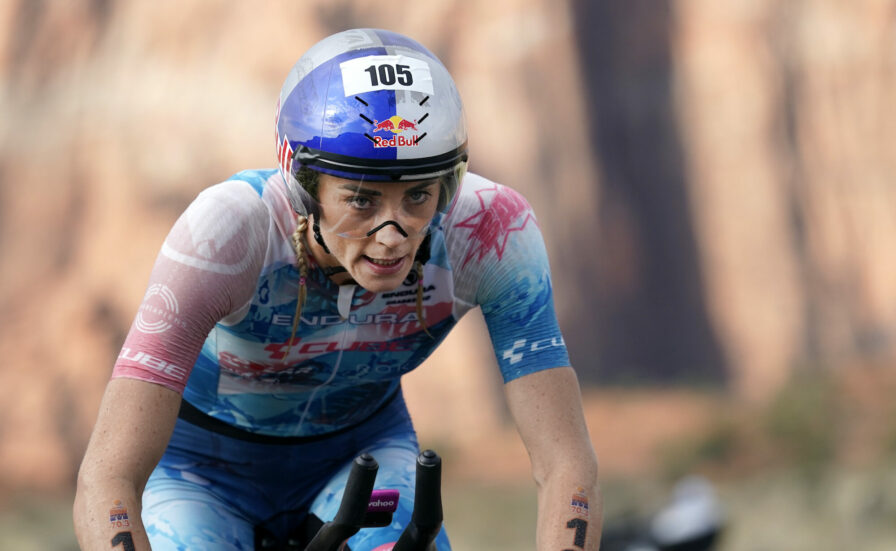 "At the halfway point on the bike there was another out-and-back, and at that point I think I'd grown the lead over Daniela and Taylor to like three minutes. So I was like 'okay this is going pretty well, this is probably going better than I thought it would'.
No power, no problem
"One of the things that I did differently on this race, I'd had some issue with the pairing of my power meter to my bike computer. So we decided that I would just race with no heart rate and no power, and just do it totally on feel.
"And actually I found it way better because sometimes if that data feedback isn't what you want to hear and you're looking at it and going 'why I am only pushing that many watts or why is my heart rate so high', it can definitely put you into a slightly negative mindset.
"So I was like 'actually this is better, I feel good, I'm kind of getting a feeling the gap's getting bigger' and all I'm looking at and focusing on is how fast I'm going and how long I've been riding, making sure I'm fuelling properly. So actually I thought that was a lot better, and obviously when you're having a good day that keeps your head completely in a positive place."
The run – silencing the doubters
"Coming off the bike I think I had a nearly six-minute lead, I was pretty confident in my run ability. I knew the course itself was gonna suit me because it was a hilly course – I enjoy running hils in my training. I felt like it was almost, as long as I didn't make a mistake on that run, it was a half-marathon run to go and finally claim a world title.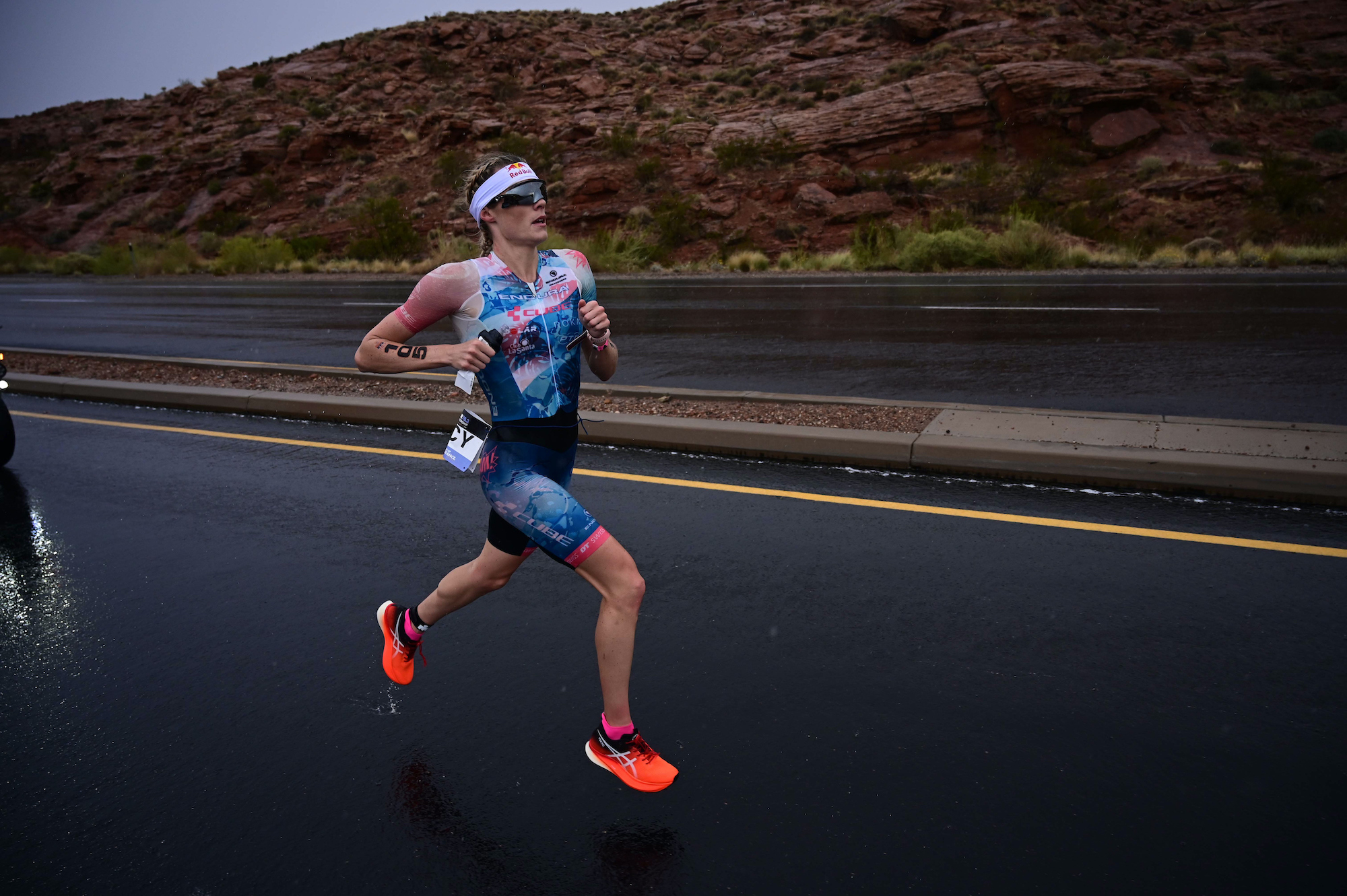 "There was so much fire there just to prove that (running ability). I remember, I think it was 2016, I went and ran a 1:21 half-marathon on a really hilly course in Watford. So even back then I was like 'I know I can run'. I always ran for school and my swim fitness helped me run well.
"I think I would have actually been annoyed if I hadn't delivered the fastest run split. I just wanted no question marks there, I wanted to be the most dominant athlete on the course. Obviously you have no idea what anybody behind you is doing, so I'm obviously like 'I'm just gonna run my own race', but then at the end to find out that I was the fastest on all three disciplines, I guess for once in my life I felt like nobody could question anything that I'd done.
"I feel like always something has been pulled apart of a race that I've done. So to be finally like 'you can't question anything I've done there' was very sweet for sure."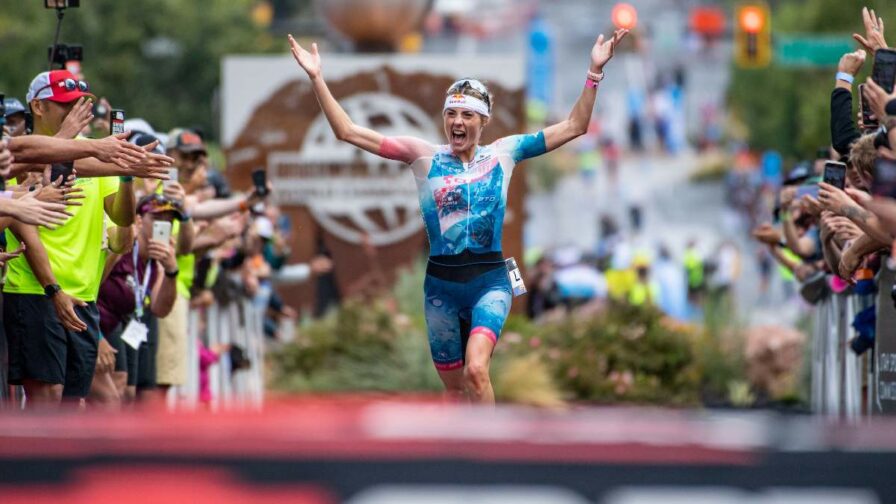 The fuelling – rice and Red Bull
"Leading into the race I pretty much only ate rice for a week. I was nervous because of what had happened at the Collins Cup (suffering from a stomach bug). I just wanted to make sure my stomach behaved itself on race day. I remember, probably a day out from the race, just craving all foods and I was like 'well the faster I finish the race, the quicker I can get to the point where I can eat whatever want', so that was a good motivator.
"In terms of the race itself, I decided I would take a small gamble and not use any caffeine until I got to the run part of the race. In terms of fuelling for obviously the swim, just get through the swim. On the bike I was just using basic sugar and electrolytes just to fuel me – I didn't have any solid fuel. I actually didn't have a huge amount of fuel on the bike, I feel I had just enough to get me through that bike, which was probably around 40 grams of carbs per hour, so it's definitely way on the lower side than maybe what most people would have. But that got me to the run confident that I could have more.
"On the run we were very lucky to have Pro aid stations which were at 5k and 15k into the run. So on those aid stations I basically had like a Red Bull sugar mix which I was like 'that's gonna give me that little extra boost' because I hadn't had any caffeine up until to that point and that definitely did work really really well. Other than that I was just using the aid stations on the course for some water.
"So it was kind of a very basic fuelling strategy, but it felt like it was just enough on the day. The weather could have been a lot hotter, but it actually wasn't too hot so I felt like hydration wise I didn't need a huge amount either."