Lucy Charles-Barclay says her first ever sprint triathlon last week was an 'amazing learning experience' after finishing World Triathlon Championship Series Abu Dhabi in 12th position.
The IRONMAN 70.3 World Champion came out of the water in sixth place, before moving up to third through T1.
However, on the bike Charles-Barclay was left riding solo after being unable to live with the lead group consisting of fellow Brits Georgia Taylor-Brown, Jess Learmonth and eventual race winner Flora Duffy.
Lucy learning
Lucy though, who is setting out on what she hopes is a road which will lead to a spot at the 2024 Olympic Games in Paris, came away with plenty of knowledge gained.
Speaking on her YouTube channel, she explained: "Overall, [it was] an amazing learning experience and I actually had a lot of fun, particularly on the bike.
"My main strategy was obviously to be in the front group in the swim and try and maintain being in the front group on the bike, which I managed to do for about a lap and a half, but those girls were seriously moving.
"After a lap and a half, even though I felt I was riding well, I just didn't have that top end watts that those girls were able to deliver out of a climb, out of a corner where I might have lost half a second on a bend just because I am not quite as skilled as they are.
"So, after a lap and a half, that just completely bit me and I knew that I couldn't hang on.
"In hindsight, I don't know how much longer they were going to maintain that speed, maybe they did maintain it for the whole 20km, I am not sure, but maybe if I just managed to stick in for a little bit longer and managed to hang in there that could have completely changed my race.
"Obviously, I wasn't able to do that so I ended up doing the rest of the ride completely solo, which again tactically maybe wasn't the right thing to do, but I didn't feel like I had much choice because there was such a big group of girls behind me.
"But there was still a decent gap behind, I didn't just want to sit up and wait for them to catch me."
The 28-year-old would go onto record the joint-eighth fastest time on the bike, clocking 29:36. However, T2 did not turn out to be the smoothest of transitions as she slipped whilst dismounting her bike.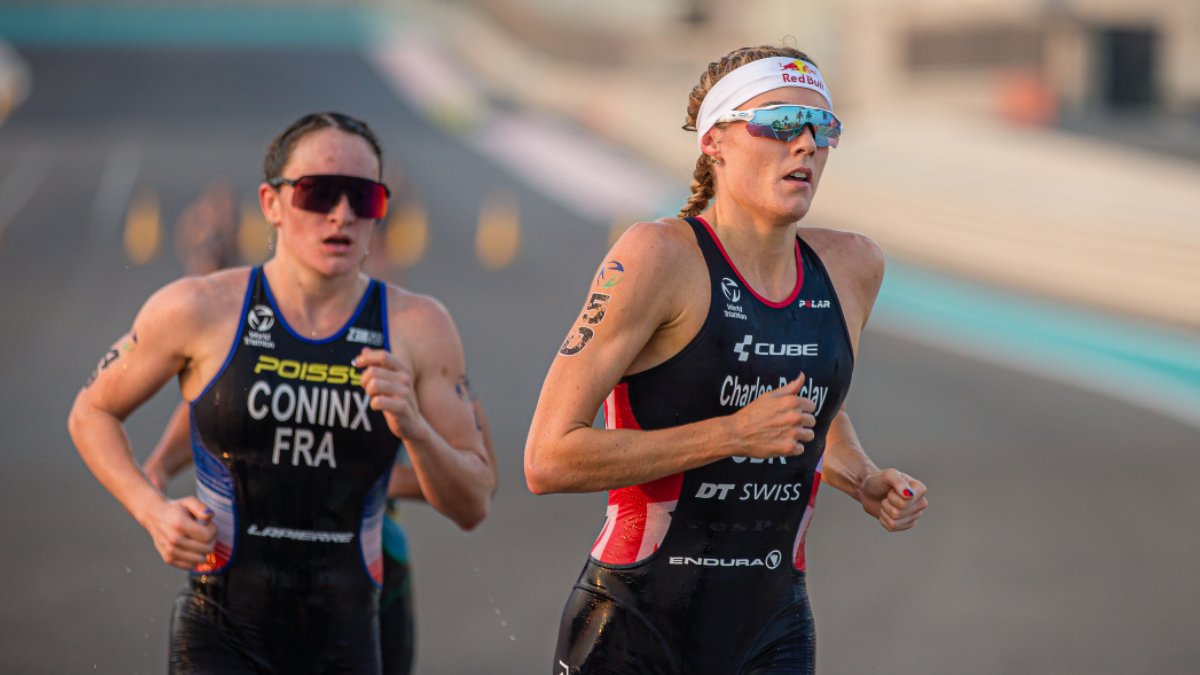 Onto the run and Charles-Barclay's legs were starting to feel the effects of the bike, but she managed to beat France's Lea Coninx in the final few metres to finish the race in 12th with an overall time of 57:54.
Things to work on
"I would have been absolutely over the moon with a top 10, but it wasn't really something I had thought about," Charles-Barclay said.
"I guess the position isn't really important to be honest, it is just I went there, learnt a lot and definitely put myself out of my comfort zone.
"If I want to do another one of those races I really need to adapt my training to get that top, top end effort on the bike so I can sit in on that front group and also just working on those skills, continuing to work on the bike handling, so I am confident sat in there and I am not going to lose seconds on every corner and have to work that bit harder than everyone else and with that, my legs are going to be fresher for the run, I am going to be able to run better."