There was understandable emotion both when Morgan Pearson crossed the line in sixth in the Paris Test Event to qualify for next year's Olympics – and then afterwards as he let the achievement sink in.
By making the top eight in a race he only got into at the very last minute, the American reached his country's qualification criteria and it was all the more impressive given what he's been through in recent years.
Pearson's qualification for his first Olympics in Tokyo came just 10 weeks after his older brother Andrew passed away, saying at the time: "I was just thinking about the sliver of happiness I could hopefully bring to my family by qualifying. It has been hard on all of us."
He would go on to win a silver medal in the Mixed Team Relay.
Dealing with the setbacks
And this year he has faced numerous challenges, which help explain why his race positions up until this top 10 were DNS (WTCS Abu Dhabi), 44 (WTCS Yokohama), DNF (WTCS Cagliari) and 31 (WTCS Hamburg).
When Pearson is fit and in top form he has shown he can mix it with the very best – as well as that silver in Tokyo, he was runner-up in the Grand Final in Abu Dhabi last November – one of only two races he competed in during the whole of 2022.
And that was demonstrated again in Paris where he moved to the front early on the run and stayed with the second group after Alex Yee kicked clear to win in dominant style.
Speaking to TRI247's Tomos Land, Pearson said he felt now was the right time to open up about some testing times this season and last:
"Last year was not a good year. I didn't race at all. I was dealing with an injury and then I raced in Chile in mid-November [World Triathlon Cup Vina del Mar] and after mechanical problems finished 50th.
"Then two weeks later I went to the Grand Final and got second. So, yeah, I honestly think I'm capable of always competing for the podium, but this year, I mean, I don't know if I want to share it but I've had some pretty unfortunate setbacks.
'I was so out of shape'
"At the start of the year I got sick ahead of Abu Dhabi, then I strained my hamstring right before Yokohama. Not a major injury, but just like, the timing of it was awful.
"And then see the scar on my head? I got an infection. A massive infection on my head. And it took me out for, like, a month. I'm going to post a picture on social media, I think to show this is why I wasn't racing well in Italy. It even hurt to wear my goggles.
"So I then didn't race Montreal and then at Hamburg I was so out of shape as I'd basically had a month off.
I'm not a guy that's going to go out and make excuses after those races. That's just not me.
"But now I think I can share this story a little bit now that I've shown I am [back] at that level."
'I don't think it's sunk in yet'
And even this sixth-place in Paris was far from plain sailing as he added: "That first lap on the run, I felt good and I was pushing the pace and my lower back and glutes then started tightening up which is something I've been dealing with all season.
"So I couldn't run at the speed I wanted, but I just backed off a little and tried to keep the pace honest and tried to get it down to like, seven guys with Alex up the way. And I did that and instead of kicking and trying to get on the podium, which I don't know if I could have done anyways, I just enjoyed the moment.
"Next year, there'll be none of that, I'll be fighting to the finish."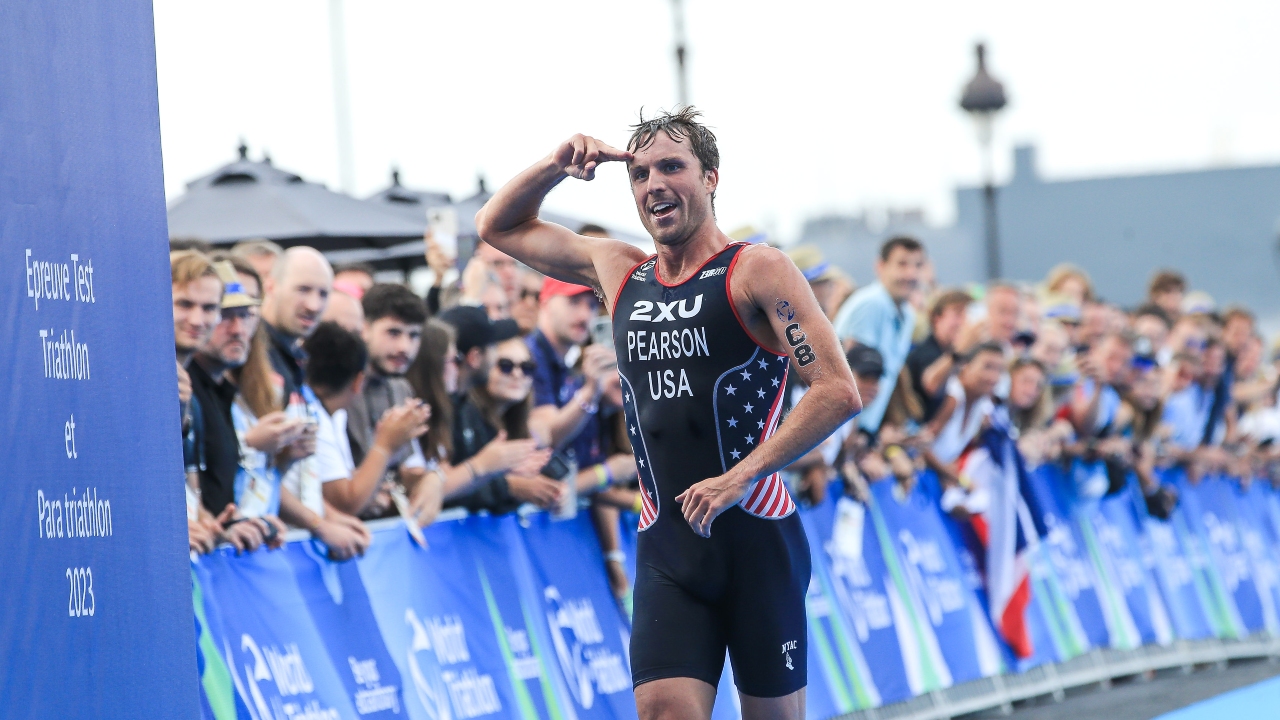 The story is even more remarkable given that Pearson's name was the very last one added to the start list as he was allotted #68 following a couple of late withdrawals.
He said: "This past day has been a whirlwind. I mean, I wasn't on the start list until 14 hours before the race this morning. I don't think it's sunk in yet that I've qualified for the Olympics.
"I want to call my family. My mom couldn't go to Tokyo. I think she'll be really excited to come to Paris. And every time she says 'I can't wait to come', I'm like, don't say that, don't jinx it. But now she can. Now she can come. So yeah, I mean, I think this means a lot to me, but maybe it means more to my family they can come to this one."