Great Britain's Alex Yee made a huge statement a year out from the Olympics with a dominant victory in the men's race at the Paris Test Event.
The silver medallist in Tokyo, he was near the front on the swim, in the lead pack throughout the bike and then pulled clear early on the run to win by 14 seconds, automatically qualifying for next year's Games in the process.
Unfortunately his great rival Hayden Wilde (NZL) exited right at the start of the run due to a hip injury he sustained in a bike crash on the way to the race this morning and French favourite Vincent Luis was another to pull out soon after.
But there was a great battle for second, with Vasco Vilaca (POR) just outsprinting Dorian Coninx (FRA) as the reigning Olympic champion Kristian Blummenfelt (NOR) came home in ninth.
Swim – Luis powers ahead
As with the women's race 24 hours earlier, there were near-perfect conditions for the two-lap swim and Márk Dévay (HUN) led it out on the longer first loop.
And it didn't take long for things to start getting strung out behind, with Wilde and Blummenfelt two of the big favourites to get distanced.
They were 34 and 39 seconds respectively adrift but that would nearly double on the shorter second lap as Luis moved to the front and was out of the water first.
A strong swim from Yee saw him just 17 seconds behind and with a handy advantage to two of his main rivals in Wilde (+1:06) and Blummenfelt (+1:03).
And it would emerge midway through the bike that three athletes were handed a 15 seconds penalty for swim behaviour – Jelle Geens (BEL), Barclay Izzard (GBR) and Max Studer (SUI).
Bike – All together now
The big question starting the bike was whether that gap of more than a minute would be too much for Wilde and Blummenfelt but there was an early signal of intent from the former when a superb T1 knocked seven seconds off it straight away.
And as things settled down it was a fair fight – with 27 in the front group and a similar number in the chase pack.
The deficit was whittled down quickly though – 37 seconds at the end of lap one of seven and 24 seconds on lap two.
As it continued to close, Yee and Léo Bergere (FRA) tried a dig off the front but were soon reeled back in and before the halfway stage it was all back together with a huge group of 54.
One man effectively out of contention by this point though was Henri Schoeman (RSA), a flay tyre scuppering his chances.
But heading into T2 it was all going to come down to a showdown on the run.
Run – Wilde drama, Yee cruise
With a group of 50+ heading into T2 there could have been plenty of congestion but all went smoothly until a few metres into the run when Wilde suddenly found himself sitting on the blue carpet.
But rather than a collision, it soon became clear he was struggling with an injury, which he later revealed was a hip problem due to a spill on the bike when heading to the transition area before the race.
The man who had a clear lead in the overall WTCS standings was soon back on his feet and started to jog and then walk round but his race was over in desperately unfortunate circumstances.
Another big name to exit early on the run was Luis, who had led the field in the swim.
There was drama up front too as Yee and Blummenfelt moved to the head of affairs, with Morgan Pearson (USA) and French duo Bergere and Pierre Le Corre not far behind.
However it soon became apparent that Yee was going by far the best and he gradually started to pull clear.
Looking super smooth, Yee had opened up a 17 seconds advantage at the halfway point and when the bell came that was up to 27 seconds.
While he would finish in splendid isolation there was a fantastic battle for the silver and bronze medals, with a group of six all in contention in the closing stages and it was Vilaca and Coninx who proved strongest.
And Coninx's third place could be hugely significant as he just held off compatriots Le Corre and Bergere, with his podium place ticking off the French qualification criteria for the Olympics providing he validates it next year.
Others to claim their spots included Pearson and Tim Hellwig (GER) in sixth and seventh respectively.
And it's tight at the top of the WTCS rankings heading to Pontevedra, with Yee now fractionally ahead of Wilde and the consistent Vilaca also right in contention in third.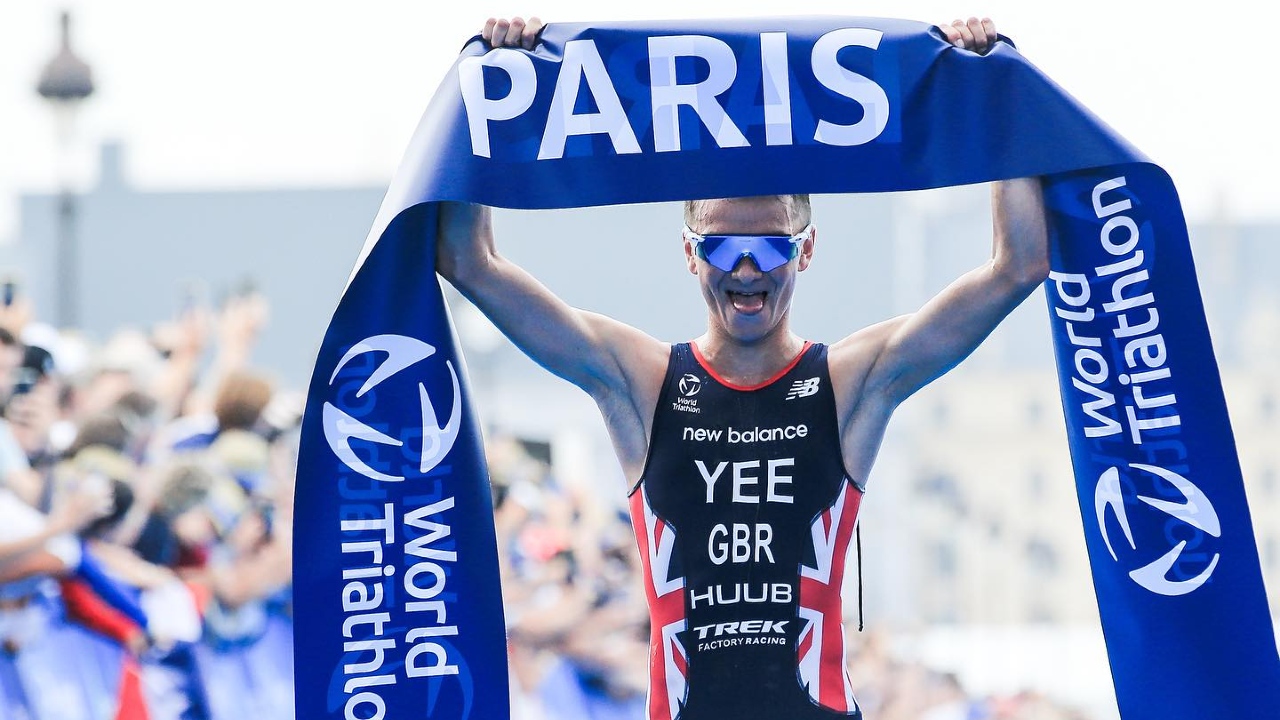 Paris Test Event results
Friday August 18, 2023
Elite Men – Olympic Distance
1. Alex Yee (GBR) – 1:41:02
2. Vasco Vilaca (POR) – 1:41:15
3. Dorian Coninx (FRA) – 1:41:15
4. Pierre Le Corre (FRA) – 1:41:17
5. Léo Bergere (FRA) – 1:41:20
6. Morgan Pearson (USA) – 1:41:23
7. Tim Hellwig (GER) – 1:41:26
8. Miguel Hidalgo (BRA) – 1:41:30
9. Kristian Blummenfelt (NOR) – 1:41:52
10. Roberto Sanchez Mantecon (ESP) – 1:42:05
WTCS Standings after the race
1. Alex Yee (GBR) – 3498.67pts
2. Hayden Wilde (NZL) – 3441.72pts
3. Vasco Vilaca (POR) – 3283.76pts
4. Léo Bergere (FRA) – 3013.56pts
5. Dorian Coninx (FRA) – 2987.60pts