Jess Learmonth referenced it and Super League Triathlon stats guru Graeme Acheson underlined swims two and three as the likely critical points in Sunday's Championship Series races in Munich.
Acheson is the co-founder and CEO of Sports4Cast and the mastermind behind the SLT's Stats Hub and we caught up with him again this week for the lowdown on the favourites, an insight into the team tactics, plus his top-five predictions.
Making a splash on the swim
The Enduro format means three back-to-back triathlons (all in swim-bike-run order), with no breaks in between.
And as Graeme explains: "It means we'll have 'fatigued' swimming, which is something not seen in normal triathlons where the swim is 'fresh'.
"We have seen in previous SLT races that this is where the most time is lost (fatigued swims are about 5 secs/100m slower than normal swims). So watch out in swims two and three for any race-defining moves as this is where it is most likely to happen. We saw Jess Learmonth do this to her rivals last year, putting nearly 10 seconds into them on the crucial swim legs – which proved insurmountable."
But who does he think will benefit most?
"For the women, I'd say this plays into Cassandre Beaugrand's hands. As the strongest swimmer in the field she should use this to her advantage, and then have the run strength to stay away. Beth Potter may be most disadvantaged in this format out of the women's 'big five' contenders."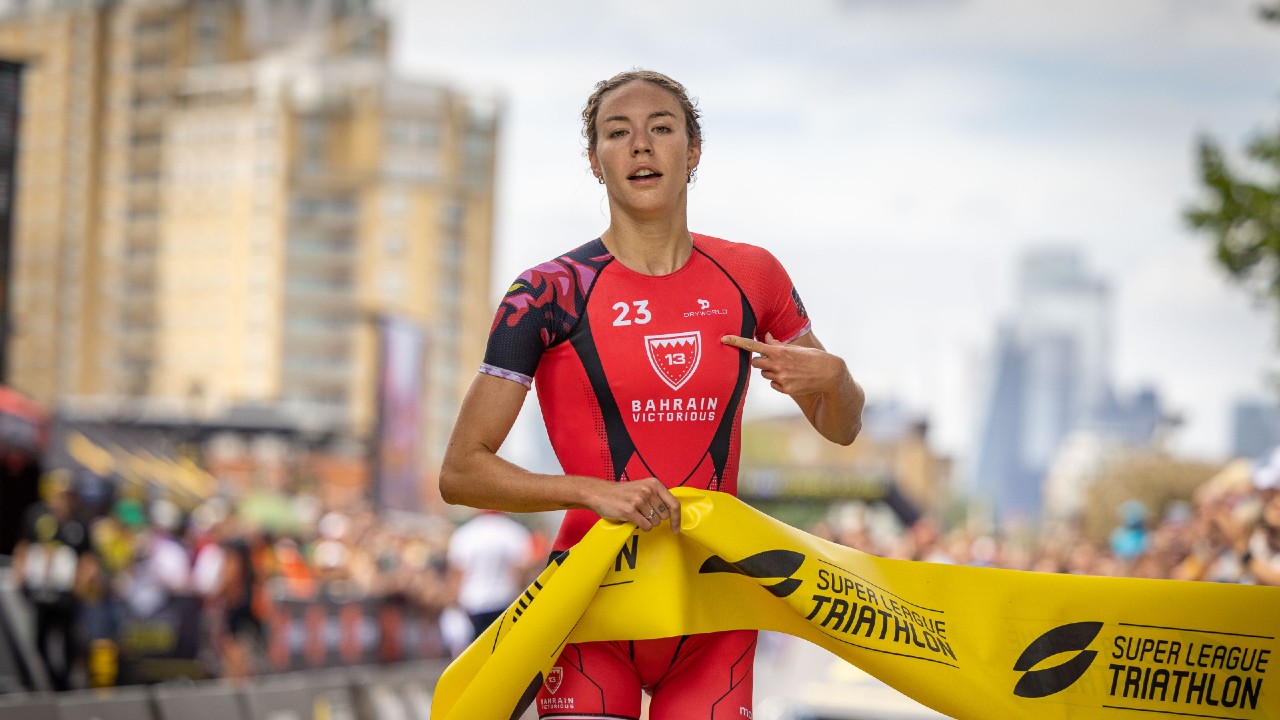 Points mean prizes
Away from the swims this weekend, what was the aspect from the women's race in London that stood out for Graeme?
"The women seemed to 'attack' the discipline points a little more than the men in London, with more of the 'domestique' athletes picking up points," he told us.
"Emma Jeffcoat for the Scorpions was the standout, collecting six swim points, eight bike points and one race point for a total of 15 points. This made her the seventh most valuable athlete by team contribution."
And having crunched the numbers, Graeme's stats suggest that last week's third Georgia Taylor-Brown can return to winning ways as she looks to defend her overall title. His predicted percentage chances of winning for the top five are:
1. Georgia Taylor-Brown – 32%
2. Cassandre Beaugrand – 27%
3. Beth Potter – 16%
4. Taylor Spivey – 11%
5. Sophie Coldwell – 8%
That mirrors the top five in bookmaker Skybet's market for Sunday's race – they can't split GTB and Beaugrand and have them as 7/4 joint favourites.
Looking good for Hauser
That 'fatigued' swim point leads to a fascinating dynamic in the men's race as Matt Hauser, who gave Hayden Wilde such a scare last week despite being incorrectly penalised for a false start, is arguably the strongest swimmer.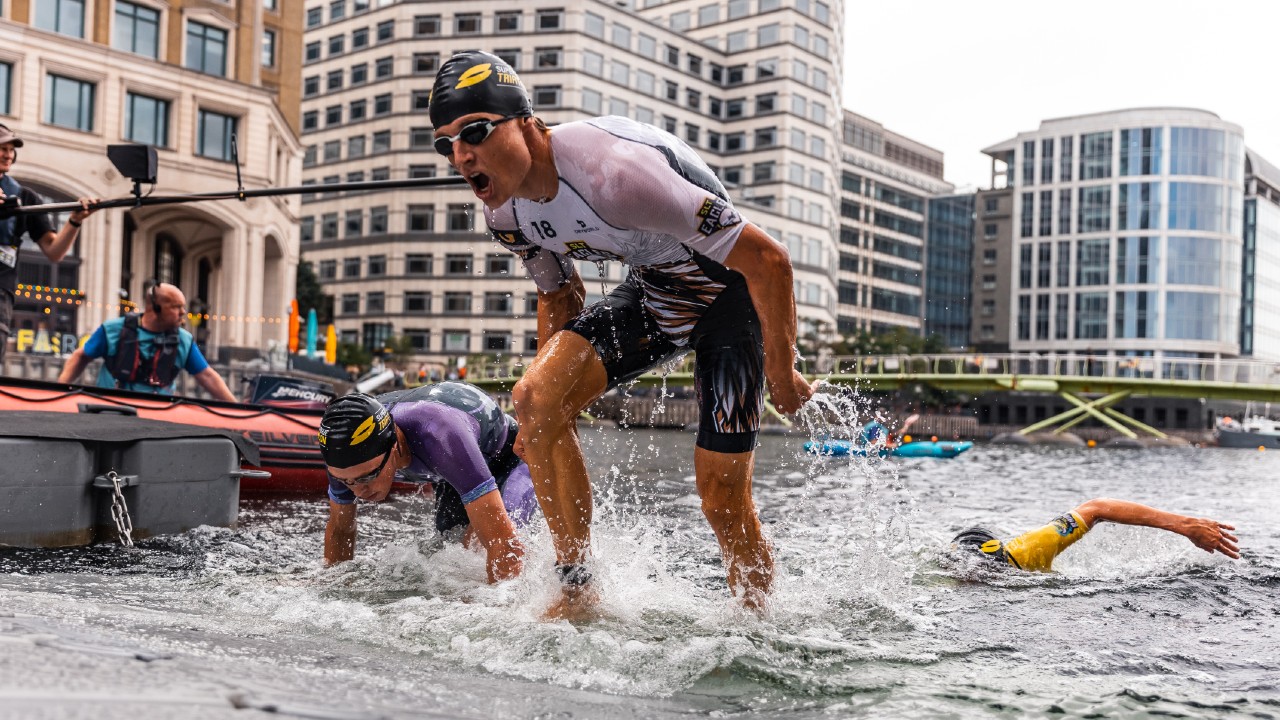 And Graeme agrees, saying: "This should make the men's race pretty exciting to be honest. Wilde may be the stronger athlete under normal circumstances, but if Hauser can use these swims to his advantage, and hold it on the bike legs, Wilde would have a big deficit to chase down on the runs.
"Last week Hauser took 11 seconds out of Wilde on the second stage swim, where the swim was last and therefore most 'fatigued'.
"The tactics for this will be intriguing. We know Hauser can take time out of Wilde on the swim, but does he go early on stage two? Wilde could form a bike group and make up the time fairly easily, and then that's a lot of energy expended by Hauser. Or does he keep his powder dry for swim three and go later? Or can Matt recruit a strong swimming ally to help him later in the race? We'll have to wait and see."
Bike exchange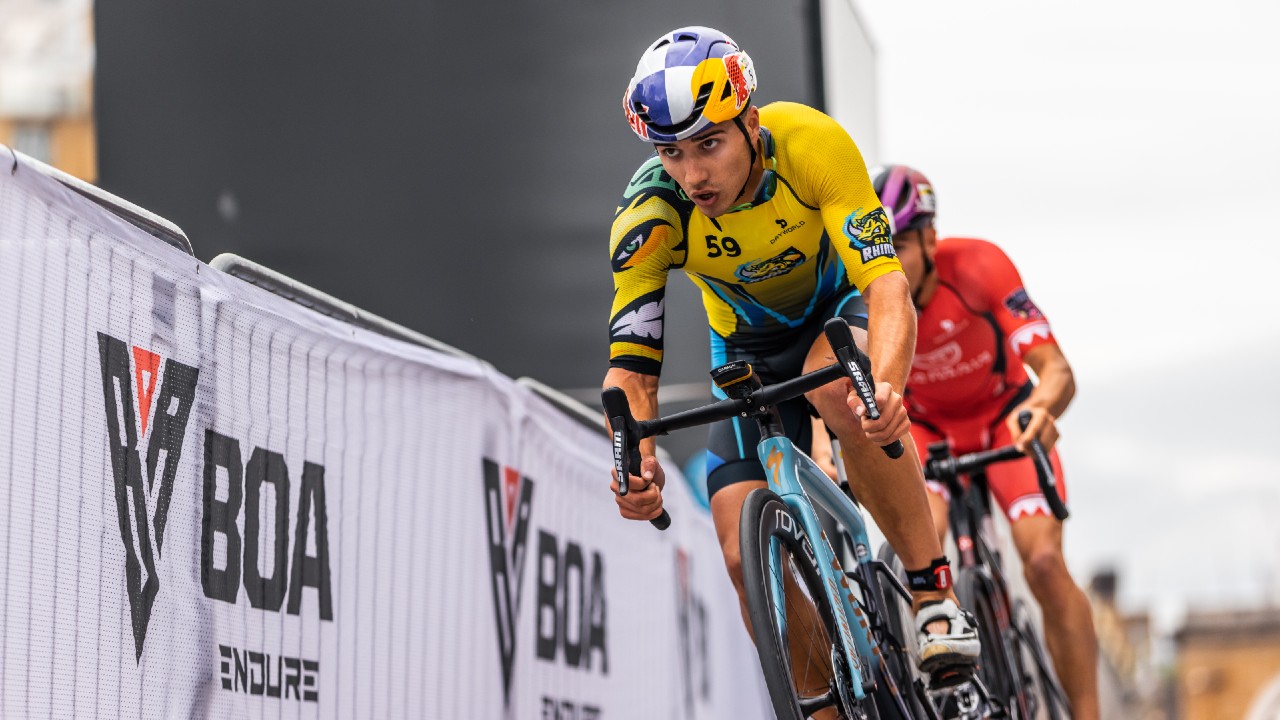 One thing Graeme was keen to highlight from last week – having been picked out by Tim Don on the Short Chute Triathlon Show – was that there was a very good reason for what appeared a relatively disappointing 11th place for Vasco Vilaca.
Graeme explained: "Vilaca had a technical on his bike and raced the whole race on Georgia Taylor-Brown's bike. He raced on her configuration (no changes to set up) and with the brakes the wrong way around (UK configuration compared to European), so it's remarkable he even stayed upright! He could be a force to be reckoned with if he has a working bike this week."
And it's interesting that Vilaca just sneaks into Graeme's predicted top five for Sunday:
1. Hayden Wilde – 34%
2. Jonny Brownlee – 22%
3. Matt Hauser – 13%
4. Sergio Baxter Cabrera – 10%
5. Vasco Vilaca – 9%
Again there's broad agreement from bookmakers Skybet who have Wilde as their odds-on favourite at 4/7 and have also picked up on Vilaca – he's fifth in their list at 10/1.