In the summer of 2022 Alistair Brownlee will take part in the much-hyped Sub7 Project, and the key man in his backroom team will be Nigel Mitchell. He spoke to our John Levison recently to look ahead to next year's event, and to talk about what his role will be during the build-up and day itself. Here is part one of our interview.
Triathlon is an individual sport, right?
At the highest level, it is actually far from that – and any successful athlete will acknowledge the 'team' behind them, typically the coach(es), partners, family, sponsors and perhaps specialists such providing nutrition, bike fitting, psychological and other input along the way.
The Pho3nix SUB7 / SUB8 Project will perhaps take that to a new level in 2022. Expected to take place in Summer 2022, that event will see current Olympic Champion Kristian Blummenfelt and two-time Olympic Champion Alistair Brownlee aiming to go under the seven-hour mark for the iron-distance while Lucy Charles-Barclay and Nicola Spirig seek to conquer eight hours.
The format of the event – the athletes can use up to 10 support athletes / pacers during the attempt – further blurs the lines between individual and team success. It also adds further complexities, creating a mass of logistics and planning to pull together, all to target success on one specific day.
With more problems to solve and plates to spin, how do you move forward? In the case of Alistair Brownlee, you call upon the trusted advice of Nigel Mitchell.
It's a name you might have heard of if you are close to the sport, but as we found out when speaking to him, his role in the project will go far beyond his specialist knowledge.
Who is Nigel Mitchell?
It's always good to start at the beginning, so let's clarify the basics:
"I am a dietician; I have worked in sports and clinical nutrition for 30 years. My specialism has been in endurance sport, so I have worked in World Tour cycling for over 10 years, worked with Team Sky.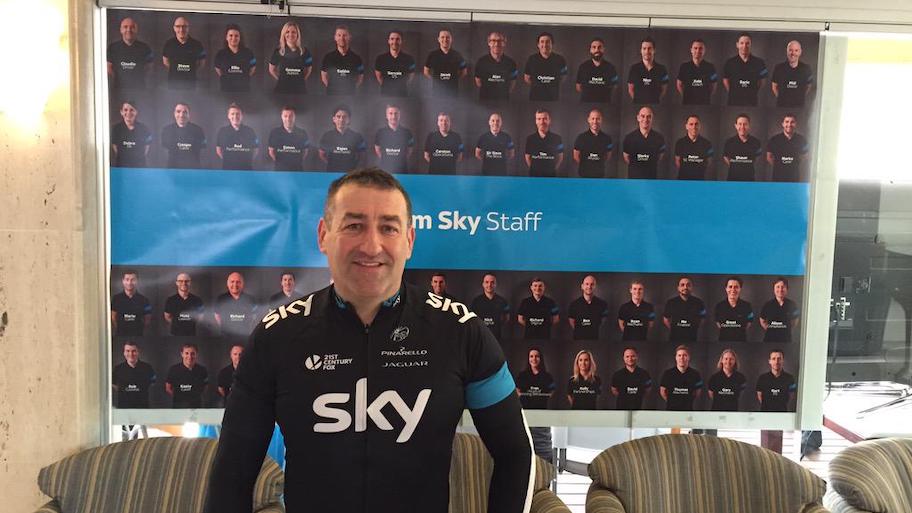 "Earlier this year, the doctor who looks after Alistair Brownlee contacted me and said Alistair would really like to get on point with his nutrition. The first project was around supporting him during the Olympics, but also there was the SUB7 Project.
"These are really interesting and challenging projects especially when you are working with somebody like Al, who is a mature athlete, but him going: 'You know what I want to get this absolutely bang on'.
The Performance Manager
If you think of triathlon, and especially the requirements of the SUB7 Project, there's an awful lot of plates to spin and not drop. That's pretty difficult to manage, especially for an athlete who is already busy training for five / six / seven hours a day.
Nigel explained: "When I was working with Al and Jonny, one of the areas of support that he really needed was somebody to take on the role of a Performance Manager. We spoke about this and thought it would be a good idea if I took this role on – in particular around the SUB7 Project, with looking at the Ironman as well.
"Alistair is a super-bright guy, he knows the areas that he needs to focus on, but he doesn't really have the time to manage the relationships and the detail to execute the ideas. That's where I come in because I have been involved in really high-level sports performance projects for a really long time.
"I have got the experience of being able to manage these projects, manage relationships and deconstruct what we are trying to do and work backwards to where we are now."
Experience is key
While Nigel has a specific specialism in nutrition, it is his wider experience which will be put to particular use in a management sense – and an ability to filter out the noise:
"I have a good understanding of what is involved and the processes. While I may not have the technical expertise, the experience I have, I know when something is genuine.
"I know when to bring in an expert and say: 'This is what we're trying to do and what is the best way to do it?' One of the really cool things with this is that everything goes back to Alistair, he signs off on everything we do.
"I have taken on the same sort of role with Jonny as well and that's a different project with him."
Nigel pointed towards some of the technical aspects of the bike leg as an example of where calling on specialist input will aid the team goal.
"We are bringing in somebody who has got more experience and expertise than myself to actually manage the support riders and who is actually doing modelling with us at the moment to look at the most efficient way of riding in that group.
"We have explored different models and are going more down the route of looking at a group that currently have a lot more experience together, not as high profile individually, but we feel are really going to deliver for us."
Back to basics – but confident of success
Almost 30 years ago now, Scotland's Graham Obree famously took on the cycling world with a bike he made himself, using bearings extracted from his washing machine. The result was a world hour record – and a story that they could (and did!) turn into a movie.
While there's no reason to believe that Alistair will be destroying his kitchen goods in order to optimise his cycling performance, there is not a limitless budget available to try and make this happen either. That back-to-basics approach and need to think outside the box, is something that certainly appeals to Mitchell.
"I think one of the really cool things with us is this is not an INEOS-sponsored project, this is not something where we have got limitless resources, we are very much resource limited and I quite like that," he reasoned.
The lack of a blank cheque book however, is no reason to lack confidence.
Nigel told us: "To be honest I don't really see this as a massive job to get this right and that's why I am quite keen to get involved with the project overall rather than the nutrition."