Nikki Bartlett talks race week in Port Elizabeth
It's race week, and we are close to racking the bikes at IRONMAN South Africa, the first Continental Championship event of the IRONMAN season. After focussing on her choice of race and early season training in part one, in her second update, Nikki Bartlett talks through race week and what is likely to face athletes on Sunday, in what is a deep and strong field in both the men's and women's races.
---
IRONMAN South Africa lead up: Race week!
IRONMAN training preparations:
It's officially a few days until race day, my final blog before its Go Time! When you're in heavy blocks of training, you just get on with the daily sessions; some aren't pretty, many 'tick box' kinda days, and some sessions which you shine. We've been in a progressive (with recovery periods) heavy 10-12 weeks of training, and I can safely say I've put the miles in for this Ironman.
Pre Wales we did a couple of specific Ironman prep sessions, but the whole season was 70.3 based. What's changed? Not too much, it's been extremely gradual, but looking back;
Swim: Same structure, nothing much to report. Other than my swim and gym blocks have paid off.
Run: run sessions involve a mixture of speed, and there hasn't been many 'plod long runs'. Rather, key long treadmill intervals, mixed with shorter speed work, and long build runs have been a shocker to the system. If I could summarise, a lot of sessions have been learning how to deal with fatigue, for a long period of time.
Bike: Now we have FTP numbers using Rotor cranks, we can specifically plan speed, 70.3 and IM specific sessions with numbers to target and hit. I've found a huge improvement in my bike speed since using numbers.
Across bike and run, if it's not a specific number crunching session, everything is done by feel and my fave Decathlon stopwatch, which so many people rip me for. I do love easy no data sessions going by feel, as much as I like hitting numbers in key sessions.
Now we've gone into taper mode, it suddenly dawns on you how crazy the Ironman distance is. As race day approaches, the more I think this is totally mental. Wales for me was a bit of an experiment, almost monging my way through / not knowing what to expect. Rob actually guided me through the whole race, step-by-step on the sidelines. I'm not sure I'm anymore the wiser going in. However, I do know thatwhen you hit that tough spot, you can get out of it.
Race week:
This week is all about final preparations, not doing a lot, just mooching out the course and getting ready for all possible race day conditions. It's currently hitting 37 degrees + here today, but the weather is so variable.
I also like to stay as chilled out as much a possible. We drove to a nice beach yesterday, coffee shop binges and some crazy golf.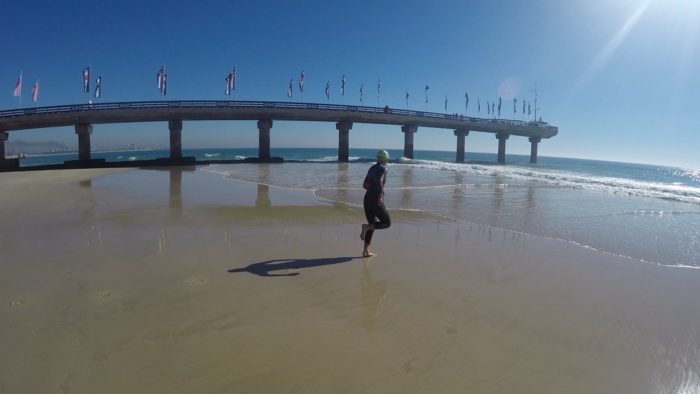 Swim: It can look flat, but there will be swells and it's likely to be choppy with a head wind going out, and sighting will be difficult. From previous years, often hard to even see the buoys. One long out and back will = 3.8k. Getting mentally prepared for that is key.
Bike: For anyone racing, tighten everything on your bike. It's bumpy and windy out there. If anything is loose, including nutrition, it will go. The bumpy roads will add to fatigue too. It's certainly not a flat course, but it's nothing like an IRONMAN Wales. 2x 90k loops, the out section is more than likely to have a stonking head wind, cross wind at times.
Run: Likely to be hot. Heard it constantly smells of Braii food. Slight incline, and 90% sure a head wind one way out. Four loop course, great for spectators and seeing your competition.
In summary, the course will require so much mental strength.
Training for me leading up to the race is pretty chilled, most if not all sessions on the course. One full day off in the week, swimming most days with speed work in, run and bike are short and sharp with lots of race pace work. Over the last year I've been on Rotor Bike Components, which is perfect for pacing in an IM and efforts.
Start list:
Men's and women's field are stacked. You would be a fool not to predict that, as mentioned before – IRONMAN South Africa is one of five continental championship races, with the winner automatically qualifying for Kona. On the Women's side, there are many names on the list who have top 10 and 20 at Kona. It will be an exciting race, and one which will require patience and trusting your own training and process. Respect your competition, but also trust your process and training.
I'm mega looking forward to kicking off the season. Good luck to everyone racing, enjoy it, give some high-5s, thank the volunteers and race your own race! See you on the other side…