We followed her preparations (parts ONE and TWO) leading in to Sunday's IRONMAN South Africa, and now Nikki Bartlett reports on her race, which included "a whole new pain level I've never met or experienced"!
Still, it was a top-10 finish, in a Continental Championship, in only her second full-distance IRONMAN start. Here's how it went from her perspective…
---
Wow, a whole month in South Africa has sadly come to an end. I'm writing this as the DOMS is beginning to ease and I can now make the toilet seat without free-falling from hip height. I wouldn't have it any other way… it's a strange but immensely satisfying feeling!
So, I will cut to the chase and describe how my second Pro IRONMAN went at IRONMAN South Africa.
One long 3.8k swim: Hobie Beach
Patience, commitment and consistency. That sums up my swimming since starting Triathlon. Winter training has gone ace, I'm making baby steps in the right direction and have a fab new wetsuit from sponsors blueseventy. I've had a lot of help to increase confidence in the pool and into racing, so I thank all of those involved. So race day – it was about finding feet, keeping calm, and coming out of the sea 'warmed up' and fresh to go.
Typically, the sea swim in South Africa can look flat, but once you're out there, the swell and chop pushes you around a fair bit. It's certainly not a flat and fast swim.
I had a good start and found myself on feet in the second pack. In the process it felt ridiculously easy, and I managed to get a tad cold because it was chilled. When you come out of the swim having managed to save energy, that's a pretty fab way to start a long day. Looking back, I came out before some who've swam a fair few minutes quicker than me in the past. 58:40, best ever swim and off we head onto the bike…
Bike (2x90k loops)
How's it so hot already? Oh, I've clearly forgotten how to get on my bike (shoes flying everywhere).
It felt ace to actually be around girls at the start of the bike. I'm usually Billy No Mates. I headed out keeping calm aiming for my target power. The course is BUMPY; unless you ride this course, I don't think anyone can gauge quite how bumpy it is. Port Elizabeth is typically known to be a windy place too, but I can't remember too much of this on race day. The bike is challenging, easy for those who are technical numpties as there's minimal cornering, but the bumpy (although stunning), bike route needs mental toughness as it absolutely zapps your legs.
In summary, the bike was hot. It was ace to pick girls off and watching Susie (Cheetham) tear it up in the front pack was brill. Bex, parents, Rob and family kept me informed of splits to fifth place, and I'm more than happy to have done a 5:03 on that course, especially as my average power was down by 20 watts. I can't blame this on the heat as I've done it in training out in SA for three weeks prior. But, all I can say is this new Guerciotti Bike from Tri4Life, and Rolf Prima wheels set-up is fast.
I'm actually very excited to see the improvements when I hit my watts. Coming off the bike in fifth was pretty epic…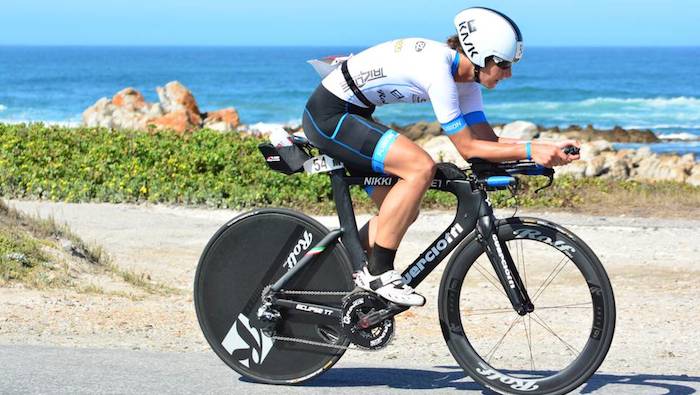 Run: Marine Drive (4 loops)
You come off of a 3.8k swim and a 180km bike and head into a marathon at 34 degrees. I still can't get my head around this distance.
But oh, my body felt gooooood. Okay I was bloody hot, but I had to slow myself down in order to keep to my race plan. The support on the run matched that of IRONMAN Wales, it was epic. Two 10.5k laps later, feeling good, on target for a more than pleasing marathon, then BAM, 15k to go and then "Oh no I feel awful, oh I'm walking, oh crap now I'm hardly moving and NAILING the IM shuffle."
I cannot express how much I hurt. It was by far the biggest hurt I've ever felt. A whole new pain level I've never met or experienced and I really didn't think I could make the finish line. It felt so close, but it was still so far.
I've never experienced not being able to change pace, or respond to a race before. All I could give was a shuffle, and hope I could restart once I had walked through the aid stations. Everyone else was hurting big time. And 4th-9th positions were separated by just three minutes. I know I have a 3.10-3.15 marathon in me right now, but race day was about survival to the line. And to come SO close to talented, well-established, world-class athletes was just incredible. Ninth, I will take that.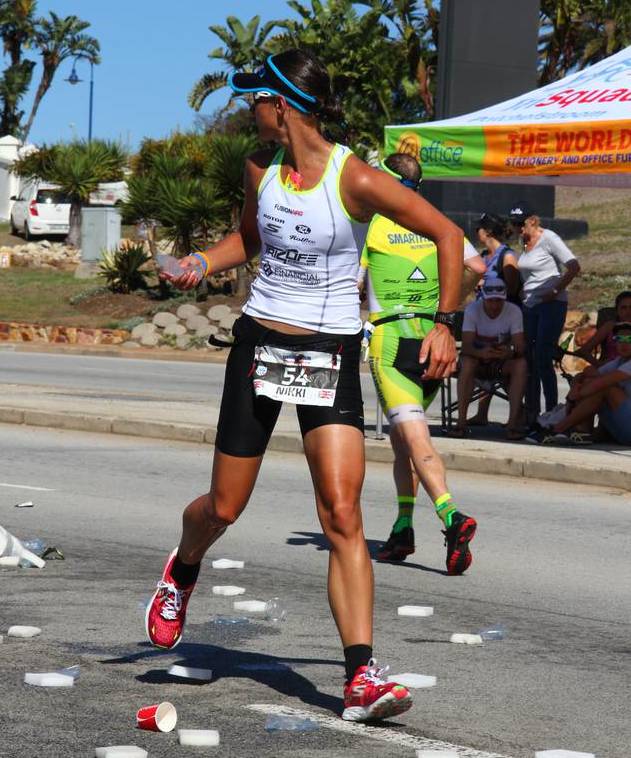 I'm proud to have finished, and finish top-10 in a Continental Championship race. 2nd Pro IM, in 9hours 27mins. I had to dig a whole new level of mental strength on Sunday.
Sometimes you have to appreciate what your body can deal with. Hands up – that's not where my fitness is, that's one thing which makes me so nervous prior to a race – not showing where you are at. However, ninth, so close to classy athletes, knowing there's so much more to come, well that leaves me excited right now. I'm looking forward to the rest of the 2017 season. Thank you to Rob (coach), who's got me in this shape, and still between us, knowing there's a lot more in me.
IRONMAN lessons learnt:
Stay in your bubble; I wish I could video what an athlete sees on a course
34 degrees is hot
Don't even bother unless you're mentally tough. Seriously, it's such a long ass way
I think the red carpet to the finish is the best feeling ever.
I cannot for the life of me pee on the bike. My T2 wee was loooooooong.
Work out a nutrition plan; stick to it! Don't start the season or race without a plan, practice it in training (at pace – as your body responds differently to nutrition at Ironman pace).
I still cant get my head around the distance, I'm not sure when, or if, this will ever change.
I never thought I would rely on power as much as I do for IM training and racing – thanks Saddleback (Rotor bike components)
Have the best support team around you; it can define your race. Sponsors, friends, family tracking you gives you that much more motivation. Having support at the race – you guys got me to the start and finish. So much love for you!
Every finisher, supporter, volunteer, and to all who're involved in the race – you're true heroes.
Skechers GoRun Ride 5's are amazing, no broken feet, no niggles. Extra support from Greeper Laces.
Watching Susie smash it and come 3rd was amaze!
IMSA is an epic course and race – highly recommend it
The fight will make you learn so much about you as a person, and where your limits are. Be proud of what your body has achieved
What's next?
If someone told me I would finish top-10 at a Continental Champs, competing closely with World-Class athletes, I would have been ecstatic. However I didn't show where I'm at. So using the knowledge that I didn't quite show where I'm at – this will fuel the fire and motivation to be shown at a race this season. Some big Kona points to hunt for.
A masssive thank you to everyone who's involved, mega appreciate it beyond words!