OTE Sports to fuel Olympic and World triathlon legends Alistair and Jonny Brownlee in their quest for further triathlon glory
The partnership will see OTE Sports become Alistair and Jonny's official sports nutrition partner, helping them to hydrate, fuel, perform and recover using OTE's award winning range of energy gels, bars and drinks.
The Leeds-based sports nutrition company revealed the partnership on the eve of the AJ Bell World Triathlon Series event in Leeds which the Brownlee brothers where instrumental in bringing to their home city for the first time in 2016.
Alistair, who retained the Olympic triathlon title at Rio 2016 following his Gold at London 2012 said: "I'm excited to be teaming up with OTE at a time when I'm taking part in some longer distance triathlons and fuelling strategies become even more important."
Jonny Brownlee added "I've been using OTE products for some time now and I'm a big fan of the gels, drinks and Duo Bars in particular. Hydration will be a key focus for me as I start to build towards Tokyo 2020 so I'm looking forward to working closely with the OTE team."
Alistair added: "It's also great to be involved with another Yorkshire company who pride themselves on using natural ingredients and creating sports nutrition products that are super effective but also tastes great and are gentle on the stomach.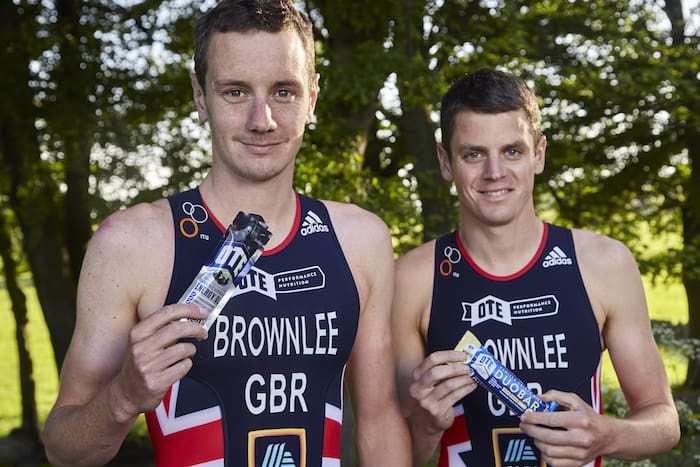 Matt Harrison, managing director at OTE Sports said: "We're extremely proud to reveal this exciting partnership with Alistair and Jonny and are looking forward to supporting them both with OTE's natural sports nutrition products so they can compete at their best."
Pete Slater, technical director at OTE Sports added: "I've been a triathlete for over 30 years now and worked in the sports nutrition industry for 25 years. We're really looking forward to working closely with both Alistair and Jonny on further product innovation and also on nutritional strategies for longer distance racing."
Jonny is aiming for another strong performance at the 2018 ITU Leeds race in front of a 50,000 strong home crowd following his second place finishes behind Alistair in 2016 and 2017.
5,000 people will take part in the amateur events across the weekend, from juniors and novices, to leading amateur athletes competing on the same course as the elites in the British Standard Distance Age-Group Triathlon Championships. OTE Sports will have an exhibition stand at Roundhay Park over the weekend to provide attendees with product samples, nutrition advice and exclusive promotions including the chance to get your hands on an OTE bottle signed by Alistair and Jonny.
Keen observers may also have noticed the OTE Sports logo on Jonny's tri suit for the first time at the relay event in Nottingham on Thursday evening.