Who will get a shot at the $1million prize purse at Challenge Daytona?
Who wants to go to Daytona, Florida in December? If you are a speedy Pro triathlete (and not currently in the Professional Triathletes Organisation top-40 rankings), this news is for you.
In addition to the automatic qualifiers, an additional 10 men and 10 women will have the opportunity to race for what will be the biggest single day prize purse in the history of triathlon. This should be interesting, in demand, create some debate (and possibly some controversy)… and that is all good.
For example, the likes of Gustav Iden (IRONMAN 70.3 World Champion), Sam Long (winner of two races in recent weeks), Kristian Blummenfelt (fastest 70.3 time, 4th in Nice), Sarah True, Katrina Matthews and Flora Duffy (winner of her only 70.3 start) are just a few of the names that could be in contention for those slots.
Here are the initial details on the process that will be used to determine who will complete the professional field at Challenge Daytona on the first weekend in December.
CLICK HERE FOR AUTOMATIC QUALIFIERS
---
PROFESSIONAL TRIATHLETES ORGANISATION
ANNOUNCES PROCESS AND CRITERIA FOR
WILDCARD SLOTS FOR
PTO 2020 CHAMPIONSHIP
The Professional Triathletes Organisation and CHALLENGEDAYTONA® have announced that the wildcard slots for the PTO 2020 Championship at CHALLENGEDAYTONA® will be awarded during the week of October 12, 2020. Selection criteria for wildcard slots can be found at protriathletes.org.
The PTO 2020 Championship at CHALLENGEDAYTONA® is set to be an incredible opportunity for the world's top triathletes to finally race and compete for a $1,000,000 (USD) prize purse. The top 40 men and 40 women in the PTO World Rankings as of either January 1, 2020 or March 2020 will automatically qualify for the event. In addition, the non-athlete PTO Board members will select 20 additional wildcard slots comprised of ten men and ten women.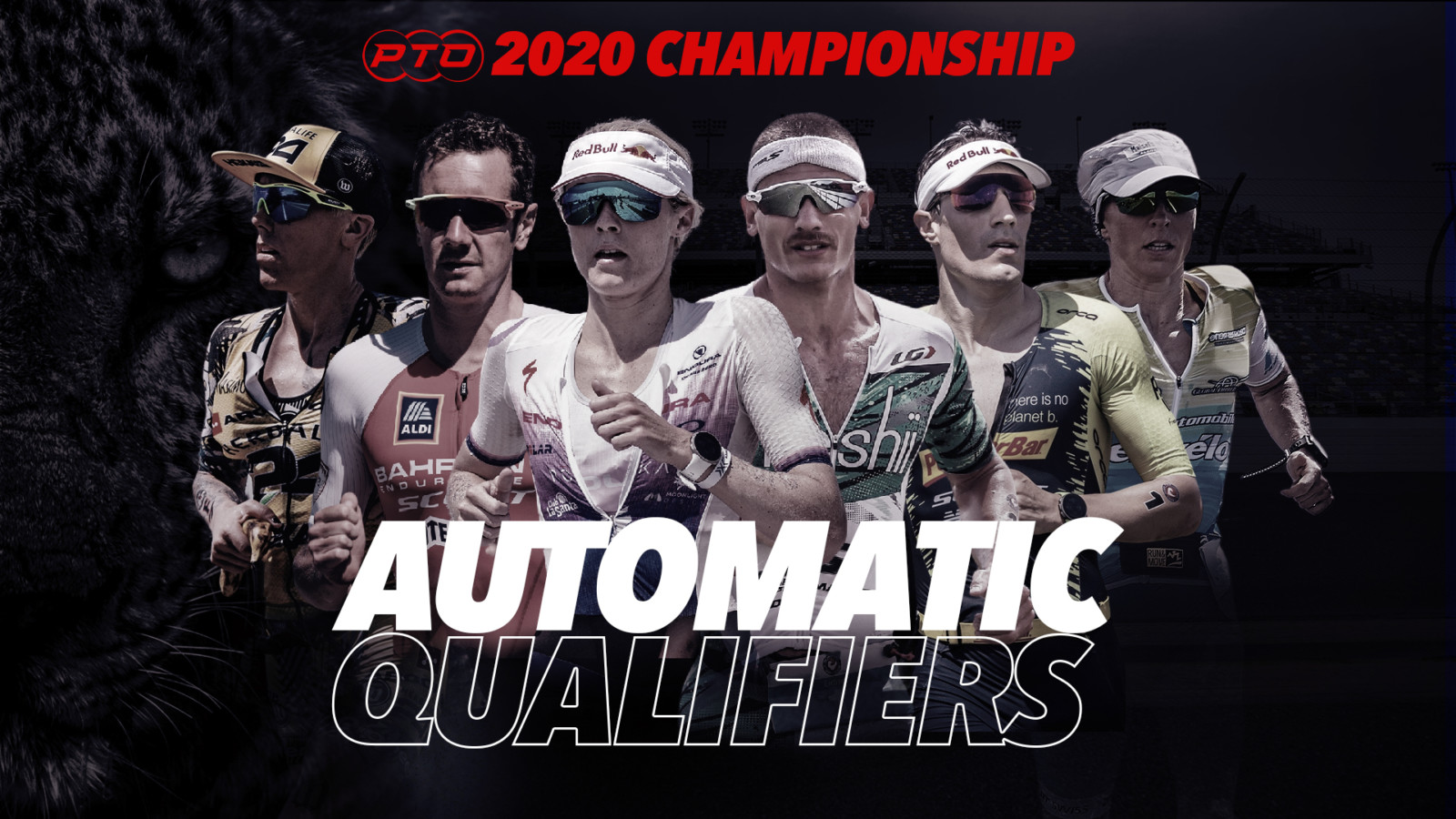 Charles Adamo, Executive Chairman of the PTO, commented, "We are incredibly grateful to be working with CHALLENGEDAYTONA® and putting on a world-class event at the end of what has been a very difficult year. The PTO 2020 Championship will put on a display of resilience and resolve for which our sport is so famous. Because there has been almost no racing, we fixed the PTO World Rankings® earlier in the year, and the top ranked 40 men and 40 women are automatically qualified. We will now go through the process of selecting ten additional men and ten additional women to join the start line as wildcards."
Adamo continued, "These will be very sought-after openings and the non-athlete members of the PTO Board will have some very difficult decisions to make, particularly as the ITU season is ended and many of the Olympic distance superstars, like Nicola Spirig and Kristian Blummenfelt, are relishing this unique opportunity to have a crack at the PTO 2020 Championship. In addition, the wildcard selection process will allow the PTO to invite some of the young and up-and-coming athletes, giving them a chance to cut their teeth in a championship field. With the top 40 PTO World ranked professionals and the wildcard selections, the field for the PTO 2020 Championship at CHALLENGEDAYTONA® will be one of the strongest fields ever assembled for our sport. It will be exciting to see the best athletes doing battle for the spoils."
Bill Christy, CEO CHALLENGENORTHAMERICA shares, "We are thrilled and honored to welcome the world's greatest athletes to Daytona International Speedway® during the CHALLENGEDAYTONA® festival of events weekend. Incredible moments of race history have left their mark on iconic Daytona International Speedway® and this inspiring field of athletes will join the ranks of athlete legends."
Christy adds, "An unprecedented field of competition combined with the fast and flat course, will be a race the world has not yet been able to witness. We expect jaw dropping and nail-biting battles with finishes that will have the world talking. We understand fans are hungry for live sports, and we are excited to deliver the race live to a global audience. The 2020 PTO Championship will be live across broadcast channels, streaming and media. The world will experience triathlon sporting history."