Australian Max Neumann came out on top in one of the most highly anticipated men's middle distance events of all time, producing a performance that even he was surprised with at the PTO Tour European Open in Ibiza – and said afterwards that keeping it simple was the key.
Despite finishing fourth last year in Kona, Neumann admitted his disbelief post race after holding off the advances of pre-race favourite and PTO World Ranked #1 Kristian Blummenfelt of Norway in the latter stages of the run.
The Aussie, who is coached by his brother Mitchell, credited his close family and simple approach to training following the biggest victory of his career.
Family ties fundamental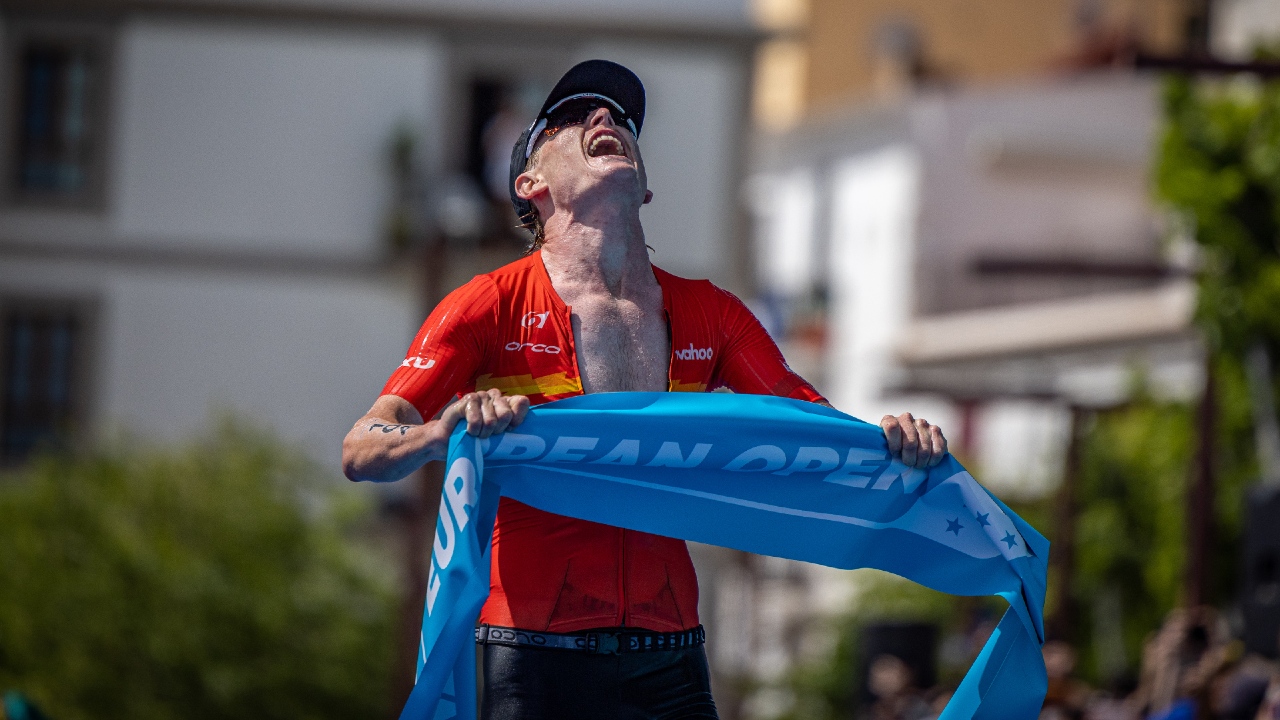 He said: "It was during Covid that we first started working together. It was a bit of a rough time in Australia, I left my previous coach and my brother just said let's just give it a crack.
"It's taken a while to get into a good rhythm but now we understand each other really well, our family is really close and if there's anyone who knows me it's my brother."
The pair, Neumann shares are very close, and the company and support of someone he knows so well has been crucial in a sport that can often become very solitary at times.
"I see him most days of the week, we talk all the time and I think having a really close relationship like that is really key in this sport, where you're not really just going out for one training session a day, you're waking up and your entire day is just consumed with thinking about that next session."
No expectations for "unprofessional professionals"
Heading into the race, Neumann admitted he never had any expectations of winning and joked that despite his set up being different to most, particularly the science-driven Norwegians, it now looks to be paying dividends.
"We didn't know how it would go at this race, it is just such a different race when you go up against the best guys, but I think you can't do much better than what I have done today.
"We are a very simple organisation, if anyone saw how we did things they would probably laugh at us, we always say we are the most unprofessional professionals out there but you know that is now looking like it's working."
The Australian reiterated that keeping it simple is key to triathlon in his eyes, with enjoying the workload a crucial part of managing such heavy tolls on the body.
"Keeping it simple, having fun, not taking yourself too seriously and just enjoying the sport and enjoying training, no science, that's the key for me.
"We do it for ourselves and a small group of sponsors and I think without too much pressure and expectations on yourself you can come away with a result like this."
"I would never expect to win here"
Finally, Neumann revealed that the magnitude of his victory led to an emotional finish, with winning over the likes of childhood idols Alistair Brownlee and Jan Frodeno a special feeling.
"I would never expect to win here, so to actually do it, I think I surprised myself and to just go up against these guys, I'll probably never get that chance again and I think that's what made it even more emotional.
"I grew up watching these guys, I used to go the library at school where they stocked triathlon magazines and follow Brownlee and Frodeno. I got into the sport because of those guys and to race them here is pretty special and that made me quite emotional."
"They made the sport what it is today and I think we owe them and have a lot to thank those guys for."