Ahead of his season debut at CLASH Miami this Friday, American Sam Long has his sights firmly set on the IRONMAN World Championship in St George on May 7.
2022 is an unprecedented year for middle and long-distance competition, with a pair of IRONMAN World Championship races set to take place in May and October (Kona), an IRONMAN 70.3 World Championship and a trio of PTO events including the Collins Cup.
However Long, speaking on his popular YouTube channel, emphasised the importance of St George and how the event on familiar soil could make or break his season.
Excited about St George
"We haven't had a World Championships in three years, so the race I'm the most excited about the whole year is the IRONMAN World Championship in St George in May," explained the current 70.3 World Championship silver medallist – a race that was also held in Utah.
"I've been working hard because Kona is normally in October, so I need to be in October condition by 7th May.
"I could have a full season before May with going to CLASH Miami, then going down to Chile (Challenge Puerto Varas), and then Oceanside, and then St George.
"If all four of those races went spectacularly, I'd basically have a full season underneath my belt by May.
"Then to me, everything else would just be freebies. It would be for fun. Yeah, it would literally be freebies!"
With the amount of high-profile races on the 2022 calendar, Long was keen to ensure that he didn't try the impossible – attempt to compete at every big race.
Plotting the calendar
"You can't be greedy, you can't choose them all," said the 26-year-old.
"I'm looking for what excites me from a course standpoint, or even just from an excitement point.
"I have a plan for the back half of the season. I'll take a break after St George, then the second half of the season is going to be big too."
After CLASH Miami, Long has a short turnaround as he flies to Chile to take part in Challenge Puerto Varas (March 20) – a race he has slight concerns over.
"It's not the racing I'm concerned about, it's more the travel – it was about the pluses and minuses when adding Chile to the calendar.
"It's not all pluses, like having to travel down to Chile – and even having to travel to Miami. – those are both in a way, distractions.
"As soon as I was committed though, it was like my training got elevated, I got motivated more, and I started committing.
"I think I've seen elevations in my training by putting the races on the calendar and knowing I have to perform that gets me there."
Just keep swimming!
With such a big season on the horizon. Long has focussed his winter block of training on his weakest discipline, the swim.
In terms of his PTO ranking on the swim – compared to the run and bike – Long has yet to break into the top 200 in the discipline. He ranked second on the bike and 12th on the run in comparison, an issue he is eager to rectify:
"I ended last season on 27th September, and then I swam.
"I took a little bit of an off season, mellowed out basically in October. And starting 1st November, it's been swim focused.
"November, December, January and February, I've done four months of swim focus, and now I'm basically trying to maintain that swim and keep getting better at the swim.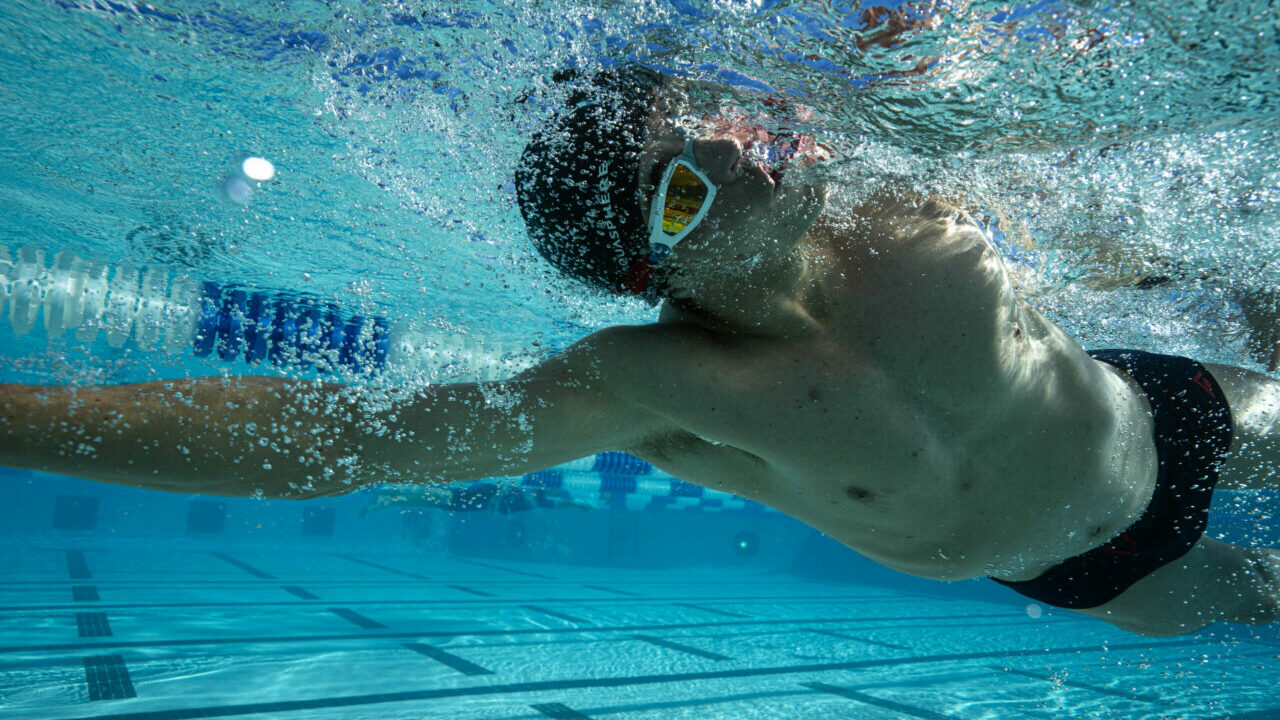 "My swim is about confidence now, and it's translating it into open water. My pool times have gotten pretty good for me. They're certainly quite good, but I think they're decent enough to make the right packs."
Long hopes the extra work on his swim with provide dividends as he tests his new found confidence in the three races ahead of St George.
"I just have to be aggressive, have the right tactics and have some open water awareness.
"That's the real reason I'm racing so much going into St George – is to practice that skill set.
"You can't really be sure (how it's going to work). There is only so much you can do in the pool, before you need to try stuff in a race.
"So that's why I'm racing a lot – and then I just need to make sure that my bike and run are stronger than they've ever been."
Watch the video for plenty more insights – and asked at the end about his over-riding motivation, he simply says: "I just want to be the absolute best."