Sunday's Scottish Sprint Triathlon Championships at Monikie Country Park benefitted from the same fine weather that most of the U.K. has been experiencing for several weeks now. Defending champion Douglas Roberts was absent, but that didn't stop younger brother Fergus keeping it in the family, while Debbie Greig repeated her 2017 win to add to the Scottish Duathlon Championships she won earlier in the year.
Here is the full report courtesy of Triathlon Scotland
---
2018 Scottish National Sprint Triathlon Championships Reports
The Scottish Sprint Championships returned to Monikie Country Park on Sunday for the third consecutive year with 184 competitors taking part in the event.
A calm, warm morning saw competitors arrive relaxed for their 10am start where they were warmly welcomed by Mark Hopkins, Race Director for Monifieth Triathlon Club, our Championship hosts.
With 2017 male champion, Douglas Roberts not present, all eyes were on younger brother Fergus who was the hot favourite on the start line. Also present was Lewis Strachan who finished second the previous year.
In the female race, 2017 Sprint Champion Debbie Greig returned to defend her title, while four-time Sprint champion Natalie Stewart returned to attempt to take her title back from Greig!
Competitors were piped down to the water which was measured to be warm 21 degrees, making it a wetsuit optional swim. The athletes were divided into four waves with a mixed novice wave setting off first before two male waves and the final female wave. Conditions were perfect, with little wind out on the water and sunny skies you would be hard pushed to find a more beautiful race location race location. A mass beach start, the gun sounded and the athletes were off, sprinting into the water to begin their single lap, 750m swim.
Junior Luke Williams was first out the water followed closely by Lewis Strachan and Fergus Roberts. Roberts was fast through transition and quickly took the lead on the bike, creating a gap of almost a minute going into the run. Edinburgh University's Paul Kerr recorded the fastest time of the race on the bike, moving up into third place just seconds behind Strachan coming into transition two.
Roberts, who has been on great form recently, cruised through the run, increasing his lead to over a minute and a half and crossing the line to take the Scottish title. Kerr successfully passed Strachan on the first lap of the run, completing the race in second place with Strachan finishing in third place.
Commenting on the race, Roberts said:
"I actually felt really good, off the back of racing I've been a little bit tired but it felt really good."
When asked about his plans for the rest of the season, Roberts commented:
"I've had six races in the last seven weeks so I'm having a few weeks off just to train and to get some fitness back. Then hopefully I'll do some World Cups if I can get some starts and European Cups as well."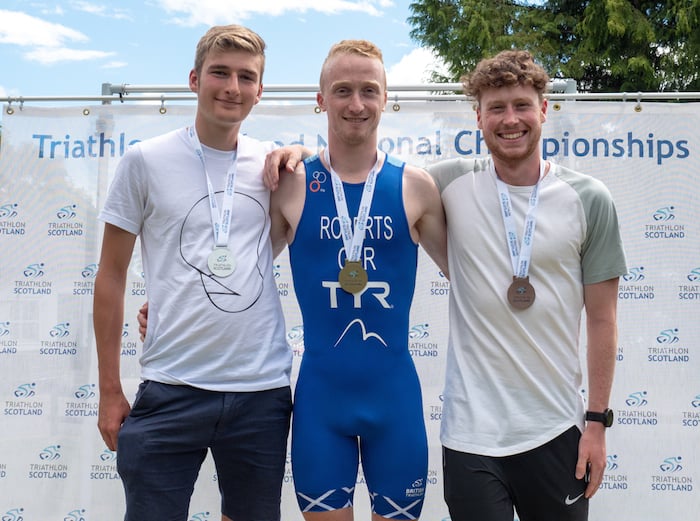 In the final wave, the women were off and it was Natalie Stewart first out of the water with Debbie Greig hot on her heels. Junior Ailsa Beck and Brooke Gillies, who both opted to swim without wetsuits, were immediately behind Greig.
Greig, who recently placed second in a National Cycling Championships race, showed her strength on the bike, powering ahead to create a gap of over two minutes to Kirsty O'Brien who rode through to second place. Stewart started the run just 30 seconds behind O'Brien with Gillies chasing.
Greig was flying, extending her lead to over four minutes and crossing the line to retain her Scottish title. Stewart ran through to second place while O'Brien held off Gillies to finish in third place. Gillies put in a valiant effort on the hot run course, collapsing across the line in fourth place.
Commenting on the race, Greig said:
"I've been focusing on my cycling because I've gone up in distance. I actually did the National Cycling Championships 25TT and came second in that so I feel like I've gained a lot of confidence on the bike. On the run it was just, 'hang on, it's hot!'"
On her plans for the rest of the season Greig said:
"I'm going to go big at Challenge Almere in September, so I think everything will be going into that and other races will be training races for that one!"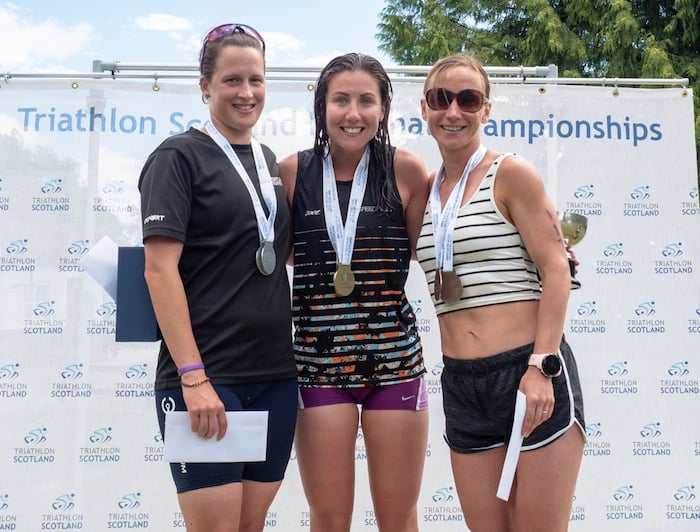 Full race results can be found HERE.
Photos from the event will be available on our Facebook page soon. The event video will be available soon and the winner's interview can be found here:
The next event in our Scottish National Championship series is the Aquathlon Championships on Saturday 28 July at Loch Lomond. For the full Scottish Championship events list, please click here.
2018 Scottish National Sprint Championships
Overall Male & Senior Male
1st – Fergus Roberts (Team TYR) 00:59:00
2nd – Paul Kerr (Edinburgh University Triathlon Club) 01:00:47
3rd – Lewis Strachan (Unattached) 01:01:50
Overall & Senior Female 
1st – Debbie Greig (Speedhub Racing Team) 01:07:08
2nd – Natalie Stewart (Unattached) 01:11:13
3rd – Kirsty O'Brien (Lanark Triathlon Club) 01:12:03
Youth Female
1st – Chantel Thomson (Grangemouth Triathlon Club) 01:24:40
2nd – Natalie Curran (East Fife Triathlon Club) 01:36:41
Junior Male
1st – Luke WIlliams (Unattached) 01:04:51
2nd – Andrew Merry (Monifieth M3 Triathlon Club) 01:08:42
3rd – Andrew Pearson (Unattached) 01:09:11
Junior Female 
1st – Ailsa Beck (Unattached) 01:17:48
2nd – Rachel Calvert (Unattached) 01:23:48
3rd – Toni Moore (Unattached) 01:27:58
Veteran Male 
1st – Robert Harrison (Monifieth M3 Triathlon Club) 01:07:03
2nd – Stephen Clark (Fife AC) 01:07:08
3rd – Andy Turnbull (Stirling Triathlon Club) 01:07:33
Veteran Female 
1st – Lorna Todd (Ayrodynamic Triathlon Club) 1:14:13
2nd – Sian Tovey (Unattached) 1:15:11
3rd – Donna McHugh (Fusion Triathlon Club) 1:15:30
Super Veteran Male 
1st – Alan Bremner (Newhaven Harbour Triathlon Club) 01:09:20
2nd – David Auchie (Ayrodynamic Triathlon Club) 01:09:54
3rd – Duncan Wood (Fleet Feet Triathlon Club) 01:11:42
Super Veteran Female 
1st – Anne Peat (Edinburgh RC) 01:22:44
2nd – Miriam Renn (Monifieth M3 Triathlon Club) 01:25:22
3rd – Ann Johnston (Edinburgh RC) 01:26:11
Vintage Male
1st – Graham Whyte (Triathlon Inverness) 01:13:54
2nd – William Bunyon (Dunfermline Cycling Club) 01:17:40
3rd – Craig Hunter (Edinburgh RC) 01:20:39
Vintage Female
1st – Penny Rother (Edinburgh RC) 01:19:51
2nd – Barbara Mary Brown (Monifieth M3 Triathlon Club) 02:04:35
Super Vintage Male
1st – Douglas Wood (Stirling Triathlon Club) 01:39:24
Super Vintage Female
1st – Mary Welsh (Cheltenham Triathlon Club) 02:00:49
2nd – Jane Askey (East Fife Triathlon Club) 02:13:26
Classic Male
1st – Arnott Kidd (Edinburgh Triathletes) 01:54:55