It was mostly certainly 'championship' time this past weekend for Duathlon. As well as the British Championships in Bedford (HERE) and the Welsh Championships in Harlech (HERE), the Stirling Duathlon once again hosted the Scottish Duathlon Championship event.
Here – courtesy of Triathlon Scotland – is a report from the race, which saw George Goodwin defend his 2017 win and Debbie Greig add another Scottish title to several others she has won in previous years.
---
Goodwin defends his Scottish Duathlon Championships title
The Scottish National Duathlon Championships opened the 2018 Scottish championship season.
The standard duathlon course where athletes run, bike and run the 10km, 42km, 5km route is renowned for its difficulty as competitors face a tough, draining hill on the run, multiple times.
Despite having a number of Scottish athletes competing in the European Cup and in the British Duathlon Championships, the start line was packed with over 160 competitors racing over the challenging course.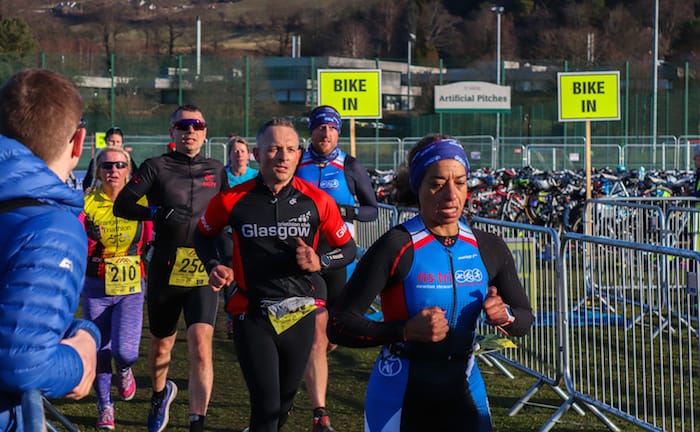 Defending champions George Goodwin and Alice Jenkins were set to return to defend their titles but with Jenkins not on the start line, the women's race was all to play for!
From the moment the race started it was clear that one man was going to be tough to catch. Winning Students Scholar and defending champion George Goodwin completed the first 10km run in 34:57, building a gap of over a minute on second place John Lenehan.
Once onto the bikes, Fraser Cartmell worked hard to move into second place with Ewan Taylor also posting a good bike time to move into third. However, it was not enough to catch the leader who extended the gap to almost two minutes going into the final 5km.
Goodwin continued to race well finishing in 1:58:09, almost three minutes ahead of second placed Cartmell (2:01:00). John Lenehan (02:02:01) fought to catch Ewan Taylor (02:02:34) successfully moving into third place.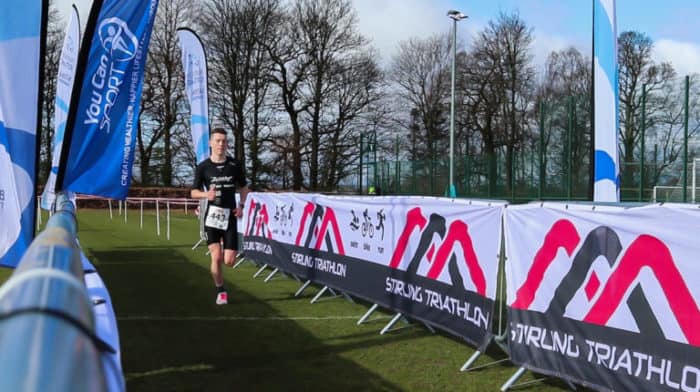 Speaking after the race, Goodwin said;
"I felt really good, I always use this race as a season opener and to sharpen up a bit and I'm glad it was a nice day and that I had a good race."
The women's race was similar with Debbie Greig (2017 Scottish Sprint and Standard Triathlon Champion), creating a gap of over two minutes after the first 10km run. Behind Greig was Stephanie Ede followed closely by last year's third place finisher, Kirsty O'Brien.
Greig continued her form on the bike allowing her to go into the final 5km run with a lead of over three minutes. O'Brien successfully passed Ede on the bike and built up a good lead going into the run in second place while Ede dropped to fourth after being passed by Veteran Elizabeth Richardson. Ede managed to run through into third place finishing almost a minute ahead of Richardson.
The race ended with Debbie Greig (2:15:37) in first, Kirsty O'Brien (2:18:26) in second and Stephanie Ede (2:22:00) in third.
Speaking after her win, Greig said the race was a great confidence boost after she was unable to complete the Challenge Wanaka race in February due to mechanical issues.
The next event in our Scottish National Championship series is the Schools Aquathlon Championships on Friday 20 April at Stirling University. For the full Scottish Championship events list, please click here.