Sian Rainsley saw her SLT Malibu hopes ended by a bike crash as she tried to deal with a flat front tyre. She joins us to reflect on an eventful day on the Californian coast…
For the third round of the series we headed to Malibu, California. This race was going to bring two new elements to combat: jet lag and a sea swim.
Post course recce, we realised it was going to be even less simple with four out of 20 of the athletes suffering a puncture.
Race day! I was excited for this one. I've not done many beach starts, but was ready to give it a good crack.
Tackling the waves
We were off, sprinting down the sand into the water, jumping a couple of small waves and then diving in.
Usually, it would be head down and go as fast as possible, but we still had some big waves to negotiate. Ducking under and sighting to make sure we wouldn't be taken out by one.
Wavy swims seem to keep the group more together than usual and I was sat in the front three on the way in before a wave from behind pushed people ahead.
The timing of a wave is crucial and you can end up with luck on your side as to whether you catch it – or you're too far ahead, get dunked instead.
This first race, I was well and truly dunked, doing a full 180. But there's no time to panic, it's go, go, go. Salvaging a few places back, I exited in third.
Technical bike course
The bike course is technical, which makes for a hard ride with positioning in the group key, but three short laps are over before you know it.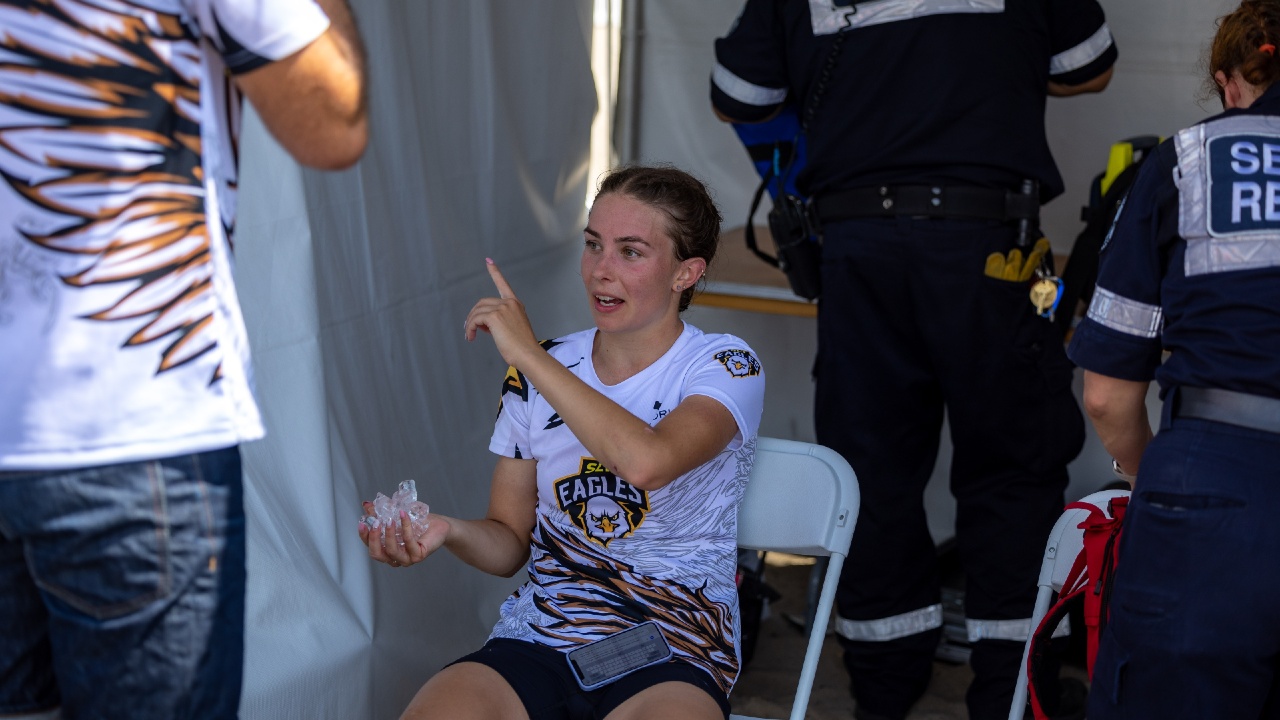 The run was fast, as expected. I finished the first round inside the top eight and within 10 seconds of first, running in a small group of three throughout, behind the leading five.
We then have four minutes (3mins 50secs for me) to set up transition and get back to the start.
And we're off again, definitely feeling some fatigue entering the water.
First on the beach
Again, I found myself swimming along in third. A wave, I felt the top of it and thought, this is it and I was off.
Instead of being dunked, I was propelled into first and beached onto the sand. It was a pretty long run to T1 and I learnt, I'm not great at running on sand.
After mounting my bike, I was in the chase group of three behind Summer Rappaport and unfortunately a crash from Georgia Taylor-Brown. The other two [Taylor Spivey and Miriam Casillas] went on to finish first and second.
Puncture blow
By lap two, I thought my legs felt extremely heavy. Looking down, my fears were realised: a front flat!
Unable to pull a turn, I was hoping to get round the bike leg and have time to change it before the final round. A technical bike was making this hard as I was having to take the corners with a lot more caution.
To no surprise, we were then caught by a chase group as we approached the final lap.
Entering the dead turn of transition my front wheel slid out. Dead turns on a front flat aren't easy, but I didn't want to give up without trying to get round what was now only 1.5km left of the bike.
Crash ends my race
Unfortunately, this caused a ricochet behind and a couple of other athletes came down. I felt terrible, but luckily no one was hurt, and they were back on their bikes, although it did change the course of the race.
For me, my race was over. My chain was jammed on my frame, shifter broken, and I still had that annoying front flat. It wasn't meant to be my day!
This one hurt a bit. I've had a bout of bad luck lately, but it's time to reset in the mountains for a couple of weeks and then come back fighting again!