Michael Gilliam, manager in Neom of the Scorpions outfit which snatched the team title after SLT's Championship Series finale, has hailed overall individual winners Georgia Taylor-Brown and Hayden Wilde.
GTB was under his – and Chris McCormack's – charge during the course of the season, while Wilde racked up the points for the Scorpions' big rivals, the Sharks.
And according to Gilliam, the duo ended up with the biggest pay cheques not just because of their physical talent and strength, but their mental fortitude too.
Laser-like focus
We sat down with him in Neom and he told us, referencing the fact the Scorpions' women scored over 75% of their points: "I've said before, I'd put Georgia Taylor-Brown in the men's race if I could!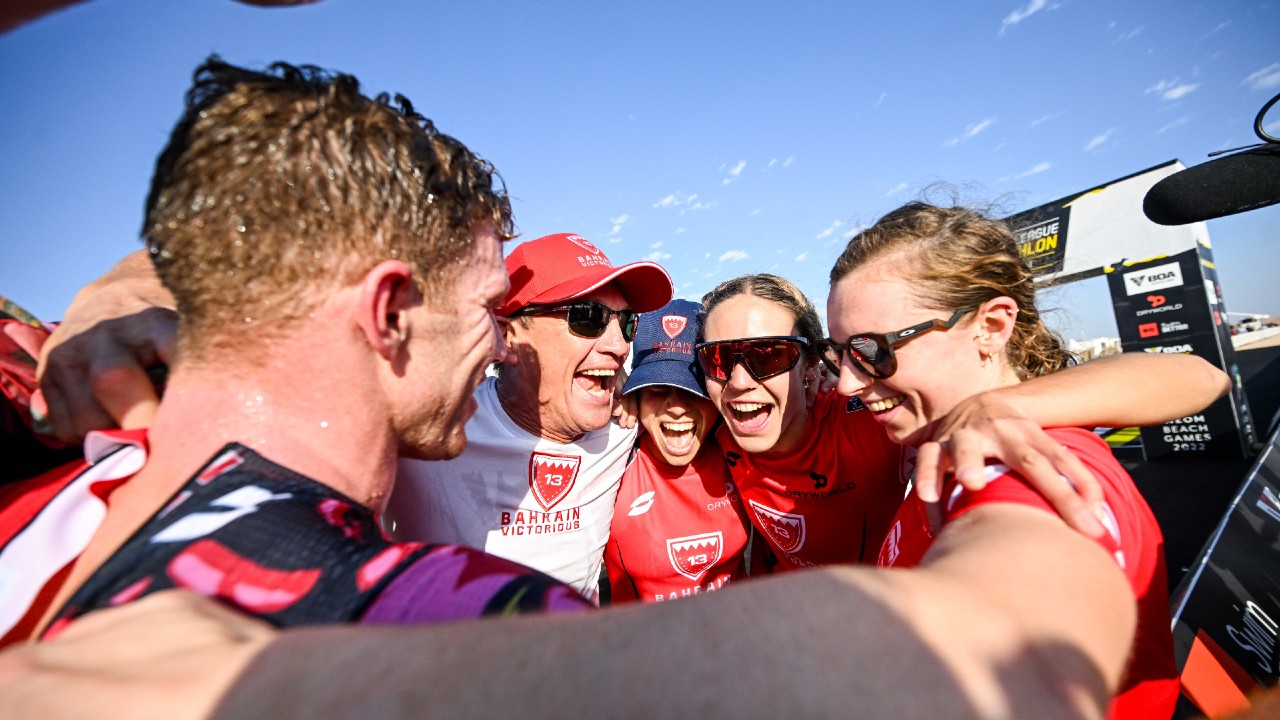 "You see with Georgia – and with Hayden for the Sharks – when they are at top performance level and pace, they seem not to tighten. They don't seem to be tightening in the body nor, more importantly, in the brain.
"When you see a great athlete – whether it's a Usain Bolt, Tiger Woods, whoever – watch them race or compete and look at what they are seeing. They are able to be 100% themselves and take in exactly what's happening around them.
"Look at Hayden on the bike, I've watched him do it, he's clocking his rivals' cadence, their demeanour, are their shoulders raised on the bike, is their chest closed at the front because they're having to work? He's able to have his own game happening but visually take in another game at the same time."
GTB 'leaps and bounds ahead'
And the no-nonsense Aussie says it's a similar situation with Taylor-Brown, with whom he's worked in Super League this year:
"Mentally Georgia at the moment is leaps and bounds ahead in terms of seizing her opportunity. Take Munich – the road was wet, so she said I'm going to be careful on the corners but will jump on the gas at the right moment. And she never looked like wobbling. It was perfect.
"Toulouse – just the same."
And of course watching GTB hunt down friend Sophie Coldwell in Terminator-style on the run in Neom to take the win can now be added to the list.
"Super League racing has given her that forum to bring that talent to the surface," reckons Gilliam. "You can't always work harder, train harder or suffer more than anyone else – that mental aspect is critical."
Accelerated progress
Turning his attention back to Wilde, who while a thorn in the side in terms of almost denying the Scorpions the team title, is clearly someone he hugely admires.
Gilliam explained: "He's an athlete that has matured massively under the pressure of Super League – he's grown four years in the space of a year mentally.
"His physical growth has just been on an upward trajection but mentally he's a different athlete to the one who took the bronze in Tokyo a year ago.
"His professionalism on and off the racetrack has magnified significantly. If the Norwegians think they've got this thing [the Olympics in 2024] sewn up, they've got a rude shock coming their way via the Falcon, that's one hell of a flying young man."
Having wrapped up the SLT crowns, Taylor-Brown and Wilde now both swerve Bermuda this weekend and head straight to Abu Dhabi in late November looking to double up with WTCS glory.