Brownlee is back, Zaferes domination continues at SLT Grand Final
Puncture nightmare for series leader Vincent Luis
After a break of four months since the first three rounds in Jersey, Malta and Mallorca, the 2018/19 Championship Series of Super League Triathlon concludes this weekend in Sentosa, Singapore.
A two day 'Grand Final' with double points on offer, Saturday's racing was over the Eliminator format; three swim-bike-run races, separated by 10 minutes. The first 15 athletes from race one progress, the first 10 athletes from race two progress, and the final race determines the winners.
WOMEN
Overall winner in Jersey (twice), Malta and second in Mallorca, the USA's series leader Katie Zaferes continued her impressive dominance of Super League Triathlon with another win, running clear of the 2018 breakthrough athlete of the year, Cassandre Beaugrand (FRA), to raise the tape once again.
Sixth in race one and race two (won – for a $1,000 bonus – by Emma Jeffcoat (AUS) and Rachel Klamer (NED), respectively), Zaferes only had eyes on qualification for the final, before showing her true colours. Setting the pace for most of the bike leg, having the fast-running Beaugrand taking shelter is not the best position to be in, but Zaferes continues to impress with her all-round strength across all three disciplines.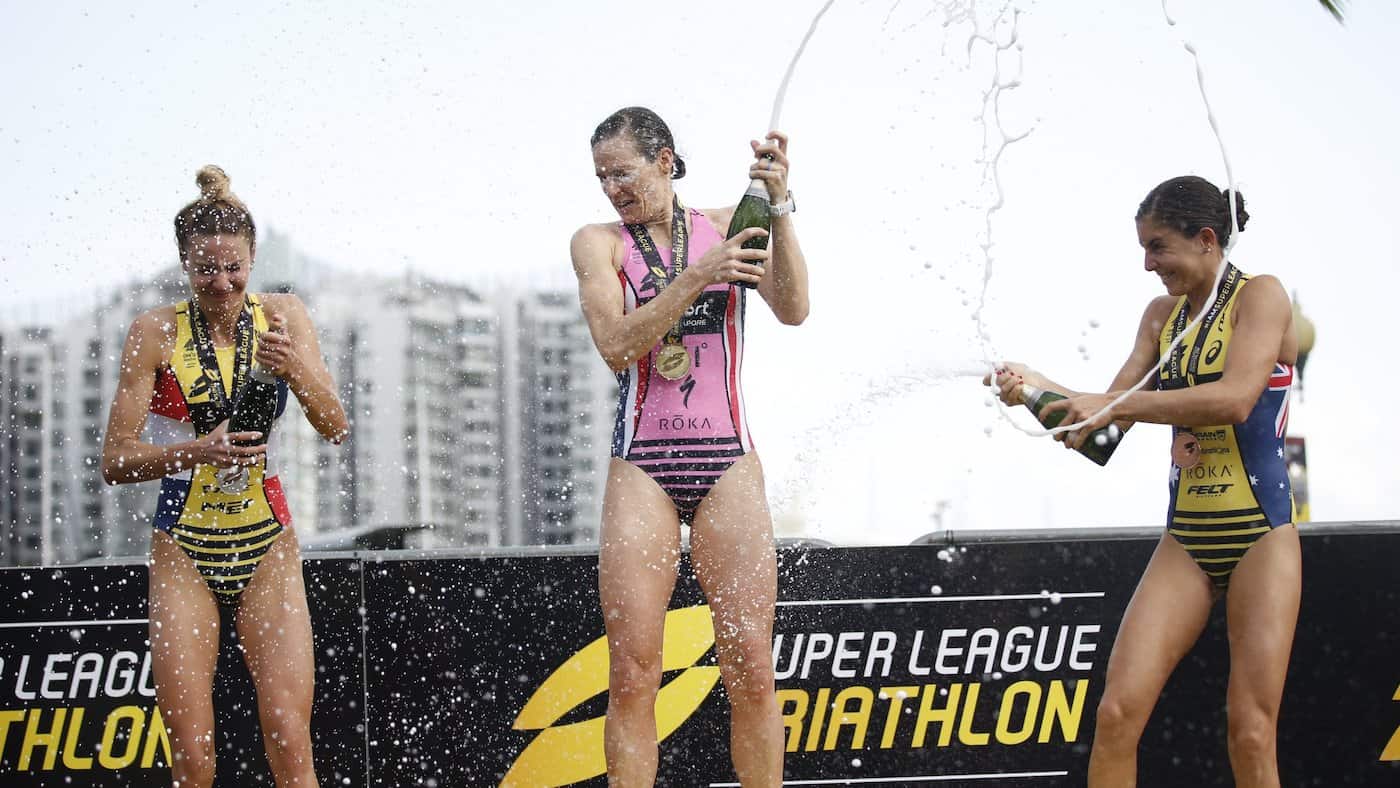 Tomorrow (Sunday) the athletes race over the Enduro format (three back-to-back swim/bike/run events, with no break). Zaferes is arguably even stronger in that discipline. The overall series win looks hers for the taking. But we would have said that about Vincent Luis this morning, too…
MEN
Men's SLT racing has been totally dominated by two athletes, Vincent Luis (FRA) and Henri Schoeman (RSA) this season. They have taken first and second overall, in all three events.
For the top tier athletes, qualification within the Eliminator through rounds one and two is typically relatively simple – avoid mistakes, stay focussed and keep your powder dry, as much as you can, waiting for the the final where it counts. However, when you get a puncture in the early stages of the bike leg… well, it might yet prove to be the most expensive puncture in the history of the sport for Vincent Luis.
With $100,000 on offer for the Super League Series winner, when his back wheel kicked-out on one of the corners of the flat, but technical course in Singapore, he quickly drifted from the comfort of the front of the lead pack, towards the back, and then continued going backwards, as he tried to ride on his now flat tyre. So unstable was his bike, her was regularly having to unclip a bike shoe on some of the corners to avoid crashing.
Vincent Luis suffers his first puncture in 15 years of triathlon, throwing the men's competition wide open! #IAMSUPERLEAGUE #SLTSingapore #Championship #Finale pic.twitter.com/cCEo0U9WVx

— Super League Triathlon (@SuperLeagueTri) February 23, 2019
A brilliant runner, his time loss on the bike as he battled on would prove too much to recover over just 1800m, leaving him 17th in race one and eliminated. Will that prove terminal to his chances of securing the series title? Quite possibly.
Jonas Schomburg (GER) and Richard Murray (RSA) took the $1,000 bonuses on offer in the first two races, but Murray's chances in race three were derailed before he started – a 'fall in / false start' to his swim, resulting in a T1 penalty.
⚠ False Start ⚠
We've never seen a race like this. @rd_murray loses his balance and falls in as the men start their swim! He gets a 15 second penalty to serve once he's out. It's an uphill climb for the reigning champion. #IAMSUPERLEAGUE #SLTSingapore #Championship #Finale pic.twitter.com/pKqNSDufST

— Super League Triathlon (@SuperLeagueTri) February 23, 2019
With Vincent Luis absent too, surely it was all set up for Henri Schoeman? He lead the way for much of the bike, but never had more than a handful of seconds advantage, which the chasing pack soon closed, leaving seven athletes – including Jonathan Brownlee – together at T2.
Brownlee was a little slow through transition, but after his "terrible season" in 2018 he was injury free and in much more confident mode ahead of this event following a solid training block. Hayden Wilde (NZL) pushed the pace, before Brownlee and Tyler Mislawchuk (CAN) moved to the front. Jonathan looked like his was make a long run for home starting the second and final run lap, Mislawchuk was looking very smooth on his shoulder, but Schoeman was showing perhaps his first sign of any weakness in SLT racing, holding fourth but no longer in contention for the win.
Brownlee upped the pace on the final straight and finally managed to put a few seconds of daylight into the Canadian athlete, taking a win that clearly meant a huge amount to him after his frustrations of 2019. Great Britain needs a confident Jonathan Brownlee, and today in Singapore was just what he needed. Oh, and it was roasting hot conditions too – no repeat of Cozumel 2016 here.
As for the overall Super League Series title? Well, 17th was a disaster for Luis – but 'only' fourth on the day for Schoeman may, perhaps, offer a glimmer of hope for the French athlete tomorrow. He will surely come back 'racing angry' (and fresh) seeking the Enduro win, and will likely also be hoping to put a few more bodies between himself and Schoeman. From there, the points will all be worked out to determine who takes the top prize.
But for now, welcome back Jonathan Brownlee.
Super League Triathlon Singapore, Day One – Saturday 23rd February 2019
The Eliminator
(Times below relate to Race 3 of The Eliminator only)
WOMEN
1st – Katie Zaferes (USA) – 20:24
2nd – Cassandre Beaugrand (FRA) – 20:27
3rd – Ashleigh Gentle (AUS) – 20:32
4th – Leonie Periault (FRA) – 20:36
5th – Rachel Klamer (NED) – 20:45
MEN
1st – Jonathan Brownlee (GBR) – 18:44
2nd – Tyler Mislawchuk (CAN) – 18:47
3rd – Hayden Wilde (NZL) – 18:52
4th – Henri Schoeman (RSA) – 18:59
5th – Matthew Sharpe (CAN) – 19:02
Eliminated in first race: Vincent Luis (FRA)