Katie Zaferes retains Super League Jersey with impressive Enduro display
Vincent Luis make it a win-double in St. Helier
She may have missed out on winning the ITU World Triathlon Championship title in Gold Coast two weeks ago, but the USA's Katie Zaferes certainly arrived in St. Helier, Jersey, fully determined to defend her 2017 victory at the RBC Super League Jersey. An incredibly impressive performance in Sunday's 'Enduro' earned her a well deserved win; one which from my eyes she looked like winning from the very first bike leg of the continuous swim-bike-run three times format. Make no mistake, she controlled this race for a full hour.
She's leading by less than 10 seconds but make no mistake, @KZaferes6 is totally crushing @SuperLeagueTri Jersey today. Impressive #IAMSUPERLEAGUE

— TRI247 (@tri247) September 30, 2018
France's Vincent Luis was impressive while winning the Triple Mix on Saturday – and nothing changed on Sunday. A thrilling finale saw him shoulder-to-shoulder with South Africa's Henri Schoeman with 300m remaining, where the Grand Final winner unleashed a sprint which would surely have been the beating of any triathlete in the world. To see it up close in person was a truly impressive sight.
Impressive work @vincentluistri – double winner @SuperLeagueTri Jersey #IAMSUPERLEAGUE pic.twitter.com/fQpmoCg0Ws

— TRI247 (@tri247) September 30, 2018
Day Two interviews with many of the athletes coming up very soon – you can see their post-race reactions from Day One here: MEN | WOMEN.
(All picture credits below: Darren Wheeler / www.thatcameraman.com for Super League Triathlon)
---
The final day of RBC Super League Jersey came to a close in a thrilling showdown, with France's Vincent Luis taking his second weekend win in the men's Enduro and being crowned RBC Super League Jersey Champion. Earlier in the day, the crowds were treated to an outstanding sporting display from Katie Zaferes in the Women's Enduro to see her take the win and ultimately the RBC Super League Jersey Championship title, joining Luis at top of the leaderboard as they head to SLT Malta on 27-28 October.
It was a weekend of unpredictability and fierce competition, with so many athletes arriving in Jersey in peak condition. After the French domination on Saturday, which saw both Cassandre Beaugrand and Vincent Luis take the victories in the Triple Mix, Sunday saw the 29-year-old Frenchman claim the double, with South Africa's Henri Schoeman and Richard Murray in a continuous battle for the Enduro top spot.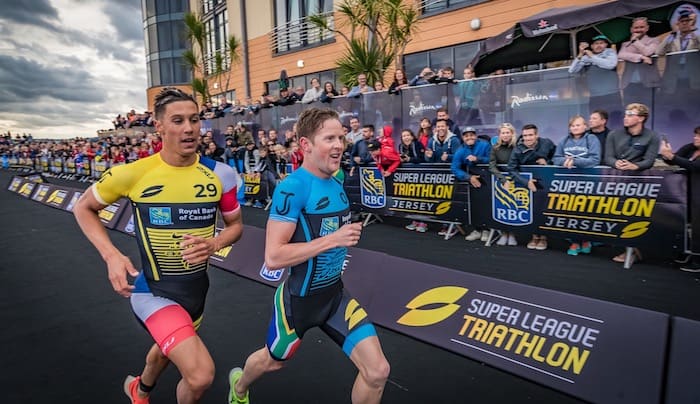 Dubbed the most-brutal format of all, these three dominated the lead in the Enduro from the get-go on the chilly Sunday afternoon, leaving Kristian Blummenfelt (NOR) and Jonathan Brownlee (GBR) to fight it out for fourth and fifth place throughout the triple swim-bike-run format. The Enduro proved too much for even the best, as World Champion Mario Mola (ESP) was forced to retire mid-race.
Jersey's very own Oliver Turner needed to stay in the field as long as possible in order to qualify for the Super League Triathlon (SLT) Championship Series, and he didn't disappoint his home crowd; he had done enough to secure his place this SLT season by completing the first stage of the race.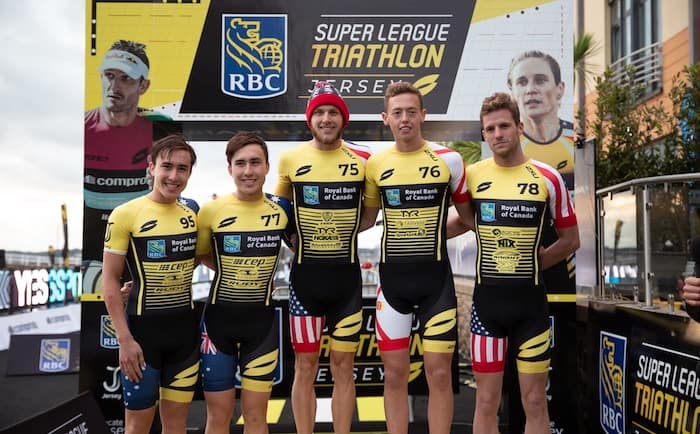 The men's Enduro finished with Luis taking gold, followed by Schoeman for the silver and Murray with the bronze. With the points collated form their performances in Saturday's race, the men's final leaderboard for the weekend saw Luis be crowned Champion, with Schoeman and Blummenfelt placing second and third overall, thanks to the Norwegian's strong Triple Mix placement.
"I felt so confident going into today after my race yesterday, but I am so happy it's done now and that there's no race tomorrow! I can't wait to come back to Jersey again and I will do my best to make everyone proud of me", said double SLT race winner and Super League Jersey Champion Vincent Luis.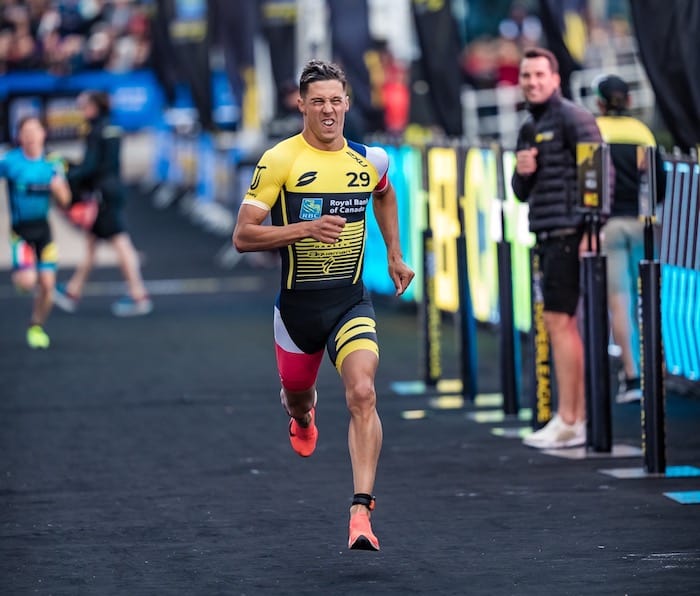 Runner-up Henri Schoeman said: "Thank you to everyone for coming out. It's been really exciting."
The Women's Enduro race was a story of American domination. GBR's Sophie Coldwell once again impressed with a strong swim and first-exit from the water, but Katie Zaferes (USA), Georgia Taylor-Brown (GBR), Kirsten Kasper (USA) and Emma Jeffcoat (USA) were on Coldwell's tail. Zaferes proved too strong for the Brits, and it wasn't long into the bike when the American and her compatriot Kasper broke away.
There were shining moments from Taylor-Brown, Beaugrand, Coldwell, USA's Summer Cook, but going into the second and third rounds, the gap only increased between the leading two and the rest of the pack, although Beaugrand stepped up to separate herself from the middle group to go third behind the Americans. By the third swim, Zaferes and Kasper were clearly going for first and second, and Zaferes' failure to put a foot wrong meant she would surely win the gold medal.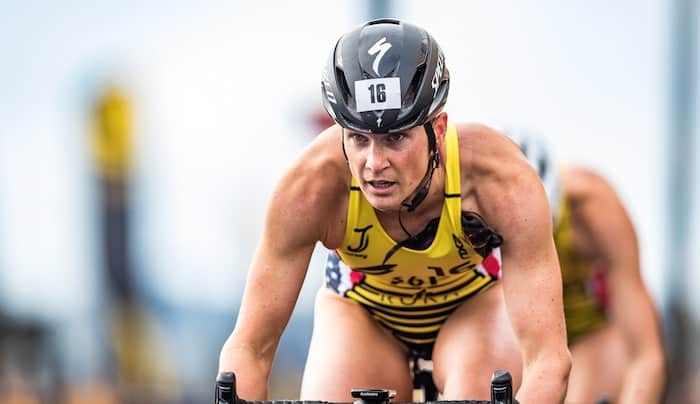 The Female Enduro finished with Zaferes taking gold, Kasper silver and Beaugrand bronze. Taylor-Brown put in a solid run to finish just off the podium in fourth. With Zaferes' second-place finish on Saturday, she shot to the top of the women's leaderboard in Jersey, and took the weekend's Championship title, with yesterday's winner finishing second on the overall leaderboard, and Kasper sitting comfortably in third, going into the SLT Championship Series in Malta next month.
Female Enduro race runner-up Kirsten Kasper said: "I absolutely loved the format! It's definitely challenging but it's a lot of fun. It was great to be able to work with my fellow American to get away from the field.  I was here in Jersey last year – I love it because the fans are great and we owe a lot to them for coming out and supporting."
Two-time Ironman World Champion and SLT co-founder Chris McCormack said: "What an intense weekend of racing. The purpose of Super League Triathlon is to put athletes out of their comfort zone and push them to their limits; and with brutal eliminations, World Champion dropouts and unpredictable finishes, it did just that. The Jersey crowd turned out in force to cheer on our competitors, and we can't wait to head to Malta next month to put the athletes through their paces once again."
Super League Jersey – Sunday 30th September 2018
Day 2 – Enduro
Elite Women
1st – Katie Zaferes (USA) – 1:00:37
2nd – Kirsten Kasper (USA) – 1:00:51
3rd – Cassandre Beaugrand (FRA) – 1:01:27
4th – Georgia Taylor-Brown (GBR) – 1:01:40
5th – Summer Cook (USA) – 1:01:54
6th – Vicky Holland (GBR) – 1:02:05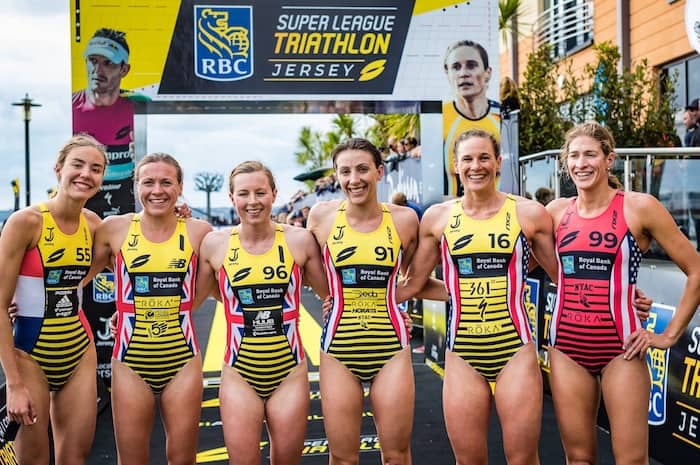 Elite Men
1st – Vincent Luis (FRA) – 55:48
2nd – Henri Schoeman (RSA) – 55:54
3rd – Richard Murray (RSA) – 56:06
4th – Kristian Blummenfelt (NOR) – 56:42
5th – Jonathan Brownlee (GBR) – 57:12
6th – Leo Bergere (FRA) – 58:04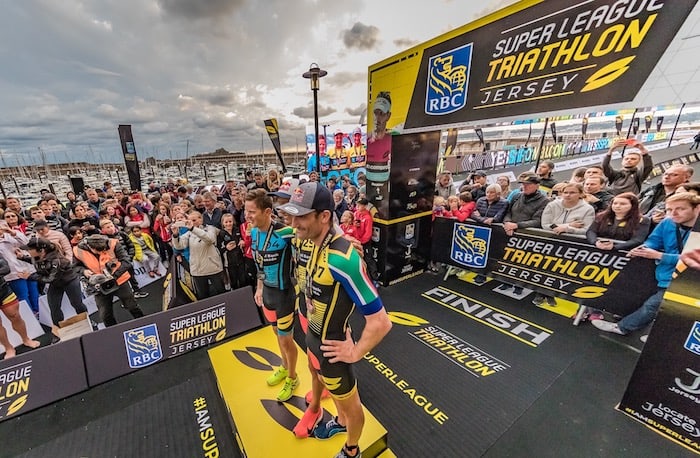 OVERALL RANKINGS
Elite Women
1st – Katie Zaferes (USA) – 46 points
2nd – Cassandre Beaugrand (FRA) – 43 points
3rd – Kirsten Kasper (USA) – 37 points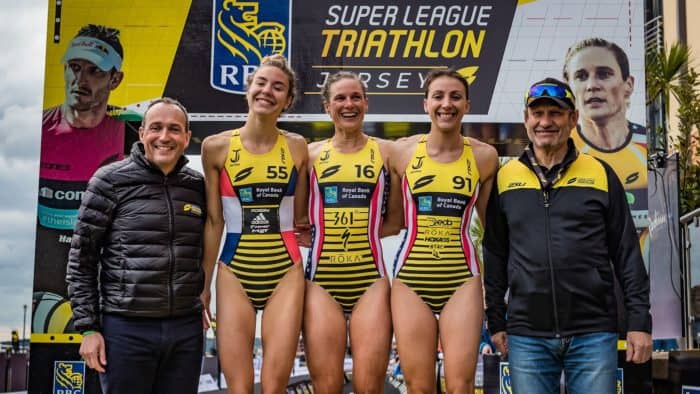 Elite  Men
1st – Vincent Luis (FRA) – 50 points
2nd – Henri Schoeman (RSA) – 42 points
3rd – Kristian Blummenfelt (RSA) – 34 points