Grand Final victory to Ashleigh Gentle
Second for Vicky Holland to earn top 2018 rankings
It was going to come down to a head-to-head between Katie Zaferes (USA) and Great Britain's Vicky Holland to decide the destination of the 2018 ITU World Triathlon Championship. Despite looking as though she was out of contention at the midpoint of the run, the 2016 Olympic Bronze medallist fought back to take a close second to home athlete Ashleigh Gentle, and with Zaferes completing the podium in third, the British athlete topped the season long rankings and earn her first ITU World Triathlon Championship.
Here is the full report of a fantastic race, courtesy of British Triathlon.
---
Vicky Holland wins ITU Triathlon World Title
Vicky Holland lifted the ITU world title after a gutsy performance on Australia's Gold Coast. She finished well clear of USA's Katie Zaferes, her only rival for the title after a season-long battle from March to September across four continents. Georgia Taylor Brown also finished third overall.
Holland, 32, won Olympic bronze in Rio, but has never won the world title. In fact, she's never been in contention before, but 2018 has been a brilliantly consistent season executed with tactical maturity. She's also had the support of Britain's strongest ever women's team, which placed five in the top twelve of today's Grand Final race.
After the best swim of her career, Holland was in a small group of leaders on the bike. However, two motivated groups behind them eventually caught them and by the second transition, there were 27 women in contention at the start of the 10km run.
Holland's transition was lightning fast. She hit the road with a lead, but early optimism was dashed by the fast feet of Zaferes and local hero, Ashleigh Gentle (AUS) catching and then dropping her. Holland needed to beat Zaferes to win the title but dangled off the back of the leading pair for more than two of the four run laps before drawing back up to them.
We have hit the halfway point on the run and @kzaferes6 and @ashleighgentle are side-by-side with @vixholland trailing just 5 seconds back. This is still anyone's race though, don't miss the final moments! https://t.co/2ovyglEZh9 pic.twitter.com/53eMENfmS7

— TriathlonLIVE (@triathlonlive) September 15, 2018
Zaferes admitted later that she'd taken a risk by running so hard. She dropped back and eventually lost 31 seconds to Holland. Gentle wasn't in contention for the world title, but wanted to win the race after and up-and-down season. She beat Holland in a sprint, but both of them could celebrate at the finish.
Holland said: "I thought at one point on the run it was done, it was quite a big gap there but I brought it back in. I knew I couldn't go with them when they went, I decided to back it off and pace my own run."
Triathlon is never predictable! When it looked like @Kzaferes6 had dropped @Vixholland, that was the moment Holland came back and now has dropped Zaferes! #WTSGoldCoast pic.twitter.com/cincsjMdA7

— TriathlonLIVE (@triathlonlive) September 15, 2018
She added: "This season for me had always been about the Commonwealth Games and that was what I was training for. Since that point things have just fallen into pace. I've just really enjoyed my racing. When you turn up to a race feeling confident and happy there's not too much that can go wrong. I really wanted it, and I'm so glad I got it at the end."
Taylor Brown had a tough race, finishing eighth but that was enough to secure third place overall in the Series. After years of injury, the 24 year-old from Manchester has made her mark this year and reflected that the success comes down to having a relaxed approach to racing.
She said: "I don't really get nervous any more, and I'm just really enjoying it. When this is your day job, you're pretty lucky. I'm enjoying every minute and taking it all in."
She said she had to ask 'about five times' for confirmation that she did finish third overall, adding, "I'm just so happy I got that third."
Jodie Stimpson has contributed to the success of Holland and Taylor Brown this season with some incredible work on the bike. She finished tenth today as well as seventh overall in the Series. Jessica Learmonth was eleventh and fifth overall.
Non Stanford finished her season in positive fashion with twelfth place and Sophie Coldwell was 27th.
Tomorrow sees the elite men's race, featuring Alistair and Jonathan Brownlee along with Tom Bishop. This will be Alistair's first Series race of the season, with his future still undecided.
He said: "At the moment I'm still undecided if my future will be focused on Olympic or long distance triathlon so it's important for me to race as well as I can. It's been a very tough year but, as always, I'll give it my best."
Final Series Standings:
Vicky Holland, GBR, 5540
Katie Zaferes, USA, 5488
Georgia Taylor-Brown, GBR, 4183
Kirsten Kasper, USA, 3887
Jessica Learmonth, GBR, 3810
Ashleigh Gentle, AUS, 3750
Jodie Stimpson, GBR, 3658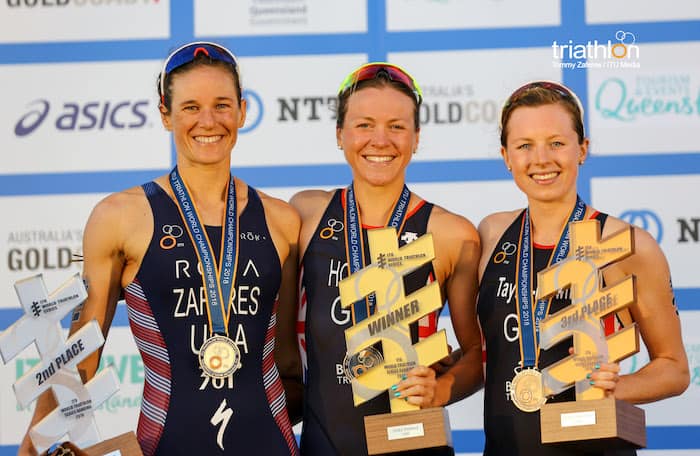 Grand Final Race Results; 1500m swim, 40km bike, 10km run:
1st – Ashleigh Gentle, AUS, 1:52:00
2nd – Vicky Holland, GBR, 1:52:02
3rd – Katie Zaferes, USA, 1:52:33
8th – Georgia Taylor-Brown, GBR, 1:53:31
10th – Jodie Stimpson, GBR, 1:53:41
11th – Jessica Learmonth, GBR, 1:53:56
12th – Non Stanford, GBR, 1:53:56
27th – Sophie Coldwell, GBR, 1:56:32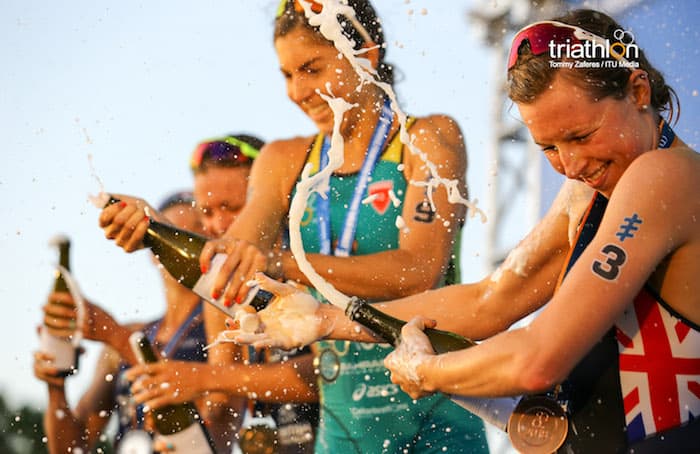 Remaining Schedule (Gold Coast is 9 hours ahead of the UK)
Sunday 16 September
1:00pm: Under 23/Junior – Mixed Relay (4:00am UK)
3:06pm: Elite Men (6:06am UK)
How to watch
BBC viewing times here listed HERE
There are also live streams available via triathlon.org – visit the homepage for direct links to each event.
Great Britain Team; 2018 ITU World Triathlon Grand Final Gold Coast; 12 – 16 September 2018
Men: Alistair Brownlee, Jonathan Brownlee, Tom Bishop