Kristian Blummenfelt continued to carry all before him on Sunday by crashing through the Sub7 barrier in Germany to win a terrific race against Britain's Joe Skipper.
The Norwegian megastar stopped the clock on 6:44:25 after running down Skipper on a brutal marathon.
Skipper had earlier built a lead with an astonishing 3:16 bike leg at the Dekra Lausitzring on a day where triathlon produced spectacular entertainment and epic levels of athletic brilliance.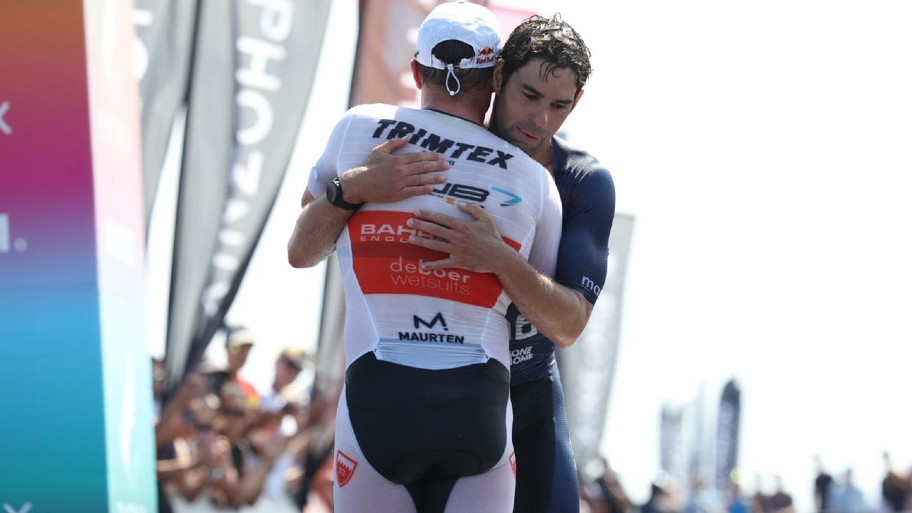 But Blummenfelt, just as he had been in St George last month, was relentless as he ran down Skipper on the closing marathon.
In the last 12 months Blummenfelt has claimed Olympic gold and a WTCS title in short-course racing.
His first three races over the full distance meanwhile have produced the fastest time ever, a World Championship and now this. Incredible.
Swim – Blu opens up a lead
Blummenfelt had targeted a 45-minute swim to open proceedings, and he was quickly out front behind pacer Lars Botellier.
Meanwhile Skipper – paced by the man he replaced in two-time Olympic Champion Alistair Brownlee – was trying to limit the damage. He remember had targeted a swim time of 49 minutes.
When the Norwegian superstar excited the water in 48:21 he had a nice gap over Skipper – who could come out in 53:24.
Now to the bike, and could Skipper back up that "bonkers" bike prediction of a 3:20 leg over the 180km at the Dekra Lausitzring.
Bike – Joe bites back
Skipper's target time was based on an average of 54kph with that elite team of time trial pacers, and pretty soon he was on pace for exactly that.
At one stage he passed 56kph while Chris Fennell at the front of the pack was pushing 420w with a heartrate of 190bpm. Insane levels.
Team Skipper was quickly chopping away at that deficit at a rate of around 20 seconds per lap, and soon the pass looked inevitable.
Blummenfelt's team meanwhile narrowly avoided absolute disaster when two of their riders clipped wheels, but soon they would lose their advantage.
This terrific week produced another great moment as Skipper passed Blummenfelt, barking at the Norwegian as he did.
Joe and his team maintained their epic pace to better that insane 3:20 prediction by clocking an astonishing 3:16:42.
Blummenfelt meanwhile wasn't too shabby either – clocking 3:24:22, which was 25 minutes ahead of his target.
Onto the run they went, with Joe having an advantage of around two-and-a-half minutes.
Run – Blummenfelt runs to glory
WIth Olav Aleksander Bu telling the official broadcast "we will likely be closer to 6:30 than 7 hours" his protege Blummenfelt set about running down his British rival.
It wasn't as if Skipper was going slowly – quite the opposite – but the Norwegian would not be denied.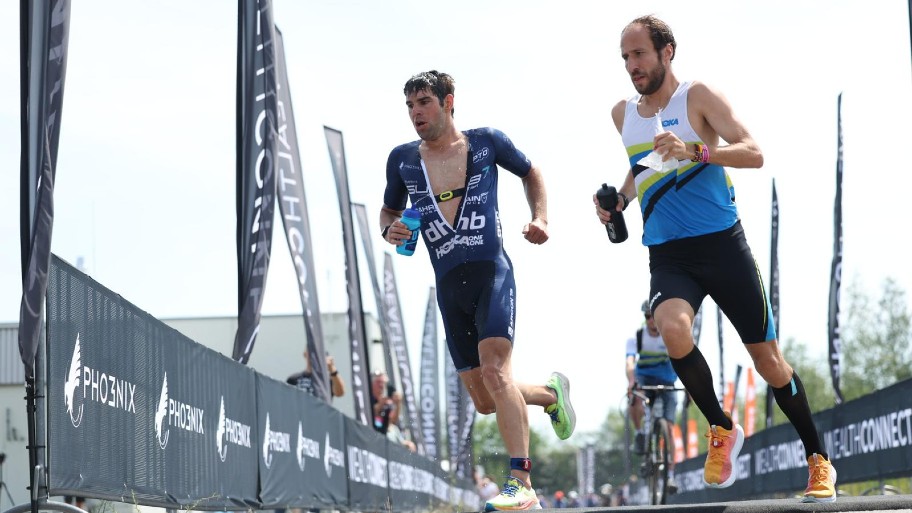 As he had in St George last month, the man from Bergen was utterly relentless as he gradually cranked up the pace to cut into that deficit.
The pass came at around the 17km mark – with both men barking at each other as it was made. This time the energy though was not quite at the heights of that epic bike leg – hardly surprising.
Blummenfelt remained remarkably consistent in his splits as he pulle clear of Skipper, who himself hung in there in terrific fashion.
The Norwegian crossed the line on 6:44:25, just over three minutes ahead of Skipper (6:47:36) – who was exactly correct in his pre-race prediction of 6:47.
Sub7Sub8 results
Sunday June 5, 2022 – 3.8km / 180km / 42.2km
Dekra Lausitzring, Germany
Kristian Blummenfelt – 6:44:25 (48:21 / 3:24:22 / 2:30:50)
Joe Skipper – 6:47:36 (53:24 / 3:16:42 / 2:36:43)