Super League Triathlon explodes into action on Hamilton Island
Swim-Bike-Run
Run-Bike-Swim
Bike-Swim-Run
Three races, just ten minutes apart and three different winners. Day One of Super League Triathlon and the 'Triple Mix' delivered on the pre-race promise of changing the dynamics and showcasing different skills and strengths. Each race comprised a 300m swim / 6km bike / 2km run – with the race order different every time. This was T20 cricket or Nitro Athletics applied to triathlon.
And as for the (live) online coverage on www.superleaguetriathlon.com – from the moment it launched, I thought to myself "wow, these guys have thrown some serious money, knowledge and resources at this". Fantastic. To do that, almost faultlessly first time out… it was incredible work by the production team and everyone involved. The Super League Triathlon team made some big, BIG, noises about this beforehand… fair play, that was impressive.
Results (in brief – to be updated)
Top three in race one (S/B/R): Jake Birtwhistle (AUS), Mario Mola (ESP), Richard Murray (RSA)
Top three in race two (R/B/S): Richard Varga (SVK), Andrea Salvisberg (SUI), Igor Polyanskiy (RUS)
Top three in race three (B/S/R): Richard Murray (RSA), Richard Varga (SVK), Ryan Bailie (AUS)
Overall standings day one: 1st Richard Murray (RSA), 2nd Richard Varga (SVK), 3rd Ryan Bailie (AUS)
Yeahhh, top step day one of @SuperLeagueTri , was BRUTALLLLL 🙀🙀🙀🙀🙀 thanks sponsors and everyone , tomorrow we have the TT 6:15am and more! pic.twitter.com/QrXznJOt7n

— Richard Murray (@RD_murray) March 17, 2017
And Alistair Brownlee? Way, way back… "I felt extra specially bad today he said" immediately after race three. As for his chances of a big recovery on day two? "I wouldn't put money on me!".
Struggled through the first day of @SuperLeagueTri. Always was going to be a tough ask but hopefully will feel better tomorrow

— Alistair Brownlee (@AliBrownleetri) March 17, 2017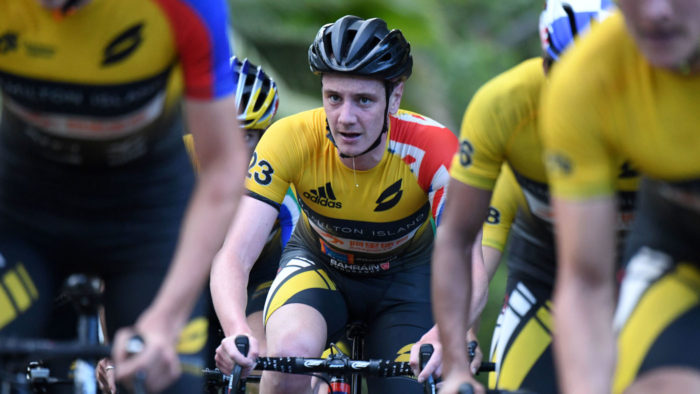 Things you don't normally see?
Alistair Brownlee dropped on the bike (race 2)
Alistair Brownlee lapped on the run (race 3)
Javier Gomez off the podium in three consecutive races
An (almost…) universally positive Twitter feed involved in the race
In-race sprints for bonus seconds (Ben Shaw / Jake Birtwhistle in race two!)
Post-race winner interviews