The British-based Team Sharks may have been missing star names of Beth Potter and Sophie Coldwell today at Super League Triathlon Toulouse, but that was on no concern for Kate Waugh.
The 2022 U23 World Champion took total control on Stage 1 of the Triple Mix, and put together a very impressive display all day to leave French stars Leonie Periault and Emma Lombardi fighting for the podium spots. Waugh was in a class of her own, and now leads the Championships Series standings after two rounds.
Triple Mix Stage 1 – Swim, Bike, Run
It was a case of swim 'Warriors' on Stage 1, as the primarily US-based RTS Warriors lead the way in the Garonne river, via Vittoria Lopes (BRA) and Taylor Spivey (USA), earning the first short chute in the process.
Onto the four-loop bike course through the narrow and technical streets of Toulouse however, and Waugh dropped the watts and broke clear, leaving a chasing trio of Lopes, Spivey and London winner, Jeanne Lehair (LUX). 12 seconds clear after just two of the four bike laps, the Brit was going all-in, very early in proceedings and making the most of her bike strength and technical skills. She would only extend her advantage on the third and fourth circuits.
It was all starting to merge a little behind, as Olivia Mathias, Jessica Fullagar and Verena Steinhauser closed the gap to create a chasing group of six.
Just one lap of 1km on the first run, but the day would be done early for Taylor Spivey, who pulled out straight out of T2 with injury. Waugh's advantage starting the run was 16 seconds, and it was Lehair who left the the rest of the chasing group in her wake as she sought to reduce the Brit's lead.
While Lehair reduced the gap, Waugh took Stage 1 with an advantage of 12 seconds – but Nicole Van Der Kaay, Periault and Lombardi were next, more than 22 seconds in arrears, with the young Hungarian, Fanni Szalai right in the mix with those stars too.
Triple Mix Stage 2 – Run, Bike, Swim
Reverse order on Stage 2, starting with a short 1km run, and Lehair quickly went to the front. She arrived at her bike with a small advantage over Periault, Lombardi and Waugh – but a poor transition saw those few seconds immediately evaporate. Having shown her bike strength in Stage 1, Waugh was quickly to the front of that quality quartet. Would it be a case of déjà vu?
Waugh wasn't the only Brit on top bike form today, and her RTP Sharks teammate Fullagar bridged up solo from the chasing group to make a leading quintet with one lap remaining and finishing with a 300m swim. Both great swimmers, would the Brits excel again?
Waugh led the swim, but heading into the swim exit Lehair managed to ease past the Brit and cross the line half a second clear… only to find out that she would be facing a DQ for a helmet infringement in T2. She was broken… but Waugh's lead for the pursuit start on Stage 2, would now around 30 seconds.
Triple Mix Stage 3 – Bike, Swim, Run (pursuit start)
Clearly the strongest rider of the day – and with Lehair now out of contention – Waugh had home athletes Lombardi and Periault chasing. Showing no signs of fatigue however, she was driving home her advantage and adding even more seconds. A first Super League Triathlon Championship Series victory was seemingly hers for the taking.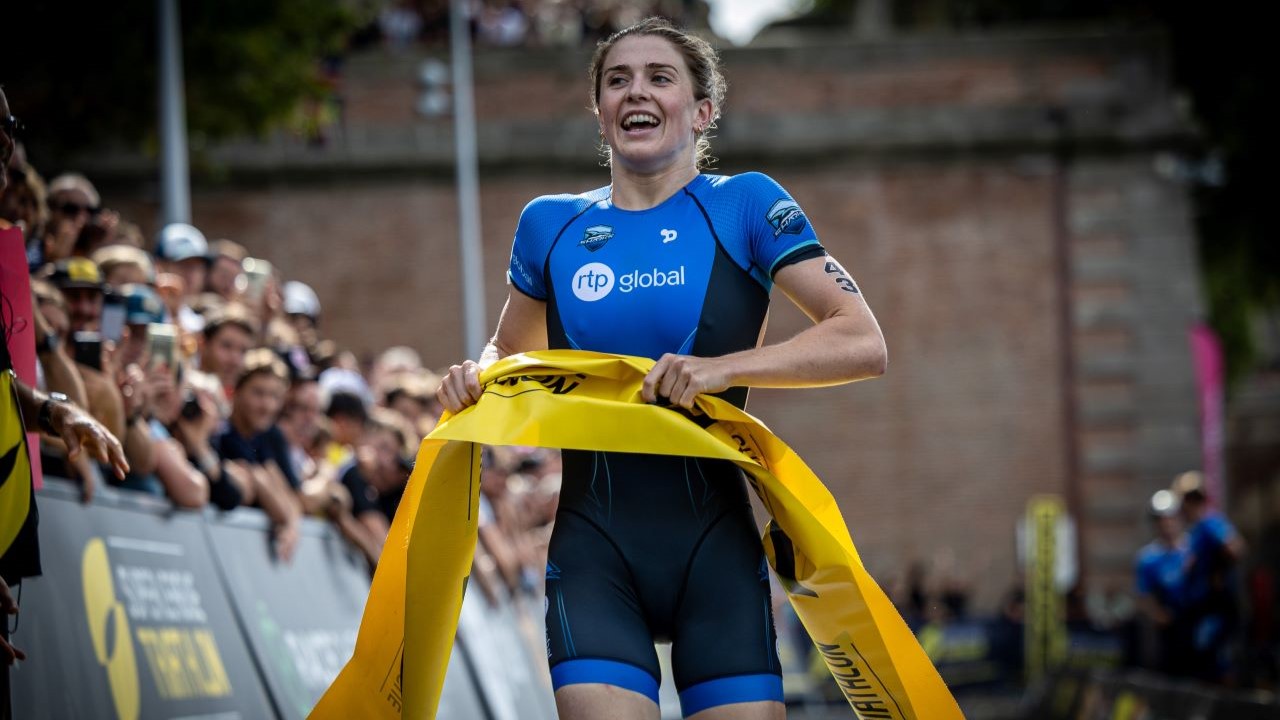 With just 300m in the water and 2km of running to complete, Waugh's lead was a massive (in SLT terms), 48 seconds. With a short chute to take – and adding a few more seconds to her lead in the swim, this one was over as far as the top step of the podium was concerned.
The battle for silver and bronze was won by Periault (Scorpions) over Lombardi (Eagles), but the French duo were very much playing a supporting role to the leading star today. Congratulations Kate Waugh, a complete all-round performance.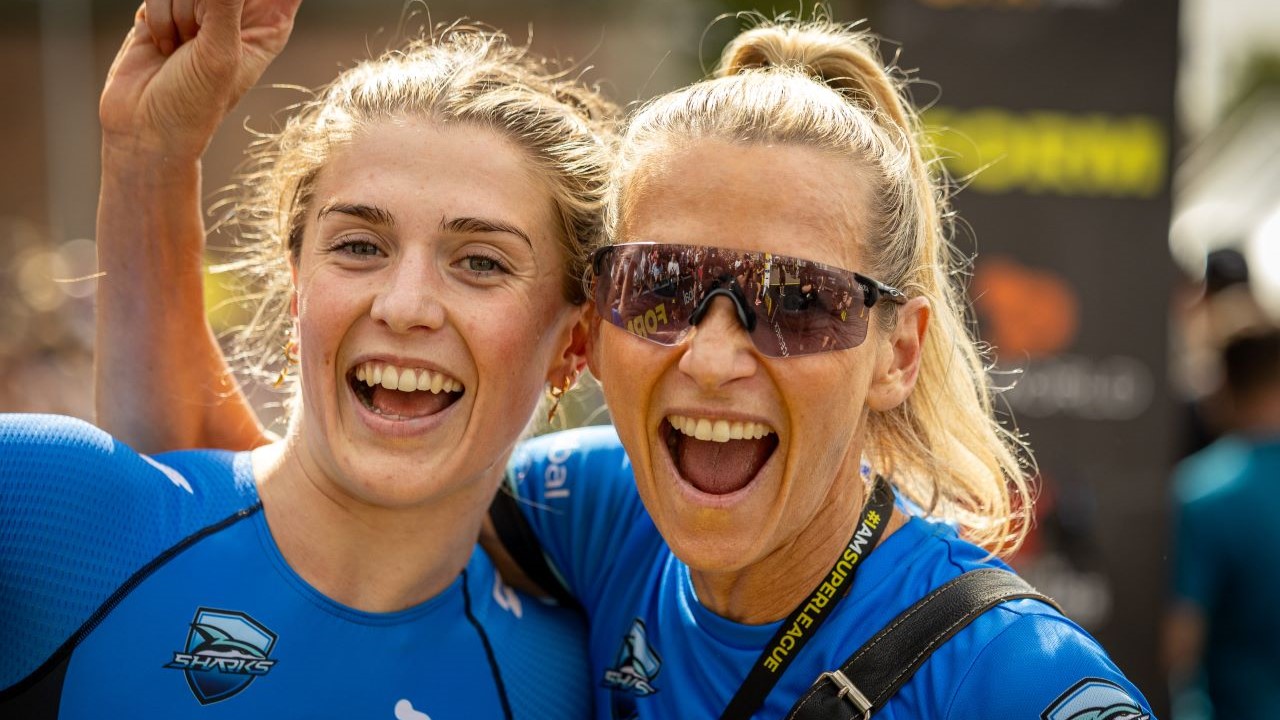 Super League Triathlon Toulouse 2023 results
Sunday 3 September 2023 – Triple Mix – Elite Women
1. Kate Waugh (GBR)
2. Leonie Periault (FRA)
3. Emma Lombardi (FRA)
4. Olivia Mathias (GBR)
5. Verena Steinhauser (ITA)
Series Standings after two races
1. Kate Waugh (GBR) – 26 points
2. Olivia Mathias (GBR) – 22 points
3. Jessica Fullagar (GBR) – 18 points
4=. Jeanne Lehair (FRA) – 15 points
4=. Verena Steinhauser (ITA) – 15 points
Teams Standings after two races
1. SLT Sharks – 230 points
2. SLT Scorpions – 169 points
3. SLT Eagles – 160 points
4. SLT Warriors – 141 points