New Zealand's Hayden Wilde further strengthened his stranglehold on the 2022 SLT Championship Series with a dominant display at Super League Triathlon Toulouse.
The winner already in London and Malibu, he hit the big watts on the bike in stage three and never looked like finishing anywhere but on top of the podium.
Triple Mix Stage 1 – Swim, Bike, Run
Described as "cornering like he was on rails" by Eagles Team Manager, Tim Don, GB youngster and TRI247 columnist, Daniel Dixon, went all-in on the bike and pulled clear, solo. Bottom of the points standings prior to today, the Eagles were flying here after Jamie Riddle also led out of the water.
When the finish line came however, there was a very familiar sight – Hayden Wilde (Sharks) first, Matt Hauser (Eagles) just behind – but not too much to separate most of the key favourites.
Those two short chutes earned would later go to Hayden Wilde (Sharks) and Matt Hauser (Eagles).
Triple Mix Stage 2 – Run, Bike, Swim
Chris Perham (Scorpions) led the athletes into T1, seemingly a tactical attempt to try and accumulate some run discipline points for his team.
Hayden Wilde was all but sitting on his shoulder however, and once onto the bike, the familiar sight of the Red Bull helmet of the Commonwealth Games silver medallist was soon at the front of the pack.
With the sun shining and a course lined with spectators, Toulouse was putting on an impressive show and the athletes were looking to live up to the surroundings they were being provided with. Wild card Dorian Coninx was both a home crowd favourite and strengthening Team Eagles, and the noise notably increased when he took his turn on the front.
Matt Hauser was safely in the front group – but a five second penalty incurred for leaving his shoes outside of the box was not going to help his cause. He would surely be grateful that stage two finishes with a swim.
14 athletes went into that final swim within five seconds but, perhaps paying for that stage one effort, Dan Dixon was not one of them. He was now 18 seconds back.
In his weakest discipline, Hayden Wilde was swallowed up by the 'fish', and as they came across the finish line it was Kenji Nener, Chase McQueen and Jamie Riddle the 1/2/3. Fourth would however leave Hayden Wilde in prime position heading into stage three.
Triple Mix Stage 3 – Bike, Swim, Run (pursuit start)
The pursuit start would see the top ten athletes start within just 13 seconds. Wilde was first away, but with Nener just two seconds behind and all of the key favourites – other than Vasco Vilaca – close behind, lots to race for.
Arguably the strongest rider, could Wilde go for it solo on the bike? It worked for Georgia Taylor-Brown in the women's race.
Hayden extended his lead to 12 seconds inside two laps and was riding away from a high quality chasing group. He's a man at the peak of his powers and with a swim and run to come, was it a race for second place already? Matt Hauser started that swim in 15th, almost a minute back, with something seemingly having gone very wrong on the final bike lap. He produced a miracle swim in Munich, but would need a lot more than even that here.
Wilde's bike advantage was all but eliminated over the 300m by Jamie Riddle, Kenji Nener and Dorian Coninx, but with a 2km run ahead – and a short chute to take – he was never going to be threatened.
Hayden showed no sign of weakness, and with plenty of experience in the French Grand Prix Series, was looking at home in Toulouse. So relaxed, like a true pro, he had his Red Bull headband perfectly in place for the finish pictures. Along with an inflatable shark…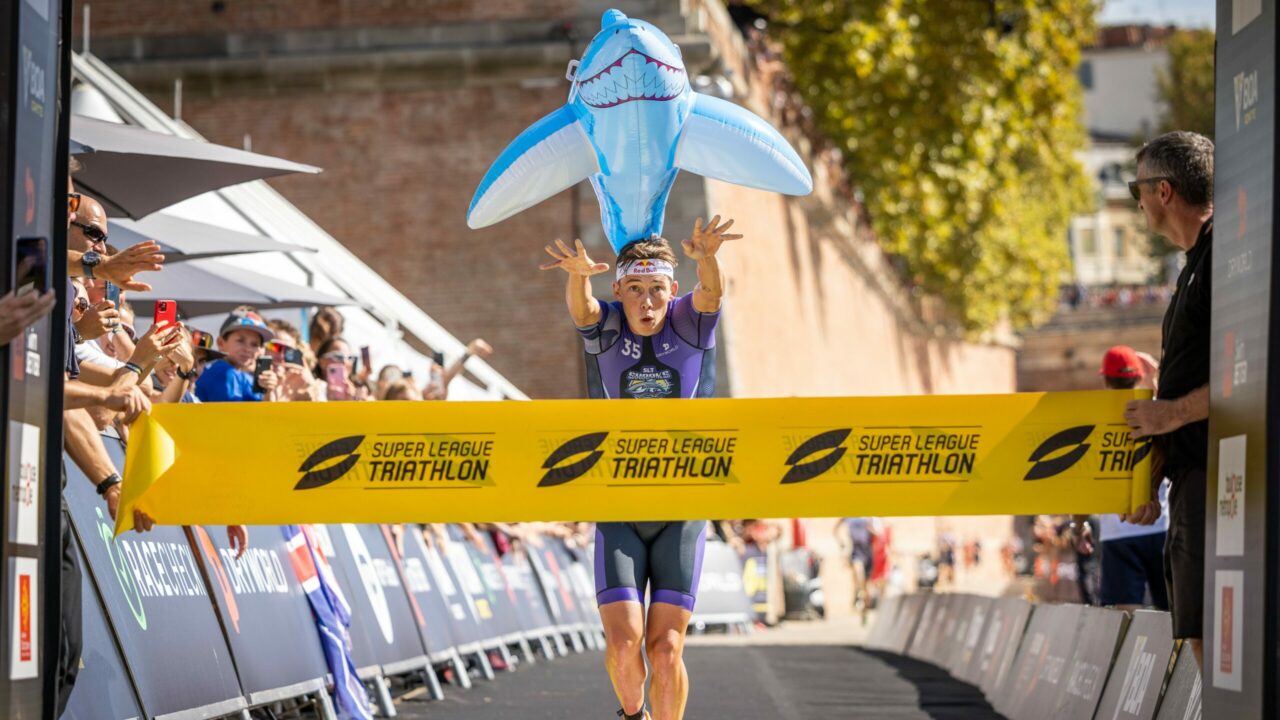 Dorian Coninx used the support of the home crowd to take second place ahead of an ecstatic Kenji Nener, but Matt Hauser did produce something of a miracle.
It wasn't a swim for victory this time, but from finishing the bike in around 15th place and almost a minute back, he swam and ran through the field to rescue fourth place. That was key because it means that Hayden Wilde hasn't quite managed to wrap up the series title. After today though, nobody will be against him.
Super League Triathlon Toulouse 2022 results
Sunday 2 October 2022 – Triple Mix – Elite Men
1. Hayden Wilde – 15pts
2. Dorian Coninx – 14pts
3. Kenji Nener – 13pts
4. Matt Hauser – 12pts
5. Tayler Reid – 11pts
6. Jamie Riddle – 10pts
7. Jonathan Brownlee – 9pts
8. Chase McQueen – 8pts
9. Emil Holm – 7pts
10. Richard Murray – 6pts
11. Shachar Sagiv – 5pts
12. Daniel Dixon – 4pts
13. Valentin Wernz – 3pts
14. Sergio Baxter Cabrera – 2pts
15. Tyler Mislawchuk – 1pt
Overall standings after Toulouse (round four)
1. Hayden Wilde – 58pts
2. Matthew Hauser – 41pts
3. Tayler Reid – 38pts
4. Kenji Nener – 33pts
5. Jonathan Brownlee – 32pts
6. Vasco Vilaca – 32pts
7. Chase McQueen – 31pts
8. Shachar Sagiv – 31pts
9. Jamie Riddle – 25pts
10. Emil Holm – 25pts
11. Daniel Dixon – 25pts
12, Richard Murray – 20pts
13. Tyler Mislawchuk – 16pts
14. Valentin Wernz – 15pts
15. Dorian Coninx – 14pts
16. Segio Baxter Cabrera – 14pts
17. Alex Yee – 13pts
18. Max Stapley – 9pts
19. Ryan Fisher – 4pts
20. Maximilian Sperl – 3pts
21. Chris Perham – 1pt
Team standings after Toulouse (round four)
1. Sharks – 303pts
2. Scorpions – 285pts
3. Cheetahs – 264pts
4. Eagles – 263pts
5. Rhinos – 237pts