From Age-Group to Pro: Tara Grosvenor step up at Challenge Roth
With (overall) Age-Group wins through the first half of 2019 at IRONMAN 70.3 Marbella, Challenge Hielbronn and Challenge Family The Championship, it had been a great season already for Great Britain's Tara Grosvenor. You may remember I profiled Tara ahead of last year's IRONMAN World Championship (HERE).
While those results were impressive, the longer term objective was elsewhere – to qualify for her Pro licence and make that next step to measure herself against the best in the sport.
With that box ticked, her Pro debut race would be a big one – Challenge Roth – and this is her insight on her progression, obtaining her Pro licence and then racing at the incredibly popular German ling distance event.
---
The lead up…
It's been a while in the making and many times have I dreamed of applying for a Pro license. In all honesty, thinking about the possibilities started long before I was ever close to being ready (mentally or physically), or able to meet the fairly stringent British Triathlon criteria.
It was only towards the end of 2018 and start of 2019 when I realised that these things can't be rushed or expedited dramatically, that I relaxed slightly about my Pro license. Of course, I didn't stop wanting it or dreaming of the opportunity – but it did allow my mindset to change and settle into getting fast enough in my own time, allowing me to train more with friends and stress less about the individual session outcomes but focussing more on my overall progression. This also meant I enjoyed everything that bit more which ultimately (for me) means that things feel easier and less like pushing water up hill – allowing me to take more away from the journey that I was on.
Coming out of a solid winter of training – where I had changed several things in my approach to aid my progression;
Dropping to four days per week at work
Regular S&C sessions
Regular soft tissue work
Regularly training with (often faster) friends
I felt like I was in pretty good shape and launched into the season excited to see what would come out. I started IRONMAN 70.3 Marbella and Challenge Heilbronn with only the Pro ladies in mind, not the Age-Group field. I needed to be confident and look at the bigger picture. It was more about racing 'as a pro' (mentally) – as best I could in the Age-Group field. I also wanted to see how far up the Pro field I could get myself while still in the comfort of racing as an Age-Grouper – and of course, these races were all about seeing if I could obtain results which were worthy of applying for a Professional license.
I finished 4th lady overall in both races (including the professional field), seeing improvement in all disciplines in both races and achieved the required results to apply. Most importantly for me though was not my speed but how I managed my race, really feeling a difference in how I approached the race mentally.
https://www.instagram.com/p/BxpsUm3h0eu/
Preparing for my Pro Debut
Now, I am sure that many new Pros go to one of the smaller or local events to debut their Pro career. Equally, I am sure that many also would have gone for a 70.3 race (which is the distance in which I achieved my qualifying results). Not least, I am sure that many spent a long time deliberating and discussing the options available to them with their coaches and respective support networks.
In true 'Tara style' – I had a lot of my 2019 season planned a long way in advance. I had been allocated a place to race Challenge Roth in the 2018 Heilbronn ballot – and so this race had been in the diary for a year.
In my true, 'do or die' / 'go big or go home' / 'not doing things by half' style (which those of you who know me well will know is a standard trait that has run throughout my life thus far), I decided that if I was allowed, switching my race entry to the Pro wave for one of the biggest and most iconic races in the world would be an excellent start and a great idea as a debut. So, only a few emails later with the wonderful Challenge team centrally and at Roth – I was in. This was really happening!!
Luckily I had the support of top Pro Laura Siddall in the weeks into the race who clearly still remembers how daunting this step is – despite how much she has achieved in her career to date. I can't thank Laura enough for helping me in the weeks and days into the race – just having her there took a lot of stress away for 'the debut'.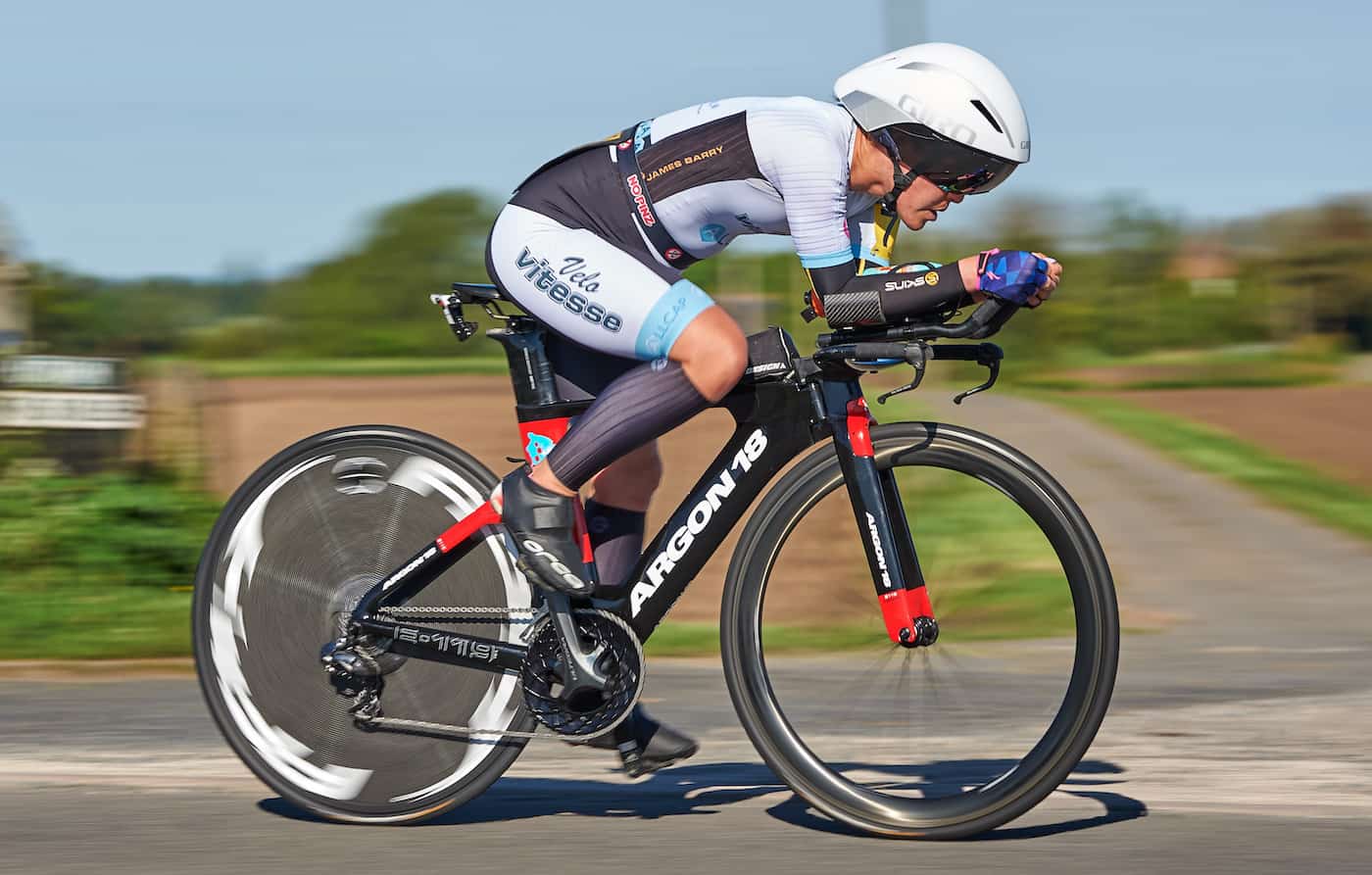 The weeks into the race
After considering my current form and checking the Pro start list I had gone quietly into the race with two (what I thought to be challenging, but vaguely realistic), goals which I had only shared with my coach and those closest to me.
I wanted to go sub 9.30 (which would represent over a 30-minute improvement on my current PB), and I was hungry to stand on the Pro podium – which meant a top-10 finish. If I had a good day… it might happen.
Last minute entries in the week leading up to the race saw three of our top, well decorated Pro ladies join the Roth start; firstly AnJa Ippach, shortly followed by Els Visser and then finally only TWO days out from the race the prior year winner; Daniela Bleymehl.
Not yet admitting complete defeat on my original goals but managing my expectations slightly with regards to placing, I was still ready to give what I had and test myself against some of the world's best.
Unfortunately, while my training and preparation all the way up to the start of my taper had been going swimmingly and I was feeling good, the last couple of weeks into the race represented the perfect storm of things going wrong. Nothing major individuallY, but collectively that caused me to feel slightly jaded and questioning myself and whether I really was ready and worthy to be stood on the Pro start line on race day.
Firstly, my flight got cancelled coming back from my final camp while at the same time getting a stomach bug. I then got a wonky foot which stopped run play and made me question whether I would be able to run a marathon. A few days out from the race – I got a pretty serious infection above my right eye leaving me asking the day before the race whether I would even start due to the pain that the swelling was causing. The idea of cycling one mile felt like an ordeal – let alone cycling 112 and then running a marathon. But, as instructed by my coach and after some positive mental attitude talk, I started to go through the motions (while desperately praying that the concoction of paracetamol, ibuprofen, antibiotics and packs of frozen vegetables would work their magic quickly), it got to the night of the race and I was slowly starting to feel a bit more human.
Race morning – I woke to heavy rain (funny symmetry to this – as my first ever 70.3 was in Mallorca the year it rained (!)), which made me lethargic about getting to the race start resulting in me being very late and having only 30 minutes to get from the car to sort my bike, into a swim skin and into the water. Luckily, I am not one to be the least bit panicked about swimming in a swim skin over neoprene, despite not doing it very often.
By now, I had managed my expectations again; just finish the race, enjoy it and put out a performance that is worthy of the Pro start place.
On that start line… I have never felt more like I had 'gone back to the beginning', like I was an alien to the environment I was surrounded by. Feeling pretty alone in this new, faster company that I stood between. I just tried to tell myself, that it really was no different; it was just a 'long (hard) training day' and ultimately just a swim, bike and a run. Honestly, I was quite terrified that I might sustain my first ever DNF that day or be the last in the Pro field to reach the finish line.
The race itself
I am a fairly confident swimming – but I lost feet within what felt like an instant. So I ended up swimming solo – at least I didn't have to worry about swimming into anyone or having to think of turn buoy etiquette in this highly experienced field. Coming into the first turn point – I thought that my worst nightmare was coming true and that I was last in the Pro field. But on the way back I realised there was a pack behind me swimming – which allowed me to relax a bit. I decided that over-swimming to gain a few seconds was not a good idea, so I swam within myself. It was only when I got to T1 that I realised that while it felt like the never ending swim to Narnia, that I really hadn't done so terribly – with still several female Pro bikes in T1 and even several male Pro bikes(!!).
Onto the next dread – the flying mount. Now, this year to date my flying mounts have been questionable… Marbella saw me pull a shoe out my pedal resulting in me having one foot in the shoe and one shoe in my hand! Not ideal. Heilbronn saw me kick my puncture repair off the back of my saddle while mounting. And Samorin – I just couldn't get my cold feet in my shoes and ended up zig zagging across the road. This being a skill I thought I had nailed towards the end of 2018 too!
I was so relieved at this instant to not have come out the water with a pack of girls chomping at the bit, giving me space to play with and not having to worry about taking a fellow competitor out in the process of what was to come. I knew I would be the focus of the crowds in the Pro field as there weren't many coming through T1 at this point – and boy the crowds were plentiful. I was so desperate to not make a meal of the mount, imagining the embarrassment of ending in a heap on the floor in front of hundreds of eyes and cameras. You can imagine my relief when I bossed my mount and even got a little cheer in the process (only after the event did I find out that I was being streamed on live TV!!). PHEW!
I am hoping I am not the only one on the circuit who has these back-of-the-mind doubts about parts of their race. Just as I was thinking about settling into a nice ride, I promptly lost the top off my puncture repair kit on the bumpy section of road over the sluice gate about two mile into the ride and I heard something (?!) fall out…… not knowing what. Now, in race mode you have to make snap decisions. I sat up to try to check while in motion – in the process having a little bike wobble and nearly crashing. I then quickly decided for the safety of myself (and everyone around)… in for a penny, in for a pound and accepted (like in Heilbronn) that if I got a puncture that may well be my race over (as I didn't know how much of my kit I had lost – or what else might fall out).
I took a while to get into the bike and there is nothing more soul destroying than (on your least strong leg of a race), having tonnes of lean and FAST men coming past you making you feel like you're standing still; the relay bikers (promptly remembering what Laura had said in her pre race notes). I just told myself to race my race, keep a draft legal distance and stay within myself. Reminding myself – that it was only yesterday that I didn't even think I would get to this point in the race!
The first lap of the bike went so much quicker than on my recce lap. The crowds were electric. I have to say I was glad to have a visor on up Solar Hill to hide the overwhelming emotion that came over me – resulting in no doubt a very funny face until half way up as I held back some happy tears. It's amazing how having the crowds in all the right places almost flattened the hills out – cruising up them feeling on top of the world.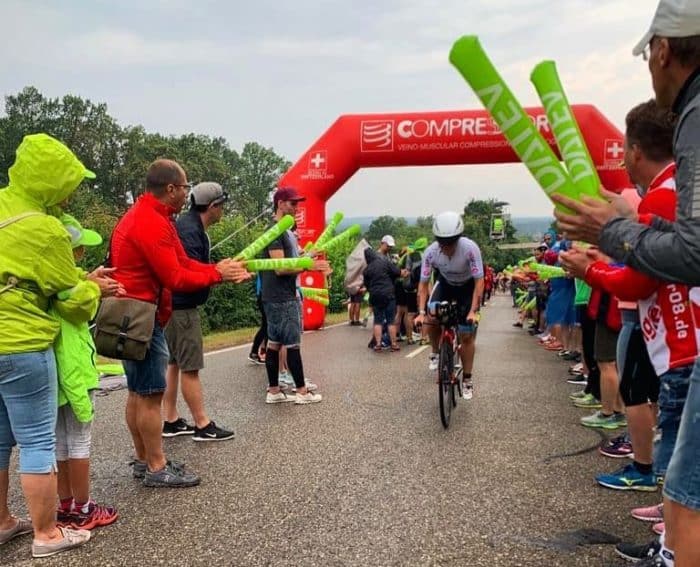 The second lap of the bike the wind seemed to have changed slightly and having people to work in pace lines with really did everything for my confidence and speed. Having boys to pick off up the road apparently woke me up and I had a super fun second lap. Sharing a little banter with one of the German contestants as we seemed to leapfrog each other every 5 or so miles. A small mechanical as I was a bit over-eager with my gear change as I came back round to Hipolstein meant I had to dismount and realign the chain. Breathe. Stay Calm. Fixed… luckily I was on a slight downhill so managed to get back up to speed quickly and on my way again.
I came off the bike well fed and hydrated thanks to refinements to my nutrition strategy, spending the bike dosing on Precision Hydration to ensure I was replenishing my salts and not just my water levels. I ate Clif Shot Blocks which are easy on my stomach while giving me the energy and caffeine boost that I need, while supplementing with Maurten to give me a steady intake of liquid carbs. I've actually not felt more ready to attack a marathon in an ironman event yet.
The volunteers were amazing in T2 and I had a lovely young girl help me and make sure I had everything I needed. I raced out of transition and got to see my Mum (not often do I have supporters join me at races and so this was really special), which gave me a little lift and off I flew … literally. I couldn't slow my legs out of T2 and kept looking down at my watch to see just over 4min/km turn over… consciously trying to slow down knowing that it would not be a happy ending if I persisted at this speed. Reminding myself that there is still a long way to go and that I needed to play the long game.
Now, the run course in Roth is amazing in that it is a single lap which weaves its way through Roth, onto the canal for a long stretch, back into Roth and then a final (slightly hillier) out-and-back stretch to Buchenbach just as your legs decide they are completely trashed. Not many races on the circuit boast a single lap marathon – as I said, amazing, but in my opinion slightly more difficult to manage mentally (as you can't count down the laps, or use laps for gel taking prompts etc). I knew I had one of my best friends on the course at the 'T-junction' just by the canal who I would get to see three times – I was so excited to see her as it gave me something to look forward to. This is the first time that day as well that I really knew where I was in the race. I spent the canal counting the women and giving fellow racers support as a distraction and trying to catch the next lady in front of me.
Up to about 19 miles into the run I was feeling pretty good and holding a nice pace. Then I started to get a tummy rumble… knowing what this meant I prepared myself for the next portaloo, making sure that I was putting enough time between me and the next pro lady to nip in and out before she caught me. Nothing better to focus the mind than having someone on your toes. Unfortunately, I think the portaloo stop upset my legs and rhythm and I couldn't seem to get going from then to the finish. I missed my Mum completely as I came into town as I went to a dark place to get this done. The sections through town and the out-and-back to Buchenbach were pretty tough and slow progress, where I played leapfrog with Line-Kristin Schink.
https://www.instagram.com/p/BzqGLcchJNy/
Making it to the finish line was a dream come true – running into the stadium finish was pretty overwhelming. Later finding out that I had nailed my two goals for the race was exceptional! All the hard work and consistency, the early mornings, the late finishes and the training camps had paid off.
Challenge Roth had a lot to live up to after all I had heard. It didn't fail to deliver in anyway. If you haven't raced before, put it on your bucket list.
What's next?
After a solid first half of the year of results and training, I will be taking a little time to recover, both mentally and physically. I will be back to racing 70.3 for the next few months with my next race on 11th August at IRONMAN 70.3 Gdynia, Poland.
https://www.instagram.com/p/Bz0D9K3h3Kq/