This was our preview of the 2023 Norseman Triathlon – you can click here for full results and report as tri great Sebastian Kienle took on 'the race that makes athletes cry'.
One of the toughest races on the planet takes place on Saturday, as this year's competitors for The Norseman Xtreme Triathlon take the cold plunge into the Hardangerfjord at the crack of dawn.
The full-distance event, which starts off with a jump into the fjord off the back of a car ferry, includes freezing cold water, questionable weather conditions and a brutal climb up Gaustatoppen in the second half of the marathon to end one of the toughest days out in the sport.
In this year's race, pro triathlon legend Sebastian Kienle continues his retirement or "Discontinued Tour" in Norway, as he tackles what might be the toughest challenge of his final year in the sport to date. Having last been won by a non-Norwegian male in 2011, Sebi will have his work cut out if he hopes to clinch victory.
Start time and how to follow live
The race started on Saturday August 5, 2023 at 0500 CET. That was 0400 in the UK and 2300 EST Friday in the United States.
You can follow updates from Scandinavia with live tracking throughout the event.
What does the race involve?
The lucky 290 competitors, who were selected from the thousands of potential applicants, will take the dive into one of Norway's most picturesque fjords to start the challenge.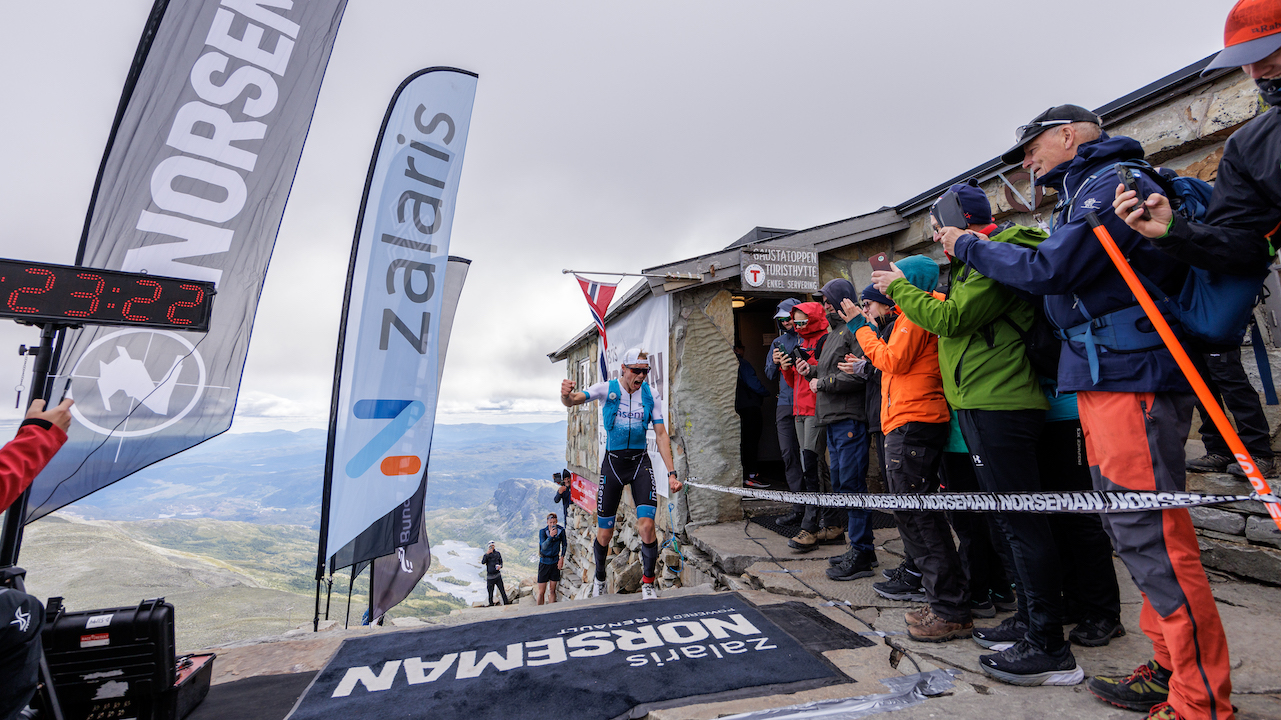 Starting from the loading bay of a car ferry, the competitors will swim through the fjord to the local town of Eidfjord, and the first transition. On to the bike, where they will tackle a challenging course through the mountains before tackling the run up to Gaustatoppen, which sits at 1,880m above sea level.
The race record for the full distance is 9:52:10 by Lars Christian Vold (Norway), set in 2017 for the men and 11:16:10 by Mette Pettersen Moe (Norway) in 2018 for women. The majority of the competitors come from the home country, with a handful travelling internationally to tackle the near mythical race.
For the few who make it through the race, and summit Gaustatoppen, a black finisher's T-shirt awaits them, the only recognition for taking on and conquering one of the hardest endurance races in the world.
Sebastian Kienle on Norseman
So why is the German great taking on this mighty challenge? Pretty simple.
"Norseman is probably a little trip to the beginning of triathlon. No aid stations, no 300k+ spectators, you battle with the elements more than with your competition.
"First I was not really sure if this was a race I wanted to do. But after watching plenty of YouTube videos I was hooked. Norseman requires a strong team and I also liked the preparation.
"There never was room for a race like this. It is just too brutal and takes too much time to recover from in the middle of the season."