Great Britain's Sophie Coldwell earns first World Championship medal in Rotterdam
In downpour conditions in Rotterdam on Saturday, Great Britain's Sophie Coldwell continued her progression as an athlete to add Under-23 World Championship Bronze to the European Senior Championship Silver she won earlier this the season in Kitzbuhel.
The British trio of Coldwell plus Georgia Taylor-Brown and Sian Rainsley (the current European U23 Gold and Bronze medallists), were all part of the leading group at T2 after dealing with the challenging conditions in The Netherlands.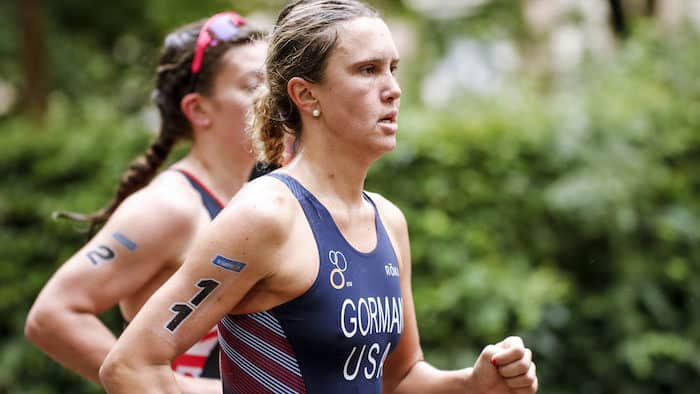 The USA's Tamara Gordon – who won the World Junior Championship in London four years ago ahead of Taylor-Brown – ran away from the group to take Gold by a clear margin, while Melanie Santos (POR) pulled clear of Coldwell in the later stages to take the Silver. Despite running faster than Coldwell over the 10km, a slow T2 (serving a penalty for a swim cap infringement), for Taylor-Brown cost her a chance of the podium, and she finished fourth with Rainsley also securing a top-10 finish in ninth.
Rotterdam, you were wet, very cold but a great place to race! So pleased to pick up my first individual world medal! Next up @SuperLeagueTri pic.twitter.com/Ob58qdVIH0

— Sophie Coldwell (@sophiecoldwell) September 17, 2017
The Men's U23 race took place on Friday, and it was a French one-two at the top of the podium with Raphael Montoya taking Gold ahead of another World Championship podium for Dorian Coninx.
Rotterdam ITU U23 Triathlon World Championships – Saturday 16th September 2017
1.5km / 40km / 10km
ELITE WOMEN
1st – Tamara Gorman (USA) – 2:05:21
2nd – Melanie Santos (POR) – 2:05:37
3rd – Sophie Coldwell (GBR) – 2:05:51
4th – Georgia Taylor-Brown (GBR) – 2:06:16
5th – Julie Derron (SUI) – 2:06:34
9th – Sian Rainsely (GBR) – 2:07:11
Rotterdam ITU U23 Triathlon World Championships – Friday 15th September 2017
1.5km / 40km / 10km
ELITE MEN
1st – Raphael Montoya (FRA) – 1:51:28
2nd – Dorian Coninx (FRA) – 1:51:32
3rd – Luke Willian (AUS) – 1:51:48
4th – Shachar Sagiv (ISR) – 1:51:59
5th – Antonio Serrat Seoane (ESP) – 1:52:22
7th – Gordon Benson (GBR) – 1:53:08
24th – Calum Johnson (GBR) – 1:54:56
26th – Samuel Dickinson (GBR) – 1:55:13