Vasco Vilaca won the bunch sprint for second at the Paris Test Event but admitted he – and plenty of others – have a big gap to make up on winner Alex Yee's run speed between now and the Olympics.
Yee was out on his own after taking control early on the run, leaving Portuguese star Vilaca to battle it out with a trio of French big guns – Dorian Coninx, Pierre Le Corre and Léo Bergere – for the minor places.
'That's just supreme'
Talking through the sprint first, Vilaca said: "I tried to position myself well and got to the front but just before the last corner, they almost sandwiched me in and I lost a couple metres, but then it was really just about believing until the very last minute, coming straight through the middle like the cheese on a French sandwich!
"It was so intense – I'm still a bit dizzy and my legs are smashed."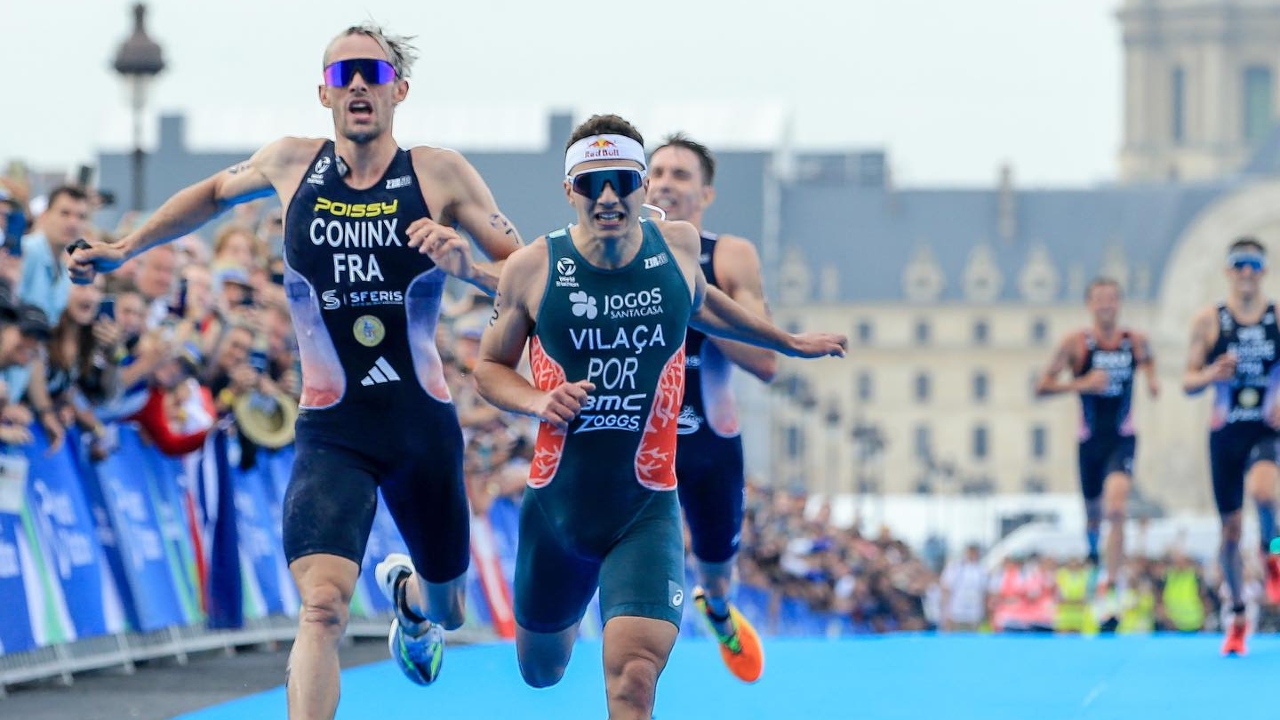 And turning his attention to the man who had crossed the line well before, he added: "The guys were running so fast through the whole run, but what can I say about Alex? I mean, that's just supreme. He's so much better than us at the moment. And, I mean, it's going to be a hard gap to close, but I'm going to work hard for that."
Praise for the JFT Crew
Vilaca has had a superbly consistent season – this was his third WTCS runner-up spot and he's also finished third in Yokohama and fourth in Sunderland, all of which puts him right in the mix for the world title.
And it's clear he's going all in for that, telling TRI247: "It's five weeks now until Pontevedra where everything is going to be decided.
"I've never been this close to fight for the podium in the World Series – that's going to be really important to me this year but it's going to be even harder than here when you think that unfortunately we had Matt Hauser's COVID and then Hayden [Wilde] with a crash just before the race. I think that's what happened."
And he was keen to pay tribute to the Joel Filliol Training group (JFT Crew) for his consistent results, explaining: "Being able to keep a stable high level throughout the season has come thanks to the help of the training group. We really help each other, the knowledge is shared and Joel and Drew [Box] oversee all of that and work really well together."
Good memories
In terms of what he'll take out of the Test Event ahead of next year's Olympics, it sounds like plenty: "You want to get as much info as you can right here so that you don't really need to move too many details for next year.
"I'll just keep on working. And the training will get me a little bit fitter for next year, hopefully.
"But, I mean, I'm super happy. There is nothing better than coming off a race with good memories. Next year when you come back, you have a good feeling, you look forward to the race and that's definitely going to help get a good result next year.
"And while I'd rather have been running [at the front] with Alex, being part of that group with the French guys was lucky in one respect as the crowds and noise were just insane. Just the noise – even if they are weren't cheering for you – really helps you forget about the pain."
WTCS Standings after the race
1. Alex Yee (GBR) – 3498.67pts
2. Hayden Wilde (NZL) – 3441.72pts
3. Vasco Vilaca (POR) – 3283.76pts
4. Léo Bergere (FRA) – 3013.56pts
5. Dorian Coninx (FRA) – 2987.60pts