Third at Super League Triathlon London on Sunday, Vicky Holland completed a British podium sweep by the British Olympic Games Tokyo 2020 team in the women's race.
A great result against a top quality field, and one that came as something of a shock to Vicky herself, who spent much of last week in Samorin, Slovakia as part of the broadcast team for the Collins Cup. How did she manage it?
"Honestly I'm not sure yet, I'm still trying to work it out myself (her third place). Not only was I in Samorin last week, I also got ill off the back of Samorin. So, early part of this week I wasn't even sure I was coming here. I was speaking to our team captain Tim and saying, look, I've got a really heavy head cold, I can't breathe, is it worth me coming?
"He was great, he said if I needed to just not come to this one and race the next three and be healthy that was fine. But he also said if you do come it would be really great to have you as part of the team and also if you finish it that top 15, you potentially block other teams from getting points, so from a team element it was worth coming.
"So I committed to it for that reason and massively shocked myself. So I'm delighted actually."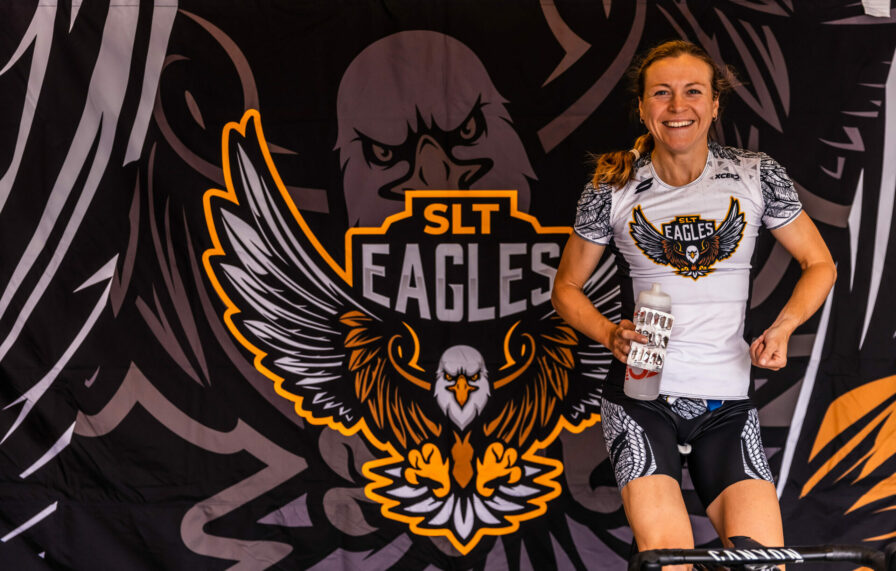 Pure survival
Always a strength, Vicky looked to be running particularly well on the West India Quay course.
"Leg one and leg two felt actually pretty good. I finished leg two, saw the accumulative time and that I was going in second going into that final round, just two seconds behind Jess. It felt like I could transition well enough that I would get straight on with Jess.
"But I also knew I was pretty spent by the end of round two, and all of round three was pure survival. You probably saw in the swim Jess [Learmonth] put so much time into me, Georgia [Taylor-Brown] coming from behind and even I had Katie Zaferes and also Sophie Coldwell coming fast.
"I've spoken to Katie and she said every time she does Super League, she struggles in the very first round – she just doesn't have that get out speed, that gas. Then she gets into it, and after that she's just coming through stronger and stronger. With another 200m or so she would've probably got me, so I was praying for that finish line to come.
"Next weekend starts with a bike time trial which isn't necessarily my forte, so not sure Munich is necessarily going to be the one that's my best strength. But I didn't even know if I was going to start this race three or four days ago, so I'll just turn up, give it my best shot and we'll see what happens at the end again – a bit like we did today."
The future for Vicky Holland?
With three Olympic Games on her C.V., a World Triathlon Championship plus medals at the Commonwealth Games just a few highlights of her stellar career, where next?
"Honestly…I don't know [what the future holds]. I keep telling people I haven't really made any decisions yet. I'm going to get through the end of this season, I'm going to take some downtime.
"I'm having a wedding celebration, if you like. I got married during Covid times last year so we're having a big party this year. Going to do that, go on a honeymoon, hopefully.
"[I'll] make some decisions then and see whether I've got any more in me or whether maybe I'll be where you are instead, doing a bit of commentary or something."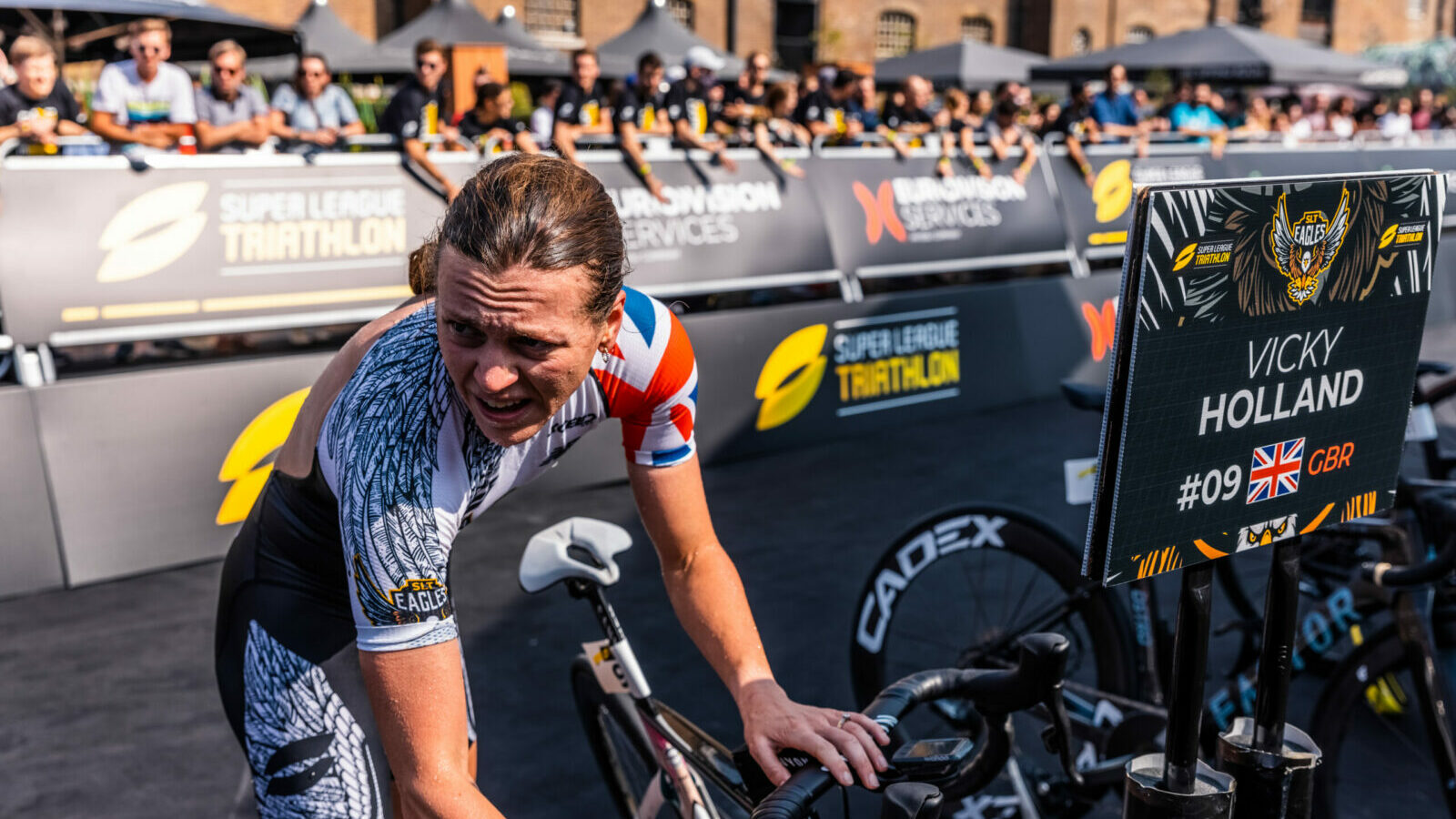 A future in media?
Talking of commentary, Vicky has made regular appearances with the BBC, Super League and that Collins Cup role in recent year – an indication of her post-racing direction?
"I'd love to [pursue commentary]. I love this sport, I love sport in general, I love being able to be a part of it in some way. I like talking – I think that's fairly obvious! I'm a bit of a nerd, I love your articles, especially the ones that are stat-heavy, big into those.
"I love researching things, like for the Collins Cup. If I get the opportunity to do more of that I would love that. I'm not sure if that's a bit too niche for a career, but that's something, if the opportunities come my way, I would love to do more of."
Enjoying the pain of Super League Triathlon
A reflection of the intensity of the SLT experience, is that Vicky referenced both enjoyment and pure pain in trying to describe it.
"I did enjoy today, but my word there was about 10-15 minutes there at the end where it was just pure pain, absolute pure pain.
"I was hoping for that finish line to come sooner. I felt like a bit of a drama queen at the end – I couldn't get off the floor. But that is what Super League does to you and it's part of the beauty of this particular series of racing.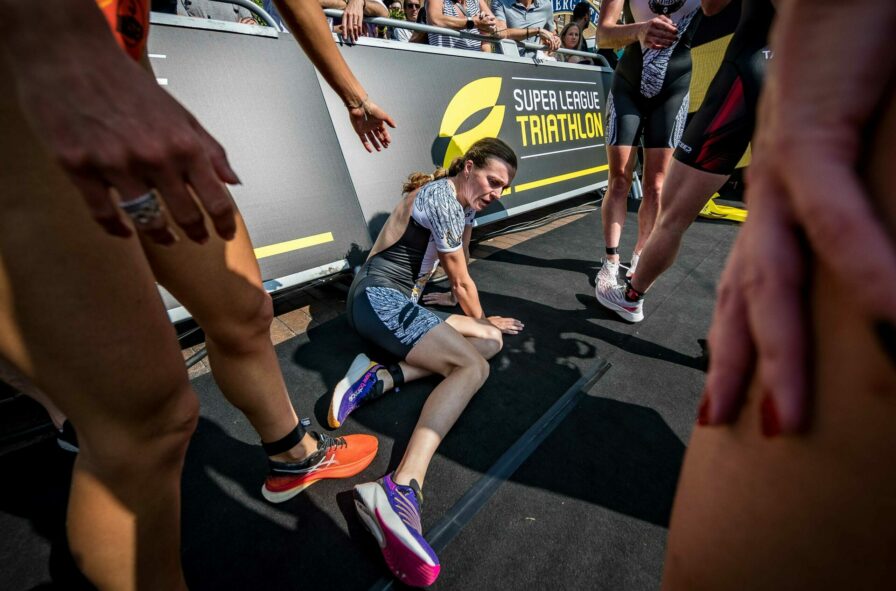 "Finishing third behind those two girls is no disgrace. They're pretty exceptional and they gave me a great race and I'm pretty delighted to finish on the podium with them."