Jodie Swallow joins some impressive names who like to win – again and again…
As you will hopefully have already seen from the weekend, Great Britain's Jodie Swallow delivered once again in the style she does seemingly every January, to take her sixth consecutive victory at Ironman 70.3 South Africa.
The term "horses for courses" seems to apply to more than just racehorses, as even within our triathlon world some athletes just seem to click with particular venues and events – and keep on coming back and winning, year after year (after year…).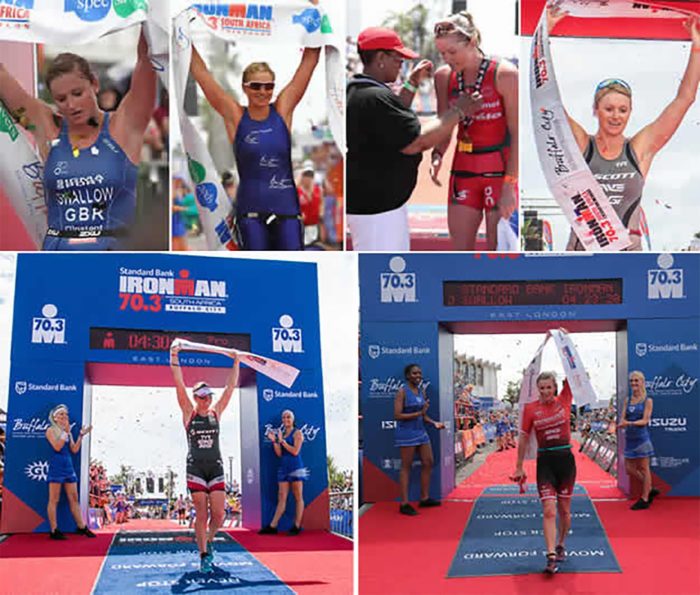 For a bit of fun – and note, I'm not implying this is a comprehensive list (though please do let me know – editor@tri247.com – if I've overlooked any obvious ones, we do like stats here…), I thought I'd try and rack the deepest corners of my triathlon statto brain to highlight some of the athletes who over the course of our sports history have made winning a significant habit at a single event.
A selection of multiple event winners…
12 – Cameron Brown, Ironman New Zealand – 2001/02/03/04/05/07/08/09/10/11/15/16
10 – Mark Allen, Nice International Triathlon (France)
10 – Michellie Jones, San Diego International Triathlon
8 – Paula Newby-Fraser, Ironman World Championships – 1986/88/89/91/92/93/94/96
8 – Ronnie Schildknecht, Ironman Switzerland – 2007/08/09/10/11/12/13/15
8 – Michellie Jones, Escape from Alcatra – 1995/97/98/99, 2000/01/02/04
8 – Olivier Bernhard, Powerman Zofingen – 1994/96/98/99, 2000/01/02/04
7 – Marino Vanhoenacker, Ironman Austria – 2006/07/08/09/10/11/15
7 – Erica Csomor, Powerman Zofingen, 2004/05/06/07/08/09/10
7 – Michellie Jones, Chicago Triathlon
7 – Michellie Jones, St Anthony's Triathlon
7 – Joanna Lawm, Ironman New Zealand, 2003/04/05/06/07/08/10
6 – Natascha Badmann, Ironman World Championships – 1998, 2000/01/02/04/05
6 – Dave Scott, Ironman World Championships – 1980/82/83/84/86/87
6 – Mark Allen, Ironman World Championships – 1989/90/91/92/93/95
6 – Vanessa Fernandes, Madrid ITU World Cup – 2003/04/05/06/07/08
6 – Gina Crawford, Challenge Wanaka – 2008/09/10/12/13/15
6 – Jodie Swallow, Ironman 70.3 South Africa – 2011/12/13/14/15/16
6 – Andy Potts, Escape from Alcatraz – 2007/08/09/11/12/14
6 – Spencer Smith, Windsor Triathlon (UK) – 1991/92/95/97/98/99
6 – Craig Walton, Noosa Triathlon (Australia) – 1997, 2002/03/04/06/07