"Over the sprint distance though, and off the back of a month of Super League Triathlon, I'm going to make Potter my favourite to top the podium" – those were my thoughts in our preview piece ahead of World Triathlon Cup Haeundae 2021.
Not only did that work out well on Saturday, but the only other British athlete in the race – Kate Waugh – took second place behind her training partner. Same again next week in Tongyeong?!
Elite Women: Potter runs away with it
In case you haven't noticed it – and really, you should have by now – Potter is for more than a 'runner' taking part in triathlon these days. She's the real deal across all disciplines.
The race was set up inside the first 10 minutes, when a trio of Zsanett Bragmeyer (HUN) along with Potter and Waugh were first out of the swim at Busan beach. Bianca Sergni (ITA) was close, but with everyone else 15 seconds back a break was made – and for the podium at least, it would prove to be game over for the chasers.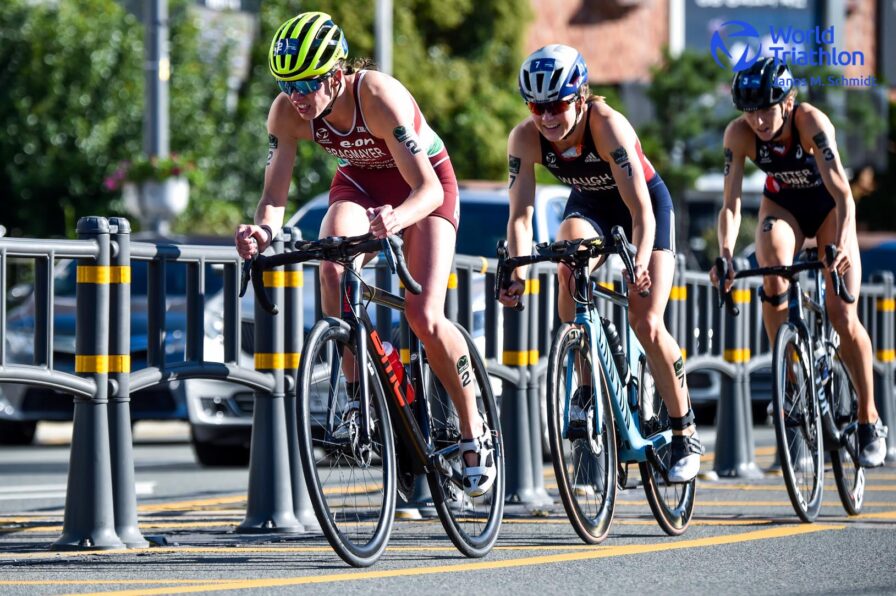 The Italian didn't manage to make that escape group a quartet, and the leading trio were soon working well together and pulling clear. By T2 they had added another 20 seconds to their swim advantage, which meant that only a fool would have bet against Potter at this stage, an athlete who had set an unofficial world record for 5km on the road earlier in the season.
Even losing a shoe briefly in transition didn't phase her, and while she gave away a few seconds initially, she soon bridged up towards the front of the race again and pulled clear in the final stages to a clear win and, of course, the quickest run split of the day.
She revealed afterwards: "It wasn't quite perfect out there. I lost my shoe in transition so I had a bit of work to do on the run but I was able to get back and I am happy with the performance. I am off to (World Triathlon Cup) Tongyeong to race next week and really looking forward to it."
"It's really nice here in Haeundae, like a big city beach."
Waugh improved on her previous World Cup best of third place to take silver, and said afterwards: "I am really pleased with my overall performance today. I love a beach start and I love diving through big waves so I was really excited because the swell was pretty big before we started.
"I had a really good swim and we managed to get a breakaway on the bike. The girls worked really well on the bike, we all knew were in podium position which really helped to push us on. I set off on the run, I nailed my transition for like the first time this year, so I was really pleased and just held on for second."
"I knew Beth (Potter) would be coming in hot so I just tried to stick with her. It's so nice to race here. Korea is absolutely beautiful and I hope to be back."
Elite Men
While I was pretty confident in my pick for the women's race win, I was equally confident that the men's was absolutely wide open. No predictions at all…
As it turned out, Anthony Pujades (FRA) and Takumi Hoji (JPN) were on the shortlist I put forward, and they would take gold and silver, the Frenchman producing a very strong late surge on the run to move past the Japanese athlete.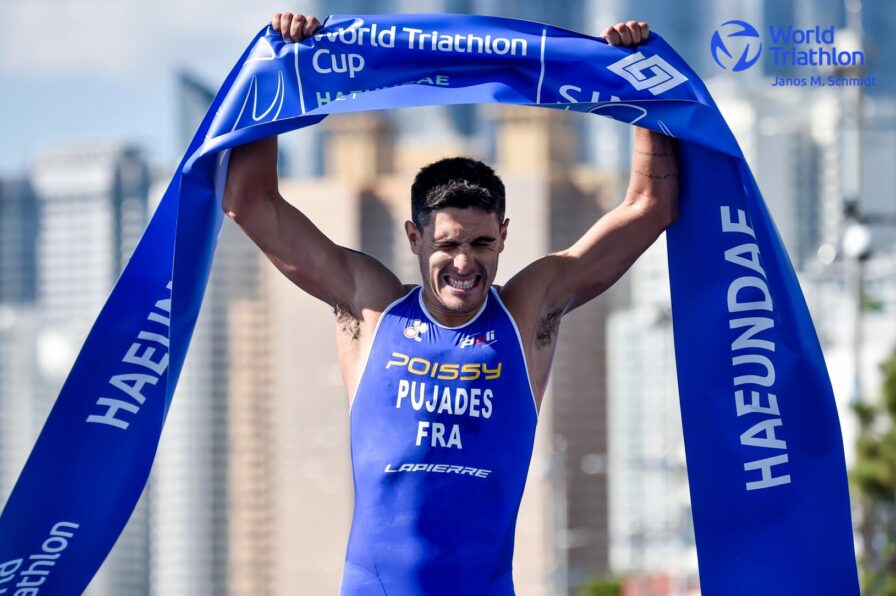 "It was a crazy good finish for me and am so happy to do it," said Pujades.
"It's been a while for me since I have raced in ITU (World Triathlon) races so yes, such a happy man now. It was a really nice race, I enjoyed it alot, so when is the next one now.
"Most of the strategy was to save as much energy as I could until the run and then I tried to build my run, because it was four laps so it was quite easy to build it."
"It was quite hard with the quarantine here but such a happy crew and everything was done well so that we could race, just thankful."
World Triathlon Cup Haeundae Results 2021
Saturday October 23 – 750m / 20km / 5km
ELITE WOMEN
1. Beth Potter (GBR) – 56:25
2. Kate Waugh (GBR) – 56:40
3. Zsanett Bragmayer (HUN) – 56:58
4. Rokasa Slupek (POL) – 57:04
5. Sandra Dodet (FRA) – 57:19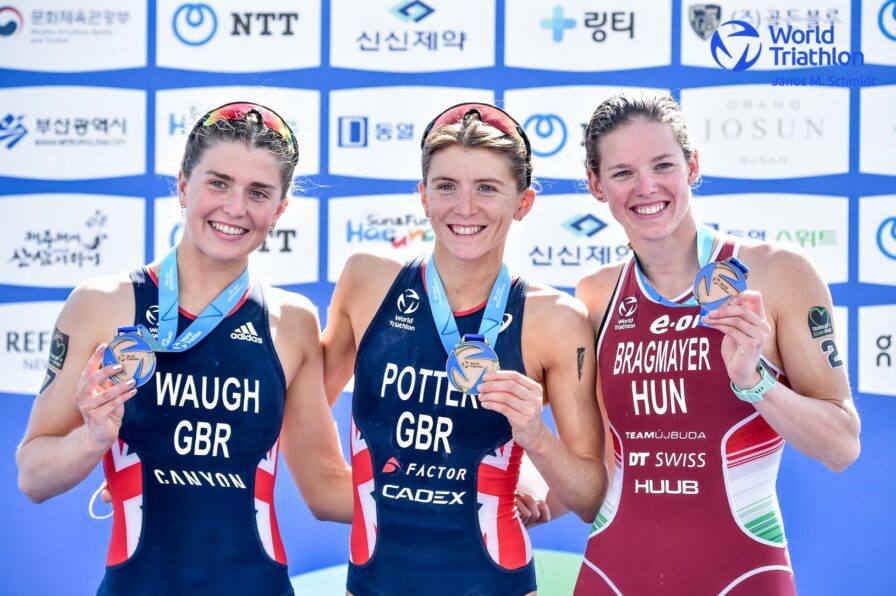 ELITE MEN
Anthony Pujades (FRA) – 50:19
Takumi Hojo (JPN) – 50:25
Nicola Azzano (ITA) – 50:32
Alessio Crociani (ITA) – 50:36
Jumpei Furuya (JPN) – 50:49